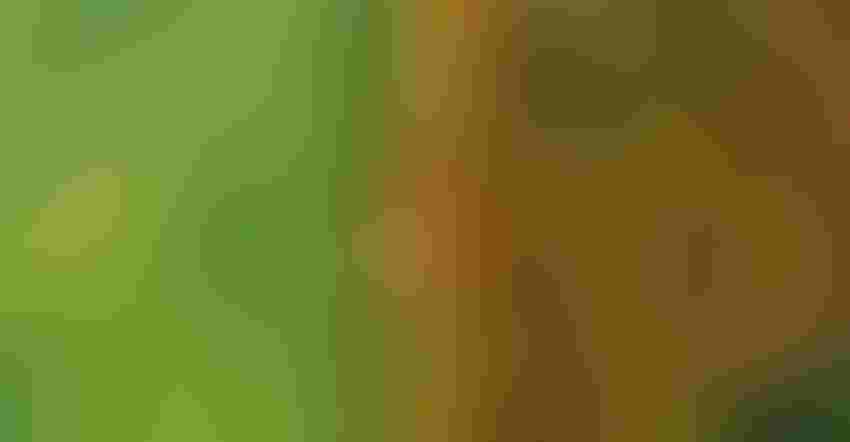 POWER OF TREES: Those on-farm trees can play an important role in any operation's work to advance climate-smart farming — and there are many options to consider.
Thomas Winz/getty images
Farmers always grow trees on their farms for a wide range of production and land use reasons. Among them are environmental and conservation benefits, including crop protection from wind and soil erosion control, to wildlife habitat or as an energy source. However, many pioneers integrated trees on the farm as part of agriculture production systems.
The integration of trees in agriculture, generally called agroforestry, includes trees and shrubs, crops, pastures and livestock, and such integration factors climate, soils and landforms in structuring such a system. There are many examples highlighting this type of system and the integration of trees as an essential component in many countries in the world. Here are few examples of agroforestry systems and land use practices:
Agrosilviculture or silvoarable. Trees integrated in crop fields (multipurpose trees). Trees intercropped with annual or perennial crops, where trees are randomly or systematically planted in cropland for the purpose of providing fruit, fuel wood, timber and other services.

Silvopasture. Trees and shrubs on pasture (multipurpose trees). Trees intercropped randomly or systematically on pasture for the purpose of providing fruit, fuel wood, timber and other services. Also used for forage and fodder and animal production.

Agrosilvipasture. Integrated production of animals (meat and dairy), crops, and wood and fuel wood. Production of crops, animal and dairy, and wood products within the same land area, including around homesteads.

Forest farming. Forested areas used for production or harvest of naturally standing specialty crops for medicinal, ornamental or culinary uses.

Urban and periurban. Home gardens combining trees and shrubs with vegetable production usually associated with periurban or urban areas.

Agroforestry for entomoforestry. Production combining trees and insects (e.g., bees for honey and trees).
Forestry and crops
The use of agroforestry as an integral part of crop production in many arid, semiarid and temperate climates includes elements of soil conservation and stabilization and fertility maintenance. In different parts of the world, smallholder farmers integrate trees in their fields in different arrangements to create a microclimate conducive to crop production and increased productivity.
The role of agroforestry in soil conservation goes beyond erosion control to the regenerative effect in treating soil degradation, where there is improvement in soil biological and physical properties. This will ultimately lead to improvement in soil nutrient cycling and consequent improvement in soil fertility.
One of the objectives in designing and managing agroforestry systems is to regulate nutrient and water cycling more efficiently to optimizing the use of nutrients, whether these originate from natural renewal processes or from fertilizer. It is desirable to reduce the ratio of inputs to outputs and internal cycling. Agricultural ecosystems are highly dynamic, with inputs and outputs ratios sometimes as much as 40% of internal cycling, while natural forest ecosystems are more closed, with inputs and outputs ratios sometimes amounting to less than 10% of internal cycling. If this ratio can be reduced, nutrients are reused more often by plants before being lost from the system. The agroforestry systems offer opportunities to modify nutrient cycling as follows:
Increase gains from symbiotic fixation through the use of nitrogen-fixing trees.

Enhance uptake of other nutrients released by rock weathering through the deep root systems of trees.

Reduce nutrient fixation on clay minerals and increase availability through release from organic compounds.

More closed nutrient cycling, improving the ratio between plant uptake and leaching loss, through two mechanisms: 1) uptake by tree root systems and associated mycorrhiza, with recycling of litter; and 2) synchronizing the timing of mineralization with that of the crop nutrients' requirements, through controlling the quality, timing and manner of addition of plant residues.
The current research highlights the benefits of agroforestry systems by bridging the gap between forestry and agriculture production systems. These benefits can include soil carbon sequestration, soil health, nutrient cycling, water capture and storage, wildlife habitat, and many other ecosystem services. The current trend in promoting agroforestry as a climate change mitigation tool through enhancement of CO2 capture is becoming increasingly relevant, given the climate change impact on productivity, along with economic and social conditions in current agriculture production systems across many different climatic regions.
Value of trees to modern farms
While studies and policies promote agroforestry in low-income countries in tropical and arid regions, it is becoming obvious that adoption of agroforestry is relevant across modern agriculture in the face of climate change and its impact on food security, natural resources protection and soil security.
Generally, government policies (i.e., the farm bills) addressing land use and management sometimes lack incentives for implementing agroforestry practices as part of managing agriculture production systems. The rationale or assumption used in setting agriculture systems is that land must remain segregated between agriculture and other uses to optimize planning and production efficiency compared to an integrative land management approach, which limits the development of agroforestry.
The current public view is that the agriculture industry is associated with many negative social and environmental consequences (i.e., water quality, greenhouse gas, farms socio-economic challenges, etc.). The integration of agroforestry has the potential to address some of the environmental concerns outlined above and contribute to new economic opportunities in the rural communities. Therefore, proposing and implementing outreach and education programs, financial incentives and cost sharing initiatives and the development of policies for creating markets for nontimber products would encourage agroforestry adoption.
Such policies and incentives are essential to support establishment of agroforestry as a thriving alternative land-use strategy and to transform the current agriculture systems to address the challenges of climate change, soil resiliency and food security. There is much evidence showing that agroforestry provides ecological, environmental, economic and social benefits.
This evidence gives reasons to incentivize and empower farmers and landowners to adopt such practices. There is growing interest in the potential of agroforestry and increasing awareness of the role agroforestry can play in diversified multidimensional farming systems. However, in general, the integration of agroforestry into agriculture production systems is relatively low. For example, USDA estimates that agroforestry systems' use in agriculture is on less than 1% of agricultural land through agency-assisted programs.
Al-Kaisi is a professor emeritus of soil physics (soil management and environment) at the Department of Agronomy, Iowa State University, Ames, Iowa.
Subscribe to receive top agriculture news
Be informed daily with these free e-newsletters
You May Also Like
---