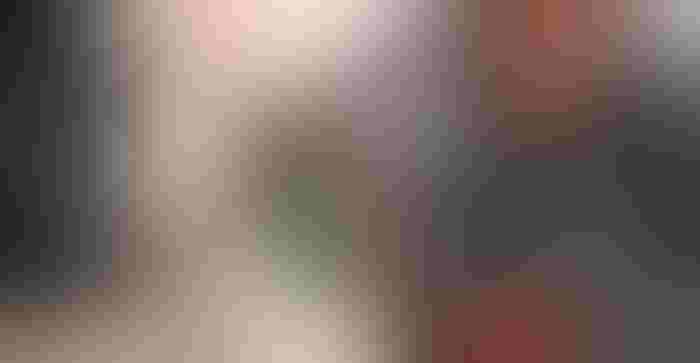 Why treat your own seed? Allerton, Ill., farmer Curt Elmore says just look at the profit margin for seed treatment.
"I don't begrudge people making money. But if I can save myself and my landlords some cash, especially during these economic times, I'm going to do it," Elmore says, adding that he bought his seed treatment setup prior to the 2019 growing season to capture more of the roughly 50% profit margin seed treaters earn.
The seed treatment setup from Unified Ag Solutions, which cost about $21,500, is small compared to other on-farm seed treaters, but has optional add-ons that can automate features to treat more than 1,200 units, or about 25 boxes, of seed in a day without stopping. It's made up of an AT500H box-to-box seed treater from USC along with three mix tanks from UAS.
"I've got an LG seed dealer who uses the same setup as this," says Tom Stoddard, UAS seed treatment specialist. "Just a few days ago he treated 1,375 units by himself with no help." Stoddard adds it takes 1,500 to 3,000 soybean units for the setup to pay for itself. "Plus, you open up your options with seed treatments that may be more applicable to your personal farmland than what a seed dealer can offer you."
Stoddard helped Elmore prepare a spreadsheet that determines the proper rate of inoculant, fungicide, growth promoter, insecticide and biological nematicide for the several varieties he's planting this year.
Elmore, who sells soybean seed for Stine and corn for Wyffels Hybrids, exclusively grows non-GMO soybeans. He's equipped to plant identity-preserved seed from boxes, with a forklift on hand at his farmstead that makes loading seed work "like clockwork."
He's starting out treating seed for his own farm, with plans to expand to custom treating next year. Elmore was able to treat all 1,000 units of his seed with varying treatment blends within 24 hours.
"I'm very satisfied with how they came out. They had a nice even coating, especially after you transferred them out," he says, referring to the process where freshly coated beans are emptied into a new box to prevent them from sticking. Treatments are planned for low-humidity days to ensure quicker drying.
"For one of our boxes, coverage wasn't so good last year on the treated seed I bought. It was kind of a succotash — they were treated and untreated, so I wasn't very happy about that. Now that I'm treating on my own, I can make sure I get the coverage I need," Elmore says.
He's eager to see how products from almost a half-dozen different companies fair this growing season, including a sudden death syndrome and white mold blend from UAS that combines Albaugh's Resonate 600 with Heads Up and other branded as well as generic names.
He's running six side-by-side experiments where treated seeds are compared to untreated and intends to use a weigh wagon and YieldSense from Precision Planting to track the season's data.
"If you ask someone with a huge treater to do those small batches, it would be kind of a pain for them," Elmore says. "And I don't blame them for not wanting to do it. But the size of this unit allows me the versatility to do these small little tests, and I can pick and choose what I want to do, so I'm not beholden to whatever products they sell or have access to."
With a history of sudden death syndrome on his fields, and occasional bouts of white mold in years like 2019 is shaping up to be, Elmore hopes his seed treatments result in healthier plants. Seeing additional products at work in the test strips will give him even more information as he plans for the 2020 growing season.
"I'm using the treater to topdress some extra stuff with corn, too. Growth promoter and some biologicals just to see if that has any positive effect," Elmore concludes. "Obviously there's a lot of products on the market that may claim you can get 5 bushels here, 10 bushels there. I'd like to actually test that out, see what happens from year to year, and make changes from there."
Check out the slideshow to see photos of Elmore's seed treatment setup.
Subscribe to receive top agriculture news
Be informed daily with these free e-newsletters
You May Also Like
---