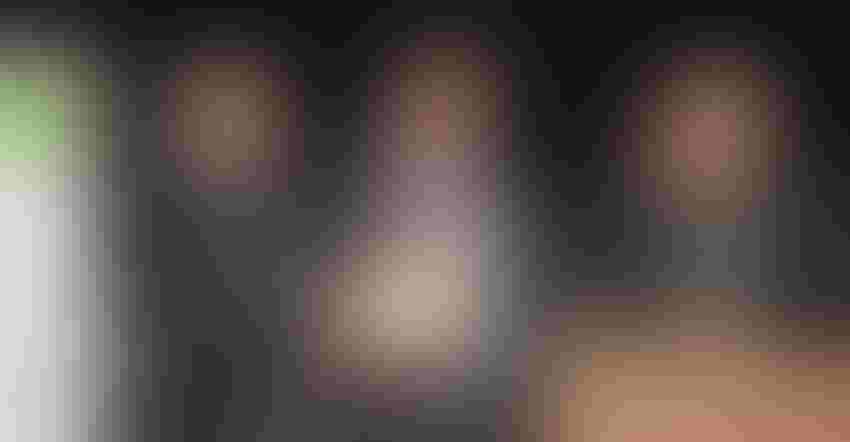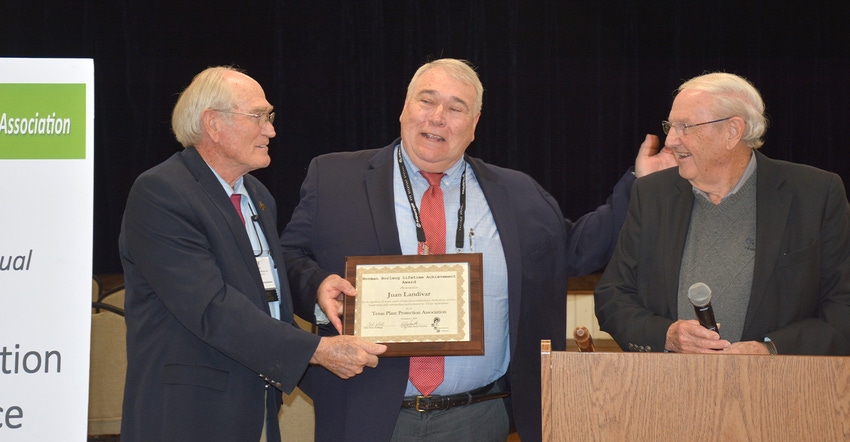 Texas Plant Protection Association will host its 34th conference next week, Dec. 6-7. Pictured, Texas A&M AgriLife Research & Extension Center Director Juan Landivar-Bowles, center, as he accepts TPPA's Norman Borlaug Lifetime Achievement Award, in 2019, from TPPA Chair Ray Smith, left, and TPPA Executive Director Bob Sasser. This year's recipient will be announced during the conference luncheon, Dec. 7.
Shelley E. Huguley
Next week, the Texas Plant Protection Association Conference will host its 34th annual conference in Bryan, Texas, Dec. 6-7, 2022. Agriculture's volatility, whether in markets, fertilizer prices or the weather, and responding to those changes, will headline presentations, says TPPA Chair Ray Smith.
"Between the markets, supply chain, and the unknowns of future fertilizer prices, producers have tough decisions ahead of them," said TPPA Chair Ray Smith. "Our hope is that the conference presentations will help producers and the ag industry navigate some of those tough decisions and provide clarity as they plan for 2023." 
The conference presentations are aimed at agribusiness professionals, including farmers and ranchers, dealers, distributors, consultants, applicators and ag lenders, along with researchers, Extension educators and regulatory personnel.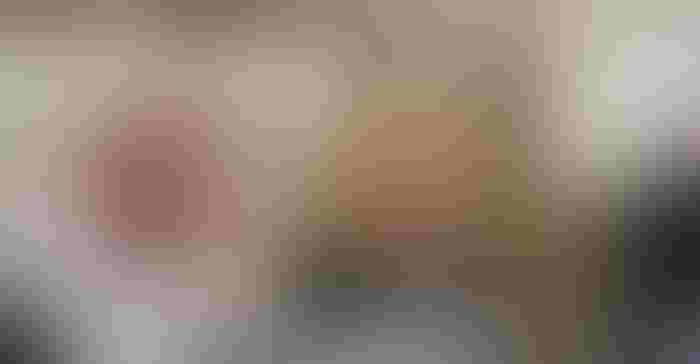 TPPA members Sandy and Betsy Pierson, both of Texas A&M University's College of Agriculture and Life Sciences, listen as awards are presented during the TPPA luncheon. (Photo by Shelley E. Huguley)
General Session 
The General Session will focus on topics such as fertilizer prices, the global market outlook, weather patterns, and a pesticide forecast by Chis Novak, president and CEO, CropLife America. "Farmers looking ahead for what pesticides to use in the 2023 growing season should find some good news, but there are changes coming that will make their input decisions more complicated," Novak says.
Economist Mark Welch, Texas A&M AgriLife Extension Service, says he'll discuss the global market outlook and its impact on Texas agriculture.
"2022 has been a year of high costs, high production risk, and high price opportunities," Welch says. "At this point, it looks like many of the factors that produced those conditions will be with us heading into 2023 putting the squeeze on profit margins."
Texas A&M AgriLife Extension Law Specialist Tiffany Lashmet will discuss carbon credit contracts during the afternoon session.  
"Carbon contracts have certainly been one of the hot topics in agriculture this year," Lashmet said. "However, not all contracts are created equal.  There are a number of considerations that producers and landowners should think through before signing on the dotted line. I'll be focusing on some of the main questions to ask and terms to watch for when evaluating and negotiating a carbon contract." 
She'll also address the importance of carefully reading contracts and what to consider before entering into a carbon contract. 
The afternoon Consultant General Session presentations will include the following: 
Pest ID Contest, a conference favorite, with TPPA board member Barron Rector, range specialist, Texas AgriLife Extension Service 

Product updates from FMC, BASF, Syngenta, Nichino, Bayer, Certis Biologicals 

New herbicide products for pasture and burndown weed control 

Winter annual grass control with CoAXium Wheat Production System and Agressor AX Herbicide 
Day 2 will begin with a TDA update on laws and regulations by Perry Cervantes, followed by the following concurrent sessions: Cotton, Horticulture/Turf, Fertility Management, Grain, Pasture and Rangeland, Water and Irrigation Management.  
TPPA will also recognize its members for their accomplishments and contributions to the association at the TPPA Awards Luncheon and Business Meeting, including announcing TPPA's most prestigious award, the Norman Borlaug Lifetime Achievement Award.   
CEUs will be available along with presenter abstracts and the poster contest for graduate and doctoral students. To view the agenda or register, visit https://bit.ly/3b0xF7u. The conference will be available in person or virtually.
About the Author(s)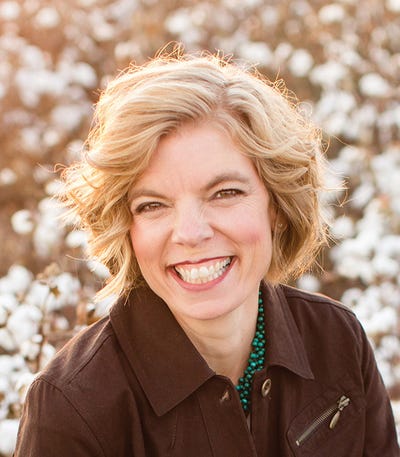 Editor, Southwest Farm Press
Shelley Huguley has been involved in agriculture for the last 25 years. She began her career in agricultural communications at the Texas Forest Service West Texas Nursery in Lubbock, where she developed and produced the Windbreak Quarterly, a newspaper about windbreak trees and their benefit to wildlife, production agriculture and livestock operations. While with the Forest Service she also served as an information officer and team leader on fires during the 1998 fire season and later produced the Firebrands newsletter that was distributed quarterly throughout Texas to Volunteer Fire Departments. Her most personal involvement in agriculture also came in 1998, when she married the love of her life and cotton farmer Preston Huguley of Olton, Texas. As a farmwife she knows first-hand the ups and downs of farming, the endless decisions that have to be made each season based on "if" it rains, "if" the drought continues, "if" the market holds. She is the bookkeeper for their family farming operation and cherishes moments on the farm such as taking harvest meals to the field or starting a sprinkler in the summer with the whole family lending a hand. Shelley has also freelanced for agricultural companies such as Olton CO-OP Gin, producing the newsletter Cotton Connections while also designing marketing materials to promote the gin. She has published articles in agricultural publications such as Southwest Farm Press while also volunteering her marketing and writing skills to non-profit organizations such a Refuge Services, an equine-assisted therapy group in Lubbock. She and her husband reside in Olton with their three children Breely, Brennon and HalleeKate.
Subscribe to receive top agriculture news
Be informed daily with these free e-newsletters
You May Also Like
---