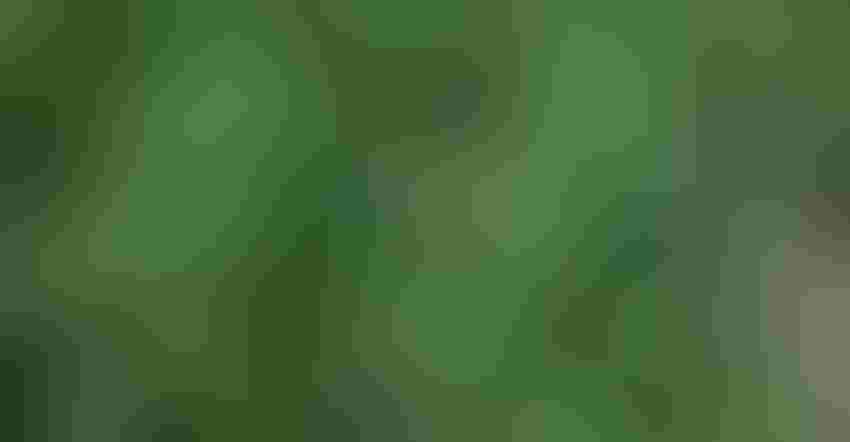 UGLY SURPRISE: This farmer was shocked when he pulled back corn and found these waterhemp weeds. Here's advice on how to prevent your own surprise.
How do you plan your weed strategy if you have waterhemp in the field? Is the critical period for soybeans shifting? Does row starter help corn yields?
Farmers attending the Top Farmer conference at Purdue University, hosted by the Purdue Center for Commercial Agriculture, asked tough questions to a panel of three specialists. Fielding questions were Bill Johnson, Extension weed control specialist; Bob Nielsen, Extension corn specialist; and Shaun Casteel, Extension soybean specialist.
Here are their answers to these questions:
We know we have waterhemp in some fields going to soybeans. Can we control it?
Johnson: Your best bet is to go after it with full rates of residual herbicides early, followed by a herbicide best suited to your soybean trait technology at full rate postemergence, coupled with a full rate of a second layer of residual herbicides. Plan on spending $50 per acre. This is not a cheap weed to control.
If you're no-tilling, apply residual herbicides with burndown applications. Consider Valor or Authority as a base for your residual herbicides in the burndown. You may want to add Sencor, Sharpen and/or a Group 15 herbicide as well. Check for label restrictions on plant-back times to soybeans. The post product will vary depending on whether soybeans are tolerant to dicamba, 2,4-D or Liberty, or none of these technologies. Include a Group 15 product like Warrant, Dual, Outlook or Zidua as the second layer of residual herbicide with that pass.
You need two layers of residual herbicides because waterhemp can continue germinating well into the season.
My dad always said August was the critical period for soybeans. Is it shifting?
Casteel: It certainly has the past two seasons. Mid-August through mid-September was critical in 2018,l and September was the critical month in 2019. That's because soybean plants were still forming and filling pods. Part of the shift in 2019 was due to late planting. However, soybean size is critical to yield, and rains into September on full-season soybeans which haven't matured yet can still be critical for top yield.
What about pop-up versus starter fertilizer for corn?
Nielsen: Our work hasn't shown an advantage for pop-up. If you're going to put fertilizer with the seed versus to the side of the row, something like 2 to 5 gallons per acre of 10-34-0 would be as much as you would want to apply
Will starter fertilizer pay for itself?
Nielsen: Responses are inconsistent in our starter fertilizer trials. Often plants look healthier, but we don't always see a yield response — sometimes yes, sometimes no. If you're applying nitrogen which you would apply anyway and not extra nitrogen, you may look at it as an insurance policy for a good start. Unless soil phosphorus levels are borderline, most response probably comes from nitrogen. Our rates are typically 20 to 40 pounds per acre.
Shalamar Armstrong has shown that following a cereal rye cover crop, adding nitrogen as starter for corn helps offset nitrogen tied up in the rye residue.
Casteel: Bob [Nielsen], don't you see a moisture difference in the fall for starter?
Nielsen: Yes, across our 30 trials, corn with starter fertilizer averages 1 to 2 points drier in the fall. We see it almost every time, even if there's no yield advantage.   
Editor's note: This is the final article in a series of three articles answering tough 2020 crop questions. Don't miss the first article and second article.
Subscribe to receive top agriculture news
Be informed daily with these free e-newsletters
You May Also Like
---