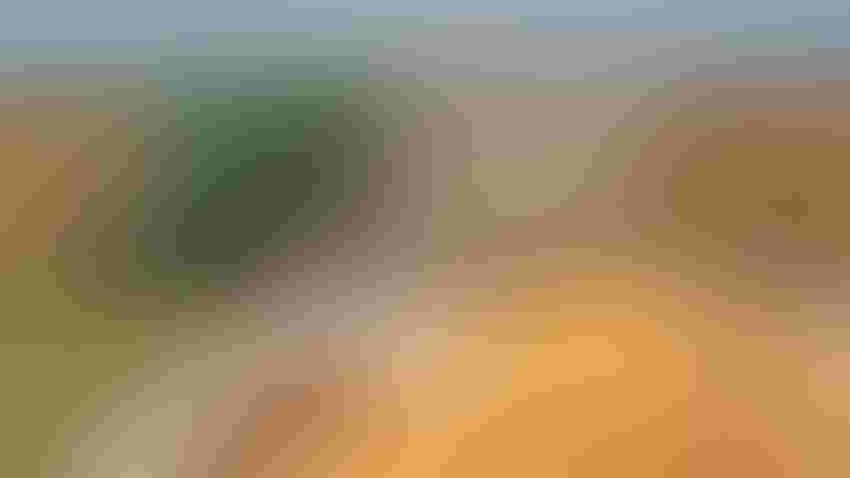 USDA's Planting Intention Report showed corn acres at close to 92 million, which caught the industry a little bit flat-footed according to Mac Marshall.
Farm Press
USDA's March 31 Planting Intentions Report forecast of 92 million acres of corn and 87.5 million acres of soybeans probably won't be the final word on what corn and soybean farmers put in the ground this spring.
But then it rarely is given that a lot of things can happen between when the first acres of corn and soybeans are seeded in March and the last few acres of soybeans are planted in June or even July in the southern states.
Still the corn forecast at the high end and the soybean prediction at the low end of trade expectations was a surprise, according to Mac Marshall, vice president, market intelligence, for the United Soybean Board in St. Louis, Mo. He was interviewed a few days after the Planting Intentions Report's release.
"It was kind of a counterbalancing," he said. "We knew going into the report the Argentine crop is maybe half of what it was expected to be. So, the market would be calling for more beans. There was generally an expectation we would wind up with higher than 87.5 million acres, which was the low end of the trade range.
"So that caught people a little bit flat-footed. Then you look at the corn figure, and you saw the wide range on that – from 87.7 million acres up to 92 million and change, and it comes in at just a shade under 92 million."
180 million acres
As in any other year, the U.S. has about 180 million acres to allocate between corn and soy, Marshall noted. The March 31 report's estimates total 179.5 million, which is not far off that number.
"Corn has had a significant uptick – you've had really strong Chinese purchases throughout the year, and I don't think it's surprising that you see that potential for corn," he said. "A lot of states might have been incentivized to plant additional corn last year if it weren't for fertilizer costs and availability.
"Well, costs have come down although they're very high relative to 2021, and availability may not be seeing the same pain points as last year. I think seeing a surge in corn is not too surprising. If last year had been a normally priced year on inputs and availability, maybe we would have seen more corn. We're seeing that rebound back this year."
The next two months will make a big difference in whether that 87.5-million-acre forecast for soy and 92-million-acre prediction for corn bears out.
"Not to sound like Captain Obvious, but weather, of course, is going to matter," said Marshall. "A lot of the states where we're seeing corn expansion are in the north. North Dakota had the largest area change for both corn and soybeans in terms of planting relative to last year."
Wet spring
Reports indicate states in the upper Midwest have received more than the 48 to 50 inches of snow Minneapolis, for example, receives on average during the winter months.
"As that melts and you go into field work days, does it mean potentially a wet spring? he said. "If you have a wet spring, do you have delays in plantings that skews toward beans in many parts of the country? So just like any other year, there's a lot to watch between now and the acreage report at the end of June."
Marshall said growers only have to think back to last spring when USDA was forecasting 91 million acres of soybeans, and "it came in a lot tighter than that (87.45 million acres). As we look ahead, I think we also have to look back to the March 31 report for grain stocks.
"I think the report was fairly telling, at least as far as the market response. March 1 inventories for beans came in 13 % lower than what they expected last year. That was 1.69 billion bushels, which was toward the low end of the range of trade estimates. That's a far cry from the 1.9 billion bushels that were in storage on March 1, 2022."
Less beans
And the number could drop even more. "If you look at the second half of the marketing year for the last four or five years, you've had very robust disappearance or usage of beans over the second half," he said. "It's been more than a billion and a half bushels on an annual average over the last five years.
"You can't apply that directly to the 1.69 billion we have in storage right now. But certainly if we have utilization anywhere approaching what it's been over the couple of years, we will hit Sept. 1 in the new marketing year with a lot of overall tightness."
The markets have been reflecting that situation with nearby futures trading at more than $15 a bushel in recent sessions. They rose again after USDA's Economic Research Service reduced its forecast for Argentina's soybean crop in its April 11 World Agricultural Supply and Demand Estimates.
Argentina's production was lowered by 6 million metric tons to 27 million metric tons due to hot, dry weather conditions in its soybean-growing area during March. The loss was partially offset by increased production prospects for another 1 million tons for Brazil (to 154 million).
Subscribe to receive top agriculture news
Be informed daily with these free e-newsletters
You May Also Like
---