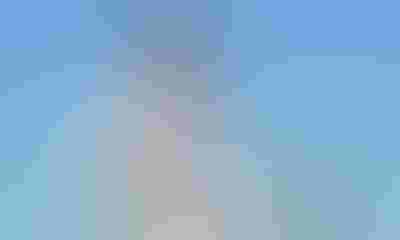 Chad Colby says the world of UAVs just changed. "The Federal Aviation Administration recently issued new regulations in Part 107, which makes commercial use legal," Colby says. "That makes the picture much clearer for agriculture."
Colby doesn't sell drones. He's a pilot who has spent lots of time flying, learning and talking about unmanned aerial vehicles. Today he is also general manager of Central Illinois Ag, a Case IH dealership in Atlanta, Ill.
"I highly recommend that anyone who is going to use a drone in agriculture go through the process and get the certificate," Colby says.

SEE THE BIG PICTURE: Chad Colby urges farmers and agronomists to understand FAA rules and UAV technology before making decisions about what to buy, and how and where to fly.
"The FAA definition of 'commercial' is clear-cut. The minute you use information gathered with a UAV to make crop management decisions — even if it is just for your own farm — it's commercial, and you need the certificate," he says.
Here is the big-picture look at what you need to know about UAVs. Since the highest altitude allowed for UAV flight is 400 feet, it's the view from 400 feet!
Step 1. Understand the terms
• UAV (unmanned aerial vehicle) — This is the proper way FAA refers to what people commonly call "drones."
• Drone — This is a layman's term for a UAV. Some people prefer using UAV because they believe "drone" has picked up a negative connotation.
• FAA (Federal Aviation Administration) — This is the governing body that controls what goes on in U.S. airspace.
• Section 333 Exemption — This was the only legal way to use a UAV commercially until the FAA issued the Part 107 rule.
• Part 107 Rule — This provides a legal way to fly UAVs commercially and outlines steps to obtain an operator's certificate.
• Fixed-wing — This is a description for any UAV that resembles an airplane design.
• Rotor design — This is also often called the helicopter design.
• Flight time — This means how long a UAV can fly. "What people forget is that it means out and back," Colby says.
• NDVI (normalized differential vegetative index) image — Most companies offer cameras for UAVs that can take these images.
• Stitching — This refers to converting a large number of camera images into one image of a field.
Step 2. Decide what you want the UAV to do
"Fixed-wing vs. rotor-ship designs have trade-offs," Colby points out. "You need to understand what you intend to accomplish before you decide which type you need."
Fixed-wing craft can typically fly farther and cover more total acres on one flight. However, they can't stop and hover over a particular area. Rotor craft can hover over the same area without issues.
This also includes what you will do with images.
There are several things to consider.
1. View the image during the actual flight. If you want to do this, then make sure the UAV system you are considering has that capability, Colby says.
2. Understand the difference between automated control and manual control. Do you control the flight manually, or can you program in an automated flight? Can you switch back and forth?
3. Determine how you will get images from the flight. Does the UAV come with software that will let you download images? Can you buy software that stitches individual images together? If so, how fast can you produce an image?
4. Compare the cost for various ways to obtain images. Some people upload data to a service. For a fee, the company turns the data into an image. One of the most-used services is DroneDeploy. How do costs compare to owning your own software? How quick is the turnaround on the service vs. what you could do with software?
Step 3. Recognize that new technologies are coming soon
New advances in UAV technology happen almost daily, Colby says. Still, his advice is to buy now if you're ready to use the data you can collect.
Technologies like crash avoidance are already here and built into some UAVs — even relatively inexpensive ones. "Just because you pay more doesn't mean that you can do more than with a UAV that costs much less," Colby says.
His advice? Don't judge a UAV by the price tag. Thermal imaging is here but still very expensive, he notes. Zoom features on UAV cameras are also appearing on the market.
Cellular technology to help move and process data could be a game-changer, he says. It is in the early stages, but it's definitely on the horizon.
Find out other farmers' plans for getting started with UAVs
Jim Facemire of Edinburgh, Ind., doesn't even own a drone yet. He has followed the technology and attended trade shows but hasn't pulled the trigger.
Here's how he's choosing to get ready for the day he buys a drone to fly over his fields.
1. Determine the steps necessary, and obtain an operator's certificate soon.  "I decided to see what it took to get a certificate and obtain it this winter, before I even have a UAV," Facemire says.
2. Purchase study materials. Reading information from people like Colby convinced Facemire that passing the test to get a certificate is doable — it's not FAA's attempt to stop people from using drones. Instead, it just means preparing properly. "I obtained a book specifically designed to help you prepare for the test," he says. "Some sections are common sense. Some are more difficult, because it involves understanding weather and flight terms."
3. Figure out the testing process in advance. Facemire visited a company that can administer the test. There's a fee for taking it. Once he's ready, he will work through this group to schedule his test.
He's also gone a step further. Since some of his land adjoins a large military installation, he visited the base. He gained access to people in charge of flight operations. "My concern was whether airspace over my fields would be restricted," he says. "They assured me that their restricted airspace basically ends at the boundaries of the base. They advised that if I fly in a field adjoining the base, it would be good policy to let them know."
Subscribe to receive top agriculture news
Be informed daily with these free e-newsletters
You May Also Like
---