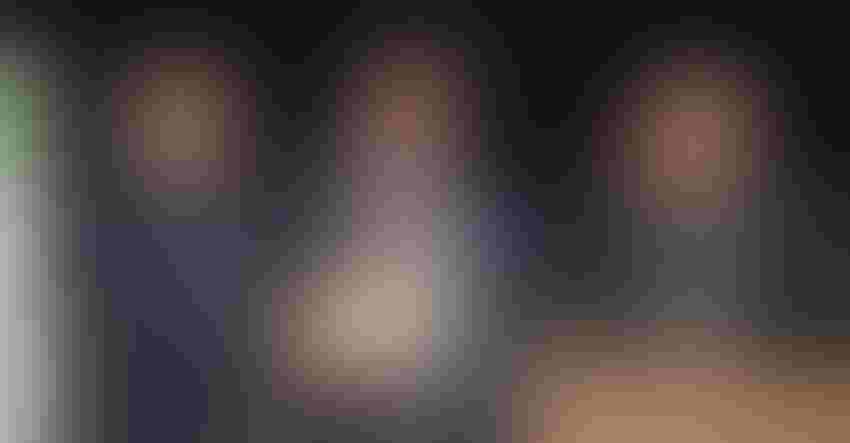 Juan Landivar, center, thanks TPPA Chair Ray Smith, left, and board member Ron Lacewell, right, for his award at the 2019 conference. Landivar received the Norman Borlaug Lifetime Achievement Award. The 2022 conference is Dec. 6-7 Bryan, Texas.
Shelley E. Huguley
The agricultural industry is changing, and the upcoming Texas Plant Protection Conference is an opportunity to learn about responding to these changes.
Ronnie Schnell, Texas Plant Protection Association president and Texas A&M AgriLife Research & Extension specialist, invites farmers, ranchers, crop consultants, Extension and other ag industry professionals to a two-day conference Dec. 6-7 at the 34th Annual Texas Plant Protection Conference at the Brazos Center in Bryan. Ag leaders will discuss changing markets, changing pesticide and fertilizer outlooks as well as changing weather patterns and the impact of these changes on Texas agriculture.
The conference begins with a general session. Following a welcome by Jeffrey Savell, vice chancellor and dean of Agriculture and Life Sciences for Texas A&M AgriLife, Mark Welch, Texas A&M AgriLife Extension Service grain marketing economist, will discuss "Global Markets Outlook and Impact on Texas Agriculture."
After a short break to view ag research posters and industry displays, Chris Novak, CropLife America president & CEO, will present information on "The Pesticide Forecast- Innovation, Opportunity & Challenge."  Toby Hlavinka, American Plant Food Corporation president & CEO, will discuss "Fertilizer – Supply & Pricing Outlook." The morning session ends with a presentation on "Weather Patterns Impact on Texas Agriculture" by Eric Snodgrass, Science fellow and principal atmospheric scientist, Nutrien Ag Solutions.
After lunch, the afternoon Consultant Session includes discussions on "Gossypol-free Cottonseed Could Help Solve World Hunger" by Keerti Rathore, Texas A & M University. Dalton Ludwick, Texas A&M AgriLife Extension entomology specialist, will present information on "Stink Bug Control in Sorghum." Law Specialist Tiffany Lashmet, Texas A & M AgriLife Extension, will give an update on "Carbon Credit Contracts."
Following an afternoon break, Barron Rector, AgriLife Extension range specialist, will conduct his Pest ID Contest. It's a fun way to learn more about ag pests in Texas. The first day of the conference ends with New Technology & Chemistry updates by industry technical specialists.
The second day of the conference begins with a Law & Regulations Session that includes an update from Perry Cervantes with the Texas Department of Agriculture. Then "Federal Pesticide Policy Updates" will be led by Rod Snyder, Senior Advisor for Agriculture to the EPA Administrator in Washington, DC.
The remainder of the program consists of concurrent sessions on Cotton, Horticulture/Turf, Grain, Pasture & Rangeland, Water& Irrigation and Fertility Management. These sessions feature the latest from Texas A&M AgriLife and industry leaders.
Ray Smith, the Texas Plant Protection Association Board Chairman, reminds conference attendees to be sure and attend the awards luncheon at noon on the second day of the conference.  Several TPPA Awards are presented including the Norman Borlaug Lifetime Achievement Award.
Continuing Education Credits (CEUs) will be offered for both TDA and CCA.
For more information or to register to attend the conference either in person or virtually visit the TPPA website: www.texasplantprotection.com . Discounts are available for early registration and for farmers.
About the Author(s)
Subscribe to receive top agriculture news
Be informed daily with these free e-newsletters
You May Also Like
---