Hale County grower Bryan Curry grows canola for the first time on his dryland acres.
Looking for an alternative crop to wheat and encouraged to try something new, Texas grower Bryan Curry, planted dryland canola on two of his Hale County farms – a risk involving a learning curve complicated by drought.
 "This field has only had an inch-and-a-half of rainfall since the first of October," says Curry. "I planted it Sept. 20, before a four-inch rain, and then one night in February it rained nine-tenths-of-an inch — that's the biggest rain I've had since I planted it."
Curry planted the tiny Roundup Ready seeds (similar in size to a poppy seed) one inch apart on 15-inch and 30-inch rows. The crop averaged about 18 bushels an acre.
"The edges weren't so hot," Curry explains. "There just wasn't much yield. Most of the yield came from the center of the fields."
See Canola harvest underway photo gallery.
While the canola planted on 30-inch row spacing yielded slightly more than the canola planted on the 15-inch rows, Curry points to the drought for the increase, "This year was so dry. I think on a normal year, 15 inch would be better."
Canola is an oil-seed crop, growing to about three to five feet tall. It produces pods that contain seeds which are harvested and crushed to create canola oil and meal. Canola seeds contain about 45 percent oil, according to the U.S. Canola Association website, http://www.uscanola.com/what-is-canola/. Spring canola is primarily grown in Canada and North Dakota, while winter canola is produced in the Southwest.
When asked what his biggest challenge was in growing the new crop, Curry says "The unknowns. I didn't know anything about it."
But not-knowing didn't stop him from trying something new. Rather Curry consulted throughout the season with canola grower and Oklahoma Cooperative Extension Service Area Agronomist Heath Sanders about how to grow the cool-season crop.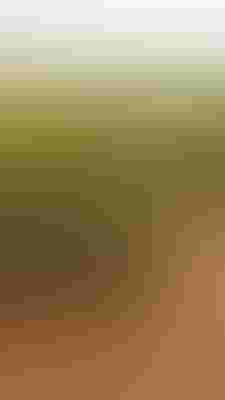 "There are a lot of benefits to growing canola," says Sanders, who also grows canola in rotation with other crops on the family farm with his dad. "A lot of growers have seen anytime they plant a crop following canola, it tends to grow more vigorously, it tends to produce more than it normally would."
Sanders recommends following canola with a grass crop. "You're going to see a 10 percent to 15 percent increase in wheat yields. We've got many farmers that see as much as a 30 percent to 50 percent increase in wheat yields following canola — they've just seen a difference."
Canola's tap-root system enables it to vie for nutrients while also leaving the ground mellow if fallowed before planting another crop, says Sanders.  "If we harvest canola and then plant wheat in the fall, and if we get a little moisture here and there, the soil is generally very mellow."
And once the cool-season plant is harvested, the biomass quickly disappears. "It breaks down quickly. Once it runs through the combine, it essentially disintegrates. You'll have some stubble or stalks, but that's about it," Sanders says.
Canola vs. wheat
It's been said, canola needs to be treated as a "cool-season cotton crop," in other words, it's a high-input crop. Lubbock, Texas, Professor and Texas AgriLife Extension Specialist Dr. Calvin Trostle, cautions growers, canola is not as "easy" to grow as wheat. "With wheat, you can pick an adapted variety, plant at a good time, and topdress nitrogen in the late winter, and if the weather permits, you can have a good crop.  It is fairly simple."
But for canola to be productive, it demands more management, says Trostle, who has been conducting canola trials for the last 10 years. First, canola must be planted in a timely fashion or else winterkill is likely, he says.  In the upper Texas Panhandle, on the west side, canola needs to be planted by Sept. 10.  For the northwest South Plains, he recommends planting by Sept. 15, and Sept. 25 around the Lubbock area. 
Canola, a premium oil for biodiesel, also has higher fertility than wheat, says Clark Neely, Small Grains and Oilseed Texas AgriLife Extension specialist at College Station, along with more insect problems, especially aphids.
There are three species of aphids that can hammer winter canola, not only diminishing the leaf area, but feeding on floral structures before flowering, rendering them useless so no pod develops, says Trostle. Diamond back moth is also another concern.
On the High Plains and in drier climates when canola is filling pods, the false chinch bug can be an issue as well, says Clark. "They can do significant damage."
Harvest management can also be tricky. "If canola dries down too much, it readily shatters," says Trostle.  "That is why a lot of growers use a harvest aid (primarily Syngenta's 'Reglone' which is diquat dibromide, slightly less toxic than paraquat in terms of safety).  Then direct cut."
Seeding rates
In the past, much of the literature suggested planting canola at about 5 pounds per acre, Neely says, but on his trials in Texas, he's cut the rate back considerably. "I've slowly backed my seeding rate off on my trial to 3 pounds and I just did a trial using 1.5 pounds. We found very little difference between 1.5 and 3 pounds and by cutting your seeding rate back, you can also cut seed costs as well."
Neely adds in Central Texas, where they have moist soils, they plant canola on 7.5 and 15 inch rows. "We've seen a yield drop going up to 30 inches. I prefer the narrower spacing because it tends to help with quicker canopy closure and trying to suppress weed growth."
Canola advantages
While canola acres may not be increasing in Texas or Oklahoma, Trostle says canola has a place in the Southwest and a good economic study is merited.  "In Oklahoma, they say that canola yields are about 80 percent of wheat, but a pay unit is 50 pounds an acre. A wheat pay unit, or bushel, is 60 pounds per bushel. Canola price in late May was near $7.75 per bushel, so you can see that the income potential from canola is higher than wheat."
Another advantage to growing canola in the Southwest, is price. "Generally, prices peak right before a crop is harvested. Because the bulk of canola acres in North America are spring planted in Canada or North Dakota, coming off at the end of the summer, and we harvest ours in the spring which is often when the price peaks, we have a price advantage down here," says Neely.
And where irrigation is limited, Sanders says, there is real potential for winter canola as long as it can be applied at peak times such as in the fall for crop establishment, prior to a freeze and during flowering. "Your evaporation rates are not as high in the winter and early spring, but you have to deal with freezing temperatures," he says.
"It goes dormant throughout the winter, so if we've got some moisture going into a hard freeze and rain or moisture in the spring time to come out of dormancy, that will help it start growing again and help prepare to go into reproduction mode." During flowering, canola will use up to three-tenths of an inch per day.
Looking forward, Curry, though he didn't yield what he would have liked thanks to the drought, says he's not giving up on the crop and will try again next year.
Subscribe to receive top agriculture news
Be informed daily with these free e-newsletters
You May Also Like
---