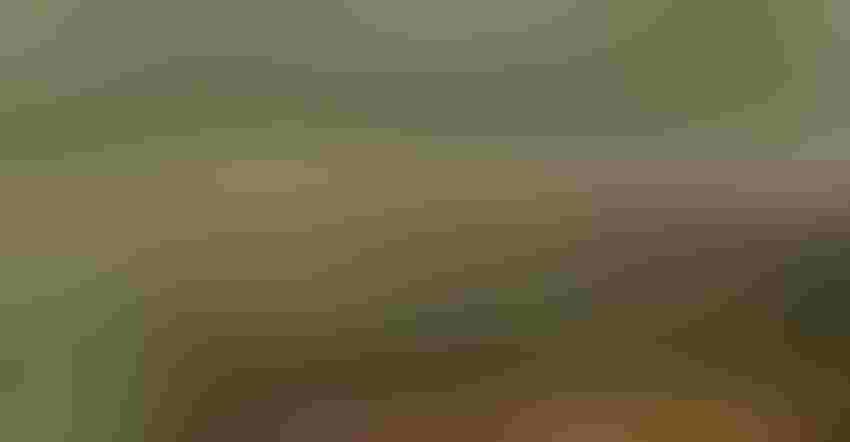 CORN TAR SPOT: Kansas farmers need to be vigilant in scouting for tar spot in their irrigated corn acres, according to Vince Davis, BASF technical field representative. This foliar disease was first discovered in Illinois and Wisconsin fields in 2015, and has since spread to 14 states across the Midwest. It thrives in humid environments, similar to those found in some cornfields irrigated by center pivots.
Courtesy of Martin Chilvers, Michigan State University
Corn farmers may not have corn tar spot in their fields now, but this foliar disease is quickly spreading through 14 states — and it's only a matter of time before it shows up on their doorsteps.
It's important to be vigilant, says Vince Davis, BASF technical field representative. Davis works in Wisconsin and Illinois, which were some of the first states to report tar spot in corn in 2015. In the seven years since then, tar spot has continued to spread. We asked him what should corn farmers know going into this season.
What is tar spot and why should corn farmers be vigilant in their fields? Tar spot originated in Central and South America. It's a foliar disease, similar to grey leaf spot or northern corn leaf blight. The disease releases spores that are carried by the wind and can overwinter on corn residue. You'll see black dots that are embedded in the leaf tissue and won't rub off onto your fingers. As the infection spreads to 35 to 40% of leaf coverage, the pathogen growing internally will draw sugars out of the plant and produce toxins that will shut down the plant in early grain fill. It also opens up the corn plant to infection from other diseases, further stressing the crop. Ultimately, tar spot can result in yield loss, and in severe cases a field that is completely unharvestable.
What environmental conditions are attractive to tar spot growth? On the surface it would seem that tar spot needs cooler weather — but we've confirmed it in counties in Kentucky and Georgia and southern Florida, so we know it can tolerate high temperatures in the day, with milder temperatures at night. A big driver is leaf wetness and that inner-canopy moisture and humidity. So, irrigated acres, on poorly draining soils with poor airflow, maybe on river bottom grounds that have been corn on corn — that's where you'll likely see the disease, almost irrelevant of temperature. 
Are there mitigation methods to help farmers who may have susceptible acres? You have to consider a total agronomic solution, starting with the right hybrid, fertility and weed control. You want to ensure your corn crop is as healthy as possible to help it fight back against the disease. Using a multispectrum fungicide is important to control for tar spot, but also other foliar diseases that can use the opportunity a tar spot infection creates to infect the corn plant.
The good news is that we have a lot of fungicide solutions to help provide control. Headline AMP and Veltyma, a newer product, brings residual control. Infection can start as early as the V8 to V10 stage, the early side of rapid vegetative growth stage of corn. For tar spot control, the most efficacious application is closer to flowering stage, that VT to R1, early tassling to silk stage. You want to protect the flowering window and grain fill period, when the crop is packing that starch into the kernels.
Unfortunately, rotation to another crop isn't effective. The spores are windborne and can travel long distances. You can't control the disease by managing crop residue when the spores are just ubiquitous.
What are we still trying to find out about tar spot? We still need to learn more about what hybrids have more resistance to tar spot than others, and seed corn breeders are moving forward on that.
"I would say in areas where tar spot has not been confirmed before, the most important thing is to be diligent in scouting of the area," Davis says. "Start early in the vegetative stage with your scouting. Look for little black dots that are embedded in the leaf tissue, and don't wipe off. If you see some, send a sample to your university pathologist so that we can track it county by county.
"In many areas of the Midwest, the first years the disease came in, the growers and agronomists noticed it, but the infection didn't ramp up until the end of the growing season," he continues. "They didn't think it would be a big disease. But two to three years later, that's when it can really blow up in an area. Keeping an eye out now can pay off in tracking this disease and being prepared in the future."
Subscribe to receive top agriculture news
Be informed daily with these free e-newsletters
You May Also Like
---