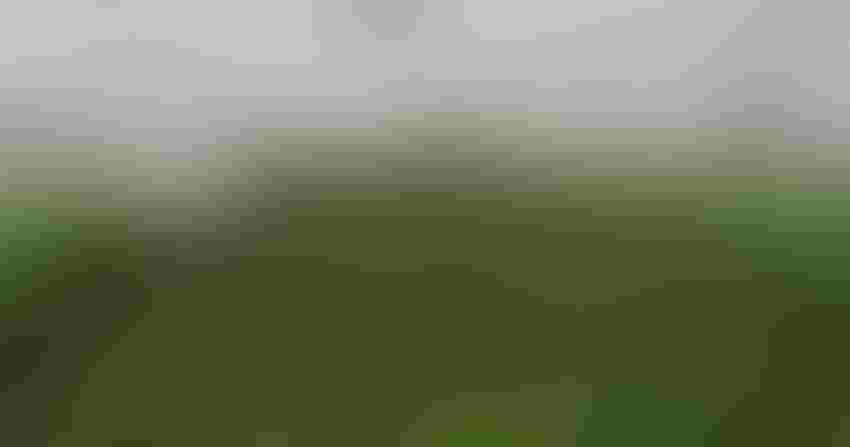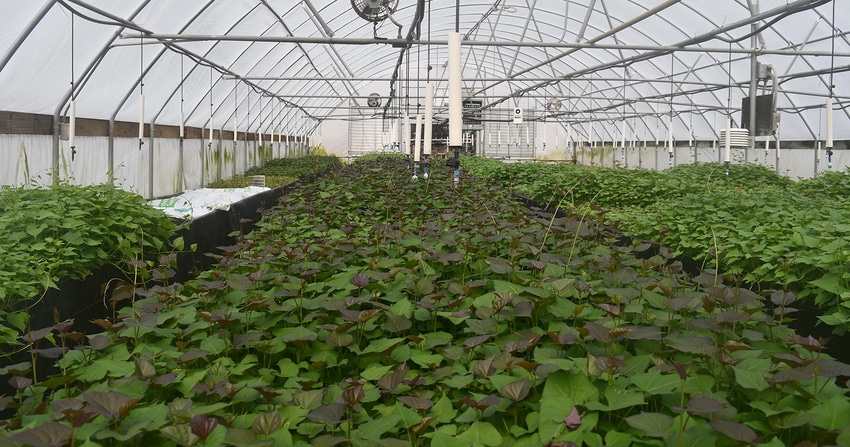 Sweet potatoes in storage crates for the LSU's foundation seed program.
Brian Ireland
The Louisiana State University (LSU) Sweet Potato Research Station's mission is to help growers across the region through the creation and rigorous testing of new varieties and by providing growers with quality seeds.
"The current mission of the Sweet Potato Research Station is two-fold," said Arthur Villordon, senior scientist. "First, to produce virus-tested, certified foundation seed of recommended sweet potato varieties. Second, to conduct research on breeding, cultural practices, and pest management."
Villordon conducts research and provides recommendations to improve the sweet potato yield and reduce loss year after year.
Foundation Seed
"Each year, about 45 acres of land are used for foundation seed production," explained Villordon. "Sweet potato producers start the production cycle by "bedding" seed in late March or early April to ensure the availability of plants by the middle of May."
"Seed roots are placed in field beds, covered with soil, and then plastic is applied over the bed to protect from cold and create warm conditions in the soil for sprouting. Some producers use clear plastic instead of black plastic, but this can lead to seed root rotting associated with excessive heat especially when ambient temperatures are warm."
Previously virus testing consisted of visual selection and discarding the bad-looking ones instead of a scientific approach.
"The main goal of the foundation seed program is to maintain the integrity and quality of commercial cultivars," Villordon said. "Sweet potatoes are vegetatively propagated, which makes them susceptible to the accumulation of viruses and other pathogens that can lead to cultivar decline.
"The incorporation of virus testing in foundation seed programs has been instrumental in improving the quality of foundation seed. Traditional methods of virus indexing typically involve the grafting of plants to an indicator plant. The development of molecular methods has helped to increase the specificity and sensitivity of detection and obviate the need of virus indexing, which can be time-consuming."
Mother plants are maintained on campus and propagated every year. Researchers noticed after the third generation, viruses come back and reduce yields.
Virus testing continues to improve the skin color and shape of the sweet potato.
"In accordance with certified seed regulations, sweet potato foundation seed is grown in one out of three years in any field," Villordon said.
He noted the importance of rotating crops to reduce the chances of spreading viruses or other problems to the following crop.
Seeds are cured in crates with slats that allow airflow between them. Crates are usually stacked three to four feet high with a gap of a couple of feet between each row. This allows the seed to cure for five to seven days.
"In addition to recommending best practices that reduce mechanical damage during harvest, curing of the seed must be controlled," Villordon said. "Curing before long term cold storage is essential to allow rapid healing of cuts, bruises, and skinning that can lead to moisture loss and pathogen infection in storage. Rapid healing of wounds is dependent on maintaining the curing temperature at 85 degrees and relative humidity at 85% for five to seven days. After the sweet potatoes have been cured, the long-term cold storage at 55 to 60 degrees and 85% relative humidity helps to ensure good quality."
Seeds are then moved into long-term storage for up to twelve months. Seeds are cured in short and long-term storage unwashed.
Breeding Program
Breeding starts with picking specific varieties to grow based on the desired outcome.
"Several varieties will be planted for the breeding program with cross-pollination happening naturally through bees," explained Adam Easterling, farm manager at the LSU Sweet Potato Research Station. "Seeds will then be handpicked, and specific ones will be selected for planting or storing."
Seeds are tested using two methods to ensure quality seeds are being planted in the greenhouse.
"The seeds are allowed to soak in sulfuric acid for approximately 15 minutes to activate them," Easterling said. "The seeds are then rinsed with water before performing a float test. Seeds that float will be discarded. The remaining seeds are uniformly spread out on a paper towel to dry overnight. Any seeds that shrivel up get discarded."
The seed program plants 20,000 to 30,000 seedlings per year. Researchers subsequently purge them based on quality. Over time they will pare down to about 100-200 plants of a specific variety and focus on selecting the best variety for the sweet potato industry.
Subscribe to receive top agriculture news
Be informed daily with these free e-newsletters
You May Also Like
---