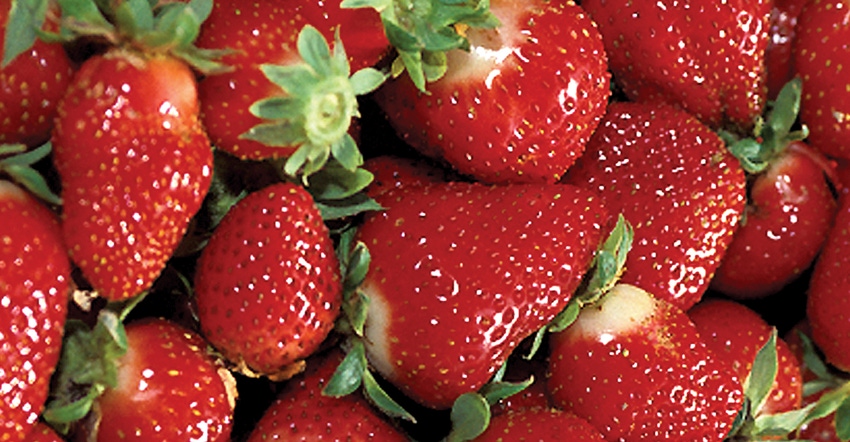 GROWING YOUR OWN: Whether questions come from gardeners planning their first strawberry bed or maintaining an established bed, ISU Extension horticulturists can help.
Many strawberry growers across Iowa are predicting a bumper 2017 crop and are encouraging Iowans to take advantage of the fresh berries by visiting a local strawberry patch or a farmers market.
"The mild winter and wet spring have created a nearly ideal growing situation for fruits and vegetables in Iowa, and strawberries are leading the way. Growers across the state are reporting tons of blooms," notes Bill Northey, Iowa ag secretary.
Strawberries go from bloom to fruit in about 30 days and are best eaten within a few days of being picked. Strawberry harvest season only lasts about three weeks in Iowa, and harvesttimes vary across the state.
"Fresh-picked strawberries are a delicious treat that often kick off the growing season and a summer full of enjoying fresh, Iowa-grown fruits and vegetables. Visiting a local farmers market or going to a U-pick farm is a great way to find fresh berries that can be enjoyed fresh, used in baking or preserved as jellies or jams," notes Northey.
Websites have locations of Iowa berry patches
As a favorite fruit among many Iowans, strawberries are low in calories and fat-free. One cup of unsweetened strawberries has only 55 calories. Strawberries are also a good source of vitamin C, folic acid, potassium and fiber.
"Support a local grower and treat your family to a fun-filled trip to the strawberry patch and make memories that will last a lifetime," he adds. "If visiting a strawberry patch, be sure to call or check the website for their harvest information. While you're there, you may just find blueberries or raspberries as well." 
You can find strawberry growers by visiting the Fruit and Vegetable Farms Directory or on the Iowa Fruit and Vegetable Growers Association Farm search page.
Helpful advice and answers for home gardeners
Home gardeners can choose from three types of strawberries, according to Iowa State University Extension horticulture specialists. Keep this information in mind when deciding which varieties to plant.
• June-bearers are the most widely planted type of strawberry. They produce one crop per year, with the majority of fruit ripening in June.  
• A second type of strawberry is the everbearing strawberry. Everbearing varieties typically produce fruit in June and late summer or early fall, with little flowering or fruiting in the intervening weeks.
• Day-neutral varieties are the third type of strawberry. Day-neutral varieties flower and fruit throughout the growing season if temperatures are moderate. Flower and fruit production stop during hot weather. 
For further help, ISU Extension horticulturists can answer your questions. Email or call the horticulture hotline at [email protected] or 515-294-3108.
Source: Iowa Department of Agriculture 
Subscribe to receive top agriculture news
Be informed daily with these free e-newsletters
You May Also Like
---