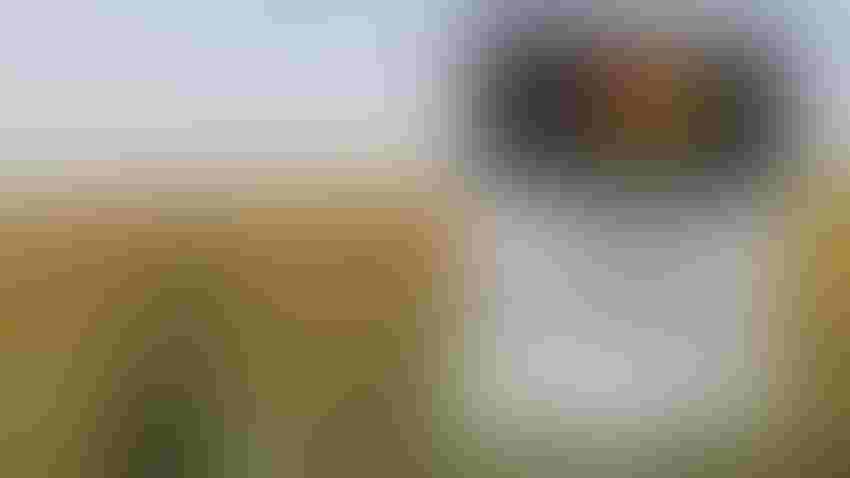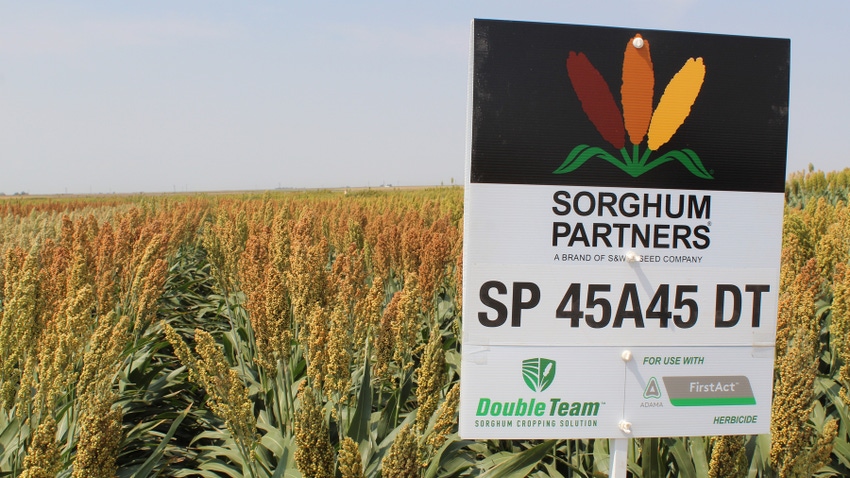 HERBICIDE STEWARDSHIP: Sorghum growers have three different herbicide technologies now available for use in their sorghum crops, like this 2021 test plot of Sorghum Partners Double Team sorghum. Having a plan for stewardship now will ensure these herbicide technologies can be used effectively in the future, industry experts say.
Jennifer M. Latzke
The last three years have seen technological breakthroughs for grass control three decades in the making for sorghum farmers. Over the last 36 months, we've had three new herbicide technologies — igrowth, Double Team and Inzen — come to market. While these breakthroughs are game-changers for sorghum farmers and the sorghum industry overall, they're only game-changers for as long as they can be effectively used to control grass in sorghum.
To maintain this effectiveness, sorghum farmers and the sorghum industry are going all out on stewardship, which is critical for preventing the development of resistant grass. Brent Bean, sorghum checkoff director of agronomy, is leading the effort, so I recently sat down with him for a stewardship Q&A that I hope will be helpful for sorghum farmers as they begin getting ready for #plant23.
New technologies
Duff: For those not familiar with these new technologies, what are the modes of action and what herbicides that can be used with them? Start with igrowth. Bean: Igrowth hybrids are tolerant to imidazolinone herbicides, which are a subclass of ALS herbicides. The technology was developed by Advanta Seeds and the herbicide labeled for use with the hybrids is Imiflex, which features the active ingredient imazamox and is sold by UPL.
Talk about Inzen next. Inzen hybrids are tolerant to sulfonylurea herbicides, which are also a subclass of ALS herbicides. The technology was developed by Corteva (Pioneer), and the herbicide labeled for use with the hybrids is Zest, which features the active ingredient nicosulfuron and is sold by Corteva.
Finish up with Double Team. Double Team hybrids are tolerant to FOP herbicides, which are a subclass of ACCase herbicides. The technology was developed by S&W Seeds and the herbicide labeled for use with the hybrids is FirstAct, which features the active ingredient quizalofop and is sold by Adama.
Maintaining effectiveness
Thanks for that background. Now, why should we worry about effectiveness? Can we even do anything about it? We should absolutely work to maintain the effectiveness of these tools by avoiding the development of resistant grass. Fortunately, we have the benefit of three decades' worth of best management practice knowledge gained (often painfully) in corn, cotton and soybeans. We'll be leaning heavily on that knowledge as these technologies grow in market share over the next couple of years.
What are some of those best management practices that are specific to sorghum? First, it's always best to add a second mode of action like a Group 15 preemergence herbicide. These include S-metolachlor, acetochlor and dimethenamid. And if farmers can't stop grasses from sprouting, it's best to apply Imiflex, Zest or FirstAct herbicides to small grasses, preferably when they're less than 3 inches tall and easier to control. In both cases, the key is getting ahead of problems early.
What if resistance to one of these modes of action is already present in a field?In this case, farmers shouldn't use the technology that uses the herbicide with that mode of action. Similarly, they should use a different mode of action in the crop following an herbicide technology sorghum hybrid. For example, if Inzen sorghum is planted and Zest herbicide is applied, the farmer shouldn't rely on a sulfonylurea herbicide in the following crop. Sorghum farmers now have three options, so this diversity itself should be used as a tool.
Deterring resistance
Any other advice? A particular concern is the development of resistance in johnsongrass and shattercane. In fields where herbicide technology sorghum is being planted, farmers should control these grasses so that flowering doesn't occur simultaneously. In other words, farmers should work to keep the johnsongrass or shattercane from flowering while the sorghum is flowering. In addition, any grass escapes should be controlled before they go to seed. And farmers should watch for and control volunteer sorghum early in the following year. I could go on and on, but these are the highlights.
Where can farmers learn more? On our website, sorghumcheckoff.com, they can simply type the word "stewardship" in the search bar for much more detailed information on stewardship guidelines. I'm always happy to visit with farmers, as well. I can be reached at [email protected]
Duff is founder of Sero Ag Strategies and serves as a consultant to National Sorghum Producers. He can be reached by email at [email protected] or on Twitter @sorghumduff.
Subscribe to receive top agriculture news
Be informed daily with these free e-newsletters
You May Also Like
---