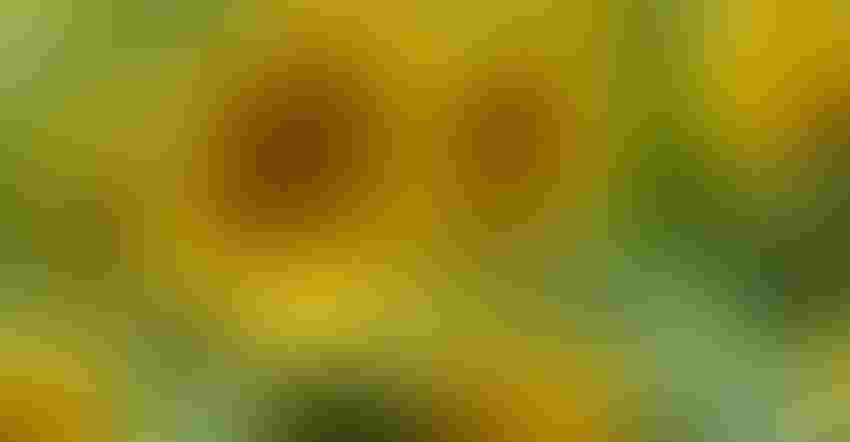 BIGGEST SPECIALTY: Sunflowers are one of most widely planted specialty crops in the Dakotas and will scientists will receive several grants study how to solve production problems.
Corn, soybeans and wheat get all the attention, but there are a lot of specialty crops grown in the Dakotas, too, especially North Dakota. I've heard Doug Goehring, North Dakota ag commissioner, say there are more than 40 specialty crops produced in the state.
That diversity is apparent in the more than $2.2 million in grants from USDA that Geohring recently awarded for specialty crops grants. Institutions and organization receiving grants, the amount of the grant and the projects were:
• North Dakota State University (NDSU) — $22,344 to evaluate the effect of crop rotation on root rot disease of lentils. 
• NDSU — $129,931 for identifying resistant potatoes and developing efficient quantification assays for management of nematode diseases.  
• NDSU — $51,522 to evaluate underutilized U.S. native trees and shrubs for North Dakota.  
• NDSU — $49,934 to evaluate cornelian cherry for ornamental and fruit production. 
• NDSU — $101,416 to determine sustainability and utility of verticillium wilt resistance in French fry potato cultivars. 
• NDSU — $55,452 for optimizing the deployment of foliar fungicides for managing sclerotinia head rot in confection sunflowers. 
• NDSU — $63,609 for increasing the safe production and use of specialty crops throughout North Dakota.  
• NDSU — $151,786 for examining the season extension limits using high tunnels in North Dakota.  
• NDSU — $72,978 for advancing viticultural management techniques for North Dakota. 
• NDSU — $97,738 for development of best management practices for new potato cultivars.  
• NDSU — $52,141 to augment tree species recommendations by evaluating a natural experiment.
• NDSU — $98,072 to study production of leafy green vegetables in controlled environment systems. 
• NDSU — $24,918 for predicting potato yield losses due to metribuzin sensitivity.  
• National Sunflower Association — $118,996 to apply genomic tools to accelerate breeding for disease resistance in confection sunflowers.
• North Dakota Trade Office — $169,850 for marketing to international buyers for specialty crops. 
• NDSU — $98,474 for breeding and selection of vegetable crops for northern climate.  
• NDSU — $96,595 to investigate the impact of combining cover crops, strip tillage and novel mulches to manage weeds in vegetable cropping systems.
• Dakota College at Bottineau — $52,087 to develop integrated pest management training tailored to North Dakota specialty crop growers' needs.  
• NDSU — $51,538 for development of a mitigation strategy for soft rotting pathogens affecting seed potato production.
• NDSU — $89,848 to optimize the use of seed treatment fungicides to improve the management of fusarium and aphanomyce root rots in field peas.
• NDSU — $44,870 for screening of the North Dakota State University grape germplasm collection for temperature adaptive acclimation response.
• NDSU — $105,435 to improve detection efficiency of bacterial blight pathogens affecting dry edible beans.
• NDSU — $32,950 to make better selections of Japanese Haskap for North Dakota.  
• NDSU — $49,775 to optimize row spacing and seeding rate for dry bean yield and quality under Sclerotinia pressure.  
• North Dakota Department of Agriculture (NDDA) — $122,586.06 to increase specialty crop access and education to schools and communities.
• NDSU — $50,352 to evaluate pollinator-friendly perennials for North Dakota. 
• NDSU — $114,977 to develop a management strategy for pea rust and a mobile app for pea diseases. 
• NDSU — $44,557 for innovative organic production practices in North Dakota for specialty vegetables.  
• NDSU — $72,024 to identify broadleaf weed control options and recommendations for chickpea and faba beans.  
"As our farmers seek to diversify their production, these grants help provide important information through specialty crop research, education and marketing," Goehring says.
South Dakota
The South Dakota Department of Agriculture recently awarded approximately $290,000 to six specialty crop projects around the state. Grant recipients included:
• Vermillion Area Farmers Market from Vermillion.
• Native American Advocacy Program from Herrick.
• South Dakota Specialty Producers from Yankton.
• Edmunds Central School District from Roscoe.
• Hoven School District from Hoven.
• South Dakota Department of Agriculture, Division of Ag Services.
"We have a wide variety of projects this year that are impacting the specialty crop industry," says Kimberly Sturm, SDDA grant and loan specialist. "We have honey restoration, to mobile classrooms to educate our youth about the importance of specialty crops as well as projects promoting, preserving and marketing specialty crops in South Dakota. Very exciting year for the industry."
Subscribe to receive top agriculture news
Be informed daily with these free e-newsletters
You May Also Like
---