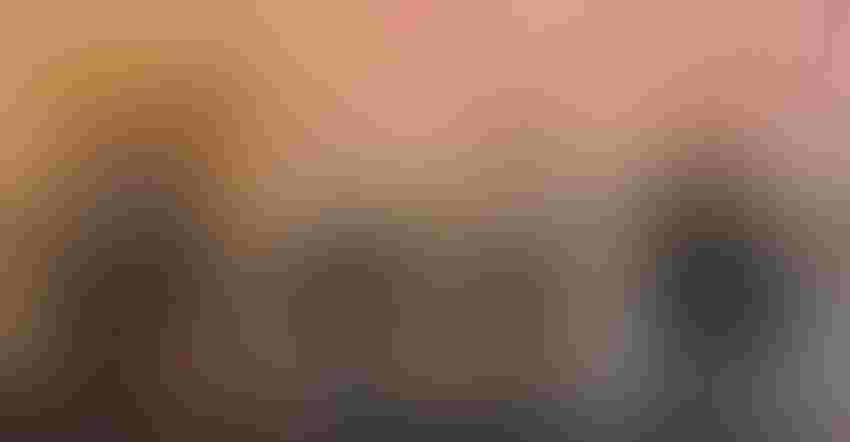 WEIGHING IN ON RESISTANCE: A crop consultant panel discussed weed and pest resistance at a soybean symposium hosted by U-M Extension at the Landscape Arboretum in Chanhassen. On the panel were Bryce Nelson, left, Van Larson, Cory Sinn and Curt Burns.
At a recent soybean symposium hosted by the University of Minnesota Extension, four speaker panels talked about challenges centering on insect and weed resistance facing the state's soybean growers.
Panel speakers representing industry, the university, farmers and crop consultants offered insight and comments on the topic. Here are highlights from some of the discussion.
Industry panel: Dave Johnson, DuPont Crop Protection; Clint Pilcher, DuPont Pioneer; Greg Elmore, Monsanto; and Duane Rathmann, BASF. Communicating with growers about insecticide resistance management is important, and companies rely on a variety of ways to do so. Rathmann noted that product labels provide important information to growers regarding site of action and other specifics. Elmore said Monsanto provides a technical use guide and training to individuals and groups on products. Pilcher said the industry is learning how to get more in alignment with best management practices, so growers are hearing consistent messages. He added members of the industry also are looking at long-term planning to evaluate what resistance could look like over multiple years. Johnson said a lot of sales agents also are growers who raise test plots. Those plots offer growers a chance to see crop management in practice.
One farmer in the audience asked about product pricing and the impact that has on purchasing.
"The loudest message from industry is pricing, and if you want longer-running products, you need to price alternative products appropriately," he said. "It's hard to make a change when it's priced out."
The industry panelists acknowledged the comment, saying they still have a lot to learn about pricing, incentives, and other ways growers get rewarded.
"The challenge for companies is balancing the cost of bringing a product to the marketplace to price," Elmore added.
Another farmer in attendance noted the difference between the sharing of company research and development data and sales staffs.
"You need to educate sales to back off if [a product] is not the right fit," he said.
Panelists again acknowledged the push-pull between research and marketing, a practice that has always been there. That said, Pilcher noted that he is seeing some salespeople not making a sale because the farmer decided on a more sustainable product.
"I think the industry is evolving with this," he said. "We do want your feedback on what salespeople are telling you."
University panel: Ken Ostlie, entomologist; Dean Malvick, plant pathologist; Jeff Gunsolus, weed scientist; and Bev Durgan, Extension dean. Ostlie, in his 33rd year as an entomologist, told farmers in the audience that soybean aphid resistance is scary.
"All summer long [last year] we were fighting clones. All left are resistance," he said. "[Resistant] two-spotted spider mites are a fallout of aphid control … and corn rootworm is resistance to everything, including traits not registered yet."
Gunsolus, in his 31st year as a weed scientist, said when he first came to the university, there was more crop diversification and rotation. Not anymore.
"As chemistries and herbicides have changed, what stands out most to me is that Minnesota is a big total post-control weed state." Since 1993, he has been working on weed resistance. As new chemistries come on board, such as dicamba, he worries about durability. "Stacking and selecting for resistance traits can only go so far," he said.
Gunsolus also talked about a study that looked at the human side of weed-control practices. He took notice of two items: that deep down, we are all waiting for a new herbicide to come on the market but don't want to change in the meantime; and that our neighbor has a bad weed control problem, and we don't want to talk about it.
Durgan noted the university's shift in Extension and research to emphasize training ag professionals and helping them work with growers to make agronomy decisions. Plus, Extension tries to serve as a bridge between farmers and industry.
"The university has been criticized in the past for that relationship with industry," she said. "It's very important, though."
She also noted that many university faculty are reaching retirement age, and wondered if new faculty would have a farm connection. Of real concern is the lack of applied science students, particularly in the area of agronomy.
When asked what they wanted farmers to understand about resistance, the Extension specialists responded:
Ostlie: Resistance depends on selection pressure. Everything you put out there goes against a population that doesn't need it.
Malvick: Just because you are using a trait, it doesn't mean it is working. For example, PI 88788 for soybean cyst nematode. Scout your fields. Check and make sure the trait is working.
Ostlie: You are managing a weed seed bank.
Farmer panel: Lane Otto, Redwood Falls; Will Anthony, Mankato; Vern Pooch, Farwell; and Gene Stoel, Lake Wilson. The farmer panel talked about weed- and pest-control practices on their farms and offered opinions on a few topics. When asked about research received from the university and industry, they agreed they want more detail and transparency.
"I'd like to see good and bad numbers," Otto added. "Where did it fail, and why? I'd also like to see research shared."
Crop consultant panel: Bryce Nelson, Austin; Van Larson, Rochester; Cory Sinn, Trimont; and Curt Burns, Stewart. The panel agreed that resistance is a complex issue and unique to each farm. Growers want to do the right thing, yet they are sometimes offered different or conflicting advice from consultants, seed dealers and retail agronomists. Incentives offered by dealers and retailers can influence farmer choice.
"A lot of farmers used to know how chemicals work together, but not now. We have to educate them about the difference in chemistry, the generics, the brand names," Nelson said. "However, it still is the farmer's responsibility to question an adviser, elevator or salesman. What is the mode of action, and is it really different?"
They also agreed that scouting for resistant weeds continues to be very important. Make time for it. Cut fence-line weeds.
Added Burns: "When a farmer sees you scouting a fourth or fifth time, they appreciate it and understand that it works."
Subscribe to receive top agriculture news
Be informed daily with these free e-newsletters
You May Also Like
---