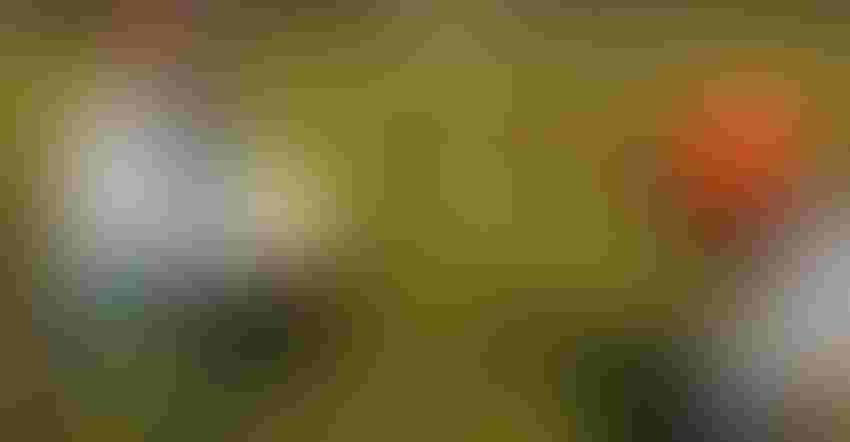 CHECK IT OUT: Growing specialty corn, soybeans or other crops can add value per acre, but consider any extra costs and possibly a lower yield potential.
Each month in Wallaces Farmer magazine, the Timely Tips panel answers questions sent by readers. Members of the Timely Tips panel are Alejandro Plastina, Wendong Zhang, Extension economists, Iowa State University; Leslie Miller, Iowa State Savings Bank, Knoxville; and Rob Stout, Master Farmer, Washington, Iowa.
I'm thinking about growing specialty crops under contract to make extra money. I'd like to grow something that's simple and works with our corn and soybean enterprises. Seed corn and seed bean contracts are hard to get in my area. What about waxy corn, white corn, popcorn, high-oleic soybeans, cover crop seed? Is there much demand for non-GMO corn and soybeans? What are the pros and cons of growing specialty crops?
Stout: Raising specialty crops can add to profitability. Many require on-farm storage until delivery. It is also necessary to thoroughly clean out harvest, transport and storage equipment to deliver a product free of contamination. Ensure the potential premium can more than make up for any yield loss some specialty crops will have. 
With corn, consider cross-pollination, particularly with non-GMO specialty crops, which have a low threshold to get a premium. Non-GMO crops are limited in demand. But if you have a contract, the premium can be worth it. As far as cover crop seed, in our area, growing cereal rye for seed hasn't been consistent. You need a plan to use the straw or be able to graze a forage seeded with the rye to add enough value to compete with corn and soybeans.
Miller: We've had a few producers turn their rye cover crop into seed production with some success. Biggest hurdle is finding someone willing to buy the seed (usually a local elevator or seed dealer), clean it and store it. Second biggest hurdle is getting the equipment and the weather to harvest the seed successfully. This past year, wet weather caused some disease problems in the rye, so it could not be harvested as seed. Instead, it was chopped for silage. Fortunately, the producer had cattle.
Producers with high-oleic soybeans and white corn were discouraged by reduced yields, which could have been due to older genetics or lower weather tolerance. 
When considering specialty crops check with an ISU Extension agronomist for agronomic advice specific to your area. Don't try any crop where you will only have one point of delivery (exception is seed corn or beans). If your specialty buyer goes out of business, you may be stuck with a crop that is hard to move.
Zhang: Sometimes the transition to or addition of a specialty crop isn't easy. You often need to at least know the market channels to source and sell these products, which either requires expertise of online marketing in the case of non-GMO beans, or proximity to a large farmers market for popcorn and sweet corn. 
More federal, state and even private funding is available for cover crops. Often specialty crops require special certification to realize the expected price premiums, thus you may not be able to make money immediately. 
Is this farm worth keeping?
I can't get the landlord to lower the rent any further on about 10% of the land I farm. About 20 acres isn't very productive, and I'm tempted to just let the entire 200-acre farm go. What should I think about before doing that?
Stout: Agronomically, is there any reason it should be yielding less? Is its CSR value lower, so it has less yield potential? Hopefully, through soil testing, you have not found any fertility issues that are contributing to the lower yields, as those can be taken care of to bring the yields up to the rest of the farm. If it's just plain unproductive, you may be better off to see if that 20 acres could be enrolled in the Conservation Reserve Program. The new farm bill has opened up that possibility, so check with the landlord and Farm Service Agencyto see if that is something that could work to the benefit of both of you. 
If the reason that it is not productive is because it needs drainage, you could see if the landlord would be willing to install tile in that 20 acres, so its yield would be on par with the rest of the farm.  That way you have better yields and the landlord has land that has a higher value. 
Miller: Is the entire 200 acres profitable with the current rent structure? If not, you can let it go and save money, but you may increase your fixed costs on remaining acres. Measure the impact on your entire operation before you take that step.
Have you shared the production information with your landlord? We have enough variability in soils in southern Iowa that it is common to have portions of fields that do not yield as much as the rest of the field. Unfortunately, the landlord seldom recognizes the problem and oftentimes looks for a new tenant before admitting that there might be a land quality issue.  
If it is impossible to lower the rent on the 20 acres, assess how unproductive the 20 acres are compared to the rest of the land. Sometimes poor ground is surrounded by ground that is not as poor, but still not very productive. Look at the actual production on this farm — and every farm you operate — that gets reported to the crop insurance company. 
When looking at cash rent on the basis of APH yield per bushel, it can point out the farms that are overpriced in relation to their actual production capabilities. 
Plastina: Given we are past the due date for sending a termination notice, you will be better off planting crops on that farm than leaving it fallow and paying rent. If you anticipate not breaking even, then the relevant question is whether you expect to be able to cover all variable costs (seeds, chemicals, fuel, hired labor, crop insurance, interest expenses on the operating loan, etc.) on those acres plus the cash rent. If that is the case, then you will be better off producing than not producing on the rented acres. 
Even if you are only able to cover part of the cash rent after subtracting all variable costs from the farm revenue, you will be in a better financial position if you raise crops on the rented acres. The only case where it makes more sense to leave the rented ground fallow is if you anticipate not being able to cover all variable costs. In that case, your loss will be smaller if you only pay the rent than if you have to pay the rent plus part of your variable costs. 
 
Subscribe to receive top agriculture news
Be informed daily with these free e-newsletters
You May Also Like
---