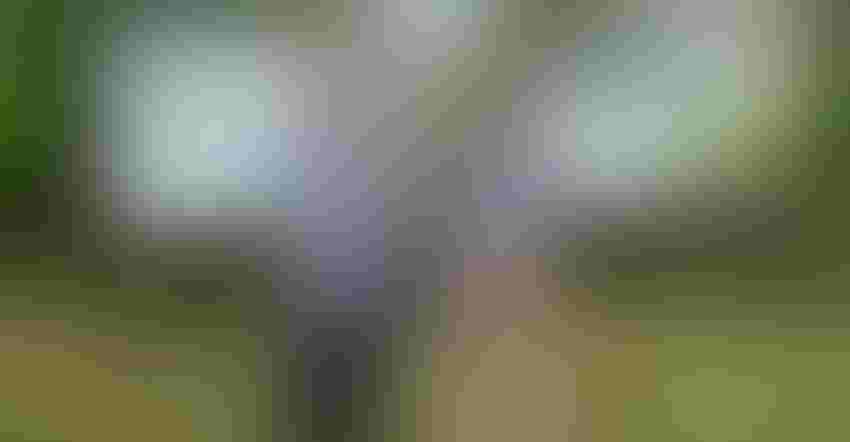 40-YEAR EXPERIMENT: Jeff Tkach (left), Rodale's chief impact officer, and Yichao Rui talk about the long-running Farming Systems Trial, which was started in 1981 as a way to scientifically prove that organic farming was possible.
Photos by Chris Torres
Twelve acres, 72 plots, lots of data.
Since 1981, the leaders of Rodale Institute have put organic and conventional field crop systems to the test in a side-by-side experiment to see what cropping systems perform better under similar conditions over the long term.
Some say it is the longest running side-by-side comparison of conventional and organic crops in the world.
"It's called the Farming Systems Trial. This is arguably some of the most important research in organic agriculture," says Jeff Tkach, Rodale's chief impact officer.
It was Robert Rodale, son of the institute's founder, J.I. Rodale, who self-funded the trial, Tkach says, as a way to establish science-based research to support the passing of the Organic Foods Production Act, and the later establishment of the National Organic Program administered by USDA.
So, the initial goal was met. But the trial has continued as a way for Rodale's researchers to show that organic crop production — specifically organic corn and soybeans — can do as well as conventionally grown crops.
But widespread adoption of organic grain production still lags, and the "holy grail" of organic no-till, at least on a large scale, remains elusive. Still, researchers remain confident in its potential.
"With 40 years of data, we have shown that organic is possible," says Yichao Rui, speaking to a group of media representatives and Rodale "ambassadors" who took a recent tour of the 300-acre farm. He took over as director of the trial last year after doing postdoctoral research work in soil science at University of Wisconsin.
Organic proving ground
There were three major agricultural systems showcased in the initial trial that started in 1981: conventional corn-soybean plots; an organic legume system that also grew corn and soybeans, but relied on legume cover crops for soil fertility; and organic manure systems that also relied on legume cover crops for fertility, but included periodic applications of manure.
The conventional plots were a straightforward corn-soybean rotation, while the organic plots had more diverse crop rotations, including oats, wheat, alfalfa hay and other crops.
"What we found that after the trial was established in 1981, in the first five years from 1981 to 1986, we saw that the grain yield was lower in the organic system than the conventional system," Rui says. "That was understandable because this was the transition. The field itself was a conventionally managed field for decades."
But the transition to organic, he says, allowed the plots to build soil biology and organic matter. From 1986 through today, Rui says long-term data has shown no significant difference in average yields between conventional and organic corn-soybean systems. In fact, in years of drought, such as in 2016, the organic plots were more resilient, yielding 30% more than the conventional plots, he says.
"We really think that despite no chemical inputs, soil biology and organic matter really … provided all those benefits that's needed," Rui says. "So that explains the benefits we are seeing in organic systems."
In 2008, the trial was updated to include no-till plots. Six years later, cover crops were added to reflect the fact that more conventional farmers were adding cover crops to their fields.
Evolving practices
Agricultural research is vital to moving the industry forward, but demonstrating how that research is done is crucial for farmers to apply it to their own operations.
The same scrutiny can be applied to Rodale's trials, especially when thinking of how their growing systems can be applied more widely.
Take planting dates, for example. Rui says that the conventional plots — mostly genetically modified varieties — are typically planted in late April or early May depending on weather conditions. The organic plots, however, are planted much later — late May or early June — and the no-till plots are planted right after fall-planted cover crops are rolled down using a roller-crimper. Rui says the later plantings are necessary to better control pests and weeds, which create their own challenges when spraying is not allowed.
"In the organic system, a lot of organic farmers still have to use tillage cultivation to control weeds because they cannot spray," he says. "So, by designing and testing these organic no-till practices, we can achieve no-till in organic systems, but that's still hard. We're still working very hard to refine and adapts these systems to weather conditions."
When it comes to cover crops, the conventional plots typically have a cereal rye growing in winter. In the organic plots, it all depends on crop rotation, Rui says.
If it's corn that's being grown, the cover crop is hairy vetch, a legume that fixes its own nitrogen. If it is soybeans, cereal rye is the cover crop, and it's usually rolled down before planting. Since soybeans are more susceptible to weeds, Rui says the rye is beneficial because it forms a very thick mulch that helps control weeds after soybeans are planted.
Rui says the first couple of years of research showed some interesting results. In the conventional plots, the inclusion of cover crops did lead to increased soil carbon and biomass, but only in the plots that were tilled. The no-till conventional systems showed no significant soil carbon or biomass, he says, because the no-till plots were more compacted and the cover crops were left on the ground, not incorporated.
It should be noted that many farmers, conventional and organic, use a variety of cover crops each year — even cover crop mixes — to achieve better soil health and increase yields, so this may be an area where the trial doesn't reflect what farmers are doing on their fields.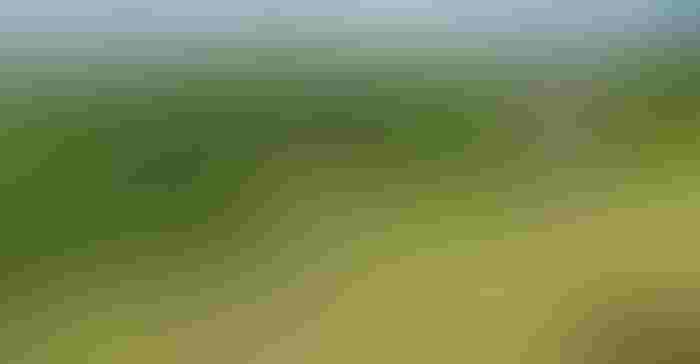 Still, in a study that Rui says will be released later this year — which hasn't been peer reviewed yet — he says that adopting no-till on conventionally grown fields using GMOs did not improve soil health over organic systems, including organic no-till. The only improvement from conventional no-till, he says, was reduced soil erosion.
Apart from that, very little stored carbon or higher grain yields were noted in the conventional no-till plots, he says.
"So that really showed that in conventional systems, adopting no-till, the benefits can be really limited. Why is that? I think there are many reasons for that," Rui says. "First of all, when you do not do any tillage in a chemical-based conventional system — corn and soybeans — we do see more compaction. We see more compacted soils, and with less pore space the soil microbiology is less, where in organic it is much more.
"You're probably hearing a lot of farmers say, 'I'm becoming no-till; I'm a regenerative farmer.' So, that really showed that if you're a conventional farm and you adopt no-till, it's not regenerative," he adds. "For us, regenerative really means a whole systems approach. You need to have organic management. You need to have diverse rotations. Cover crops, all these other practices, they need to be taken into consideration."
What's next?
Rui says that work on organic no-till will continue. "It's still very hard to do," he says. "Just because of the changing weather conditions. In fact, we still have some who do some tillage for seed preparation and other goals."
Other future trials are looking at incorporating animals, mainly chickens, after fall harvest and before cover crop planting to see the benefits of having animals in fields for fertilization and improved soil health.
This is being done on a small scale right now, Rui says, but might be included in the larger Farming Systems Trial if it shows promise.
Subscribe to receive top agriculture news
Be informed daily with these free e-newsletters
You May Also Like
---