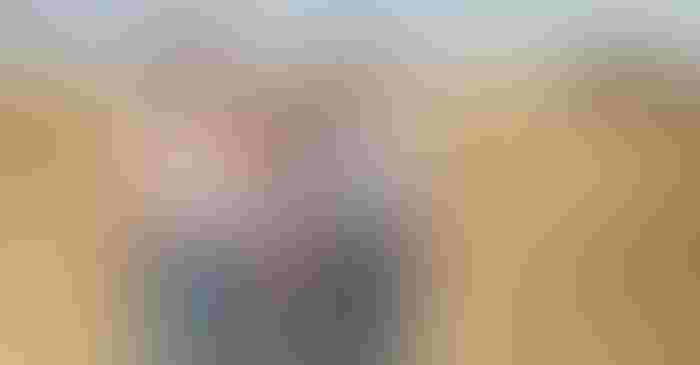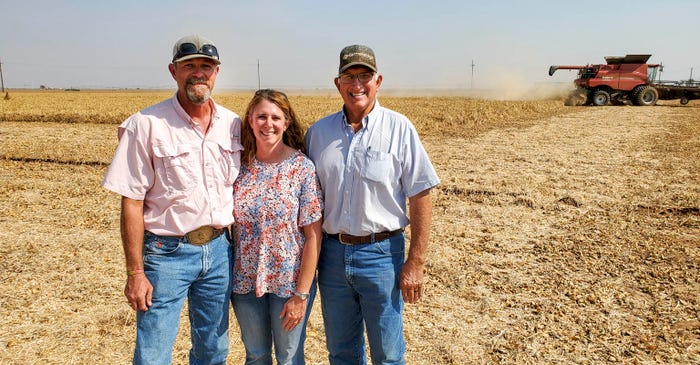 From left, Shane and Shelley Berry and Shelley's father Joe McFerrin, Cotton Center, Texas. Shelley E. Huguley
For half a century, Joe McFerrin has been farming on the Texas South Plains near Cotton Center. He's grown everything from cotton and corn to wheat, sorghum, and cattle. This year, he tried something new – black-eyed peas. But no matter the commodity, water remains a determining factor in his production decisions.  
Since Jan. 1, McFerrin, who also farms with his daughter and son-in-law, Shelley and Shane Berry, has received as little as 5.5 inches to 8 inches of rain.  
Drought-like conditions are forecast to persist into 2021, resembling the drought of 2011. "We've been here before, but it's getting more tiresome because we're stacking so many dry years together," McFerrin says. "Since 2000, we've had a lot of dry years. 2010 was extremely wet, but a lot of those years since, it's been dry. Some are predicting the same as in 2011. That doesn't give you a warm, fuzzy feeling." 
As McFerrin and the Berrys contemplate production in 2021, they worry about the aquifer. "You hate to give your water away," McFerrin says. "The water won't be replenished in my lifetime and probably not in theirs, so if you get rid of it on cheap commodity prices, when those commodities do come back, if you're strictly dryland, you can't make it work as well."  
Maintaining efficiency 
To help cut costs and conserve water in 2021, they plan to maintain irrigation efficiency using LEPA mode on their pivots but wait to fertilize. 
"I think you'll see a lot of dryland farming methods under pivots. We won't put a lot of fertilizer out until we have the promise that we'll be able to grow a crop," McFerrin says. 
Shane concurs. "When we get the rain, we'll start putting out the fertilizer." 
Typically, McFerrin and the Berrys apply a full application upfront or half at planting and half during the growing season. "It's simpler," McFerrin says. "We might only apply 20% at preplant and then wait to see how much rain we get. We may not put out much more because we're going to be limited in what we can make. We may just spoon-feed it. 
"On dryland, we don't spend anything until we've got a lot of promise. It's going to be similar on our irrigated."  
But McFerrin holds out hope. "If it starts raining, we'll be scrambling to get things done and the fertilizer companies running crazy to bring fertilizer -- that's the best-case scenario."  
Equipment 
Delaying equipment purchases also make sense. Rather than buying new equipment in 2021, Shelley said they'll concentrate on repairing what they've got. "We tend to like to run our stuff that's paid for, so we might spend more on repairs." 
But if they decide to grow black-eyes again, she said they'll invest in a combine and header to harvest their own crop.   
They will also cut costs with preventive maintenance and repairing the equipment themselves, McFerrin added. 
Marketing 
Acreage for 2021 is up in the air. They say they'll be looking for another profitable contract. "If it's at a price we think we can make a profit, we'll contract," McFerrin said. "I've done that a lot of years. Sometimes crops continue to go up, and yes, you leave money on the table. But the good thing about a contract — with prices where you can make a profit — if the bottom falls out, you're still in the ball game. You might not have as much cream off the top, but you're still in the game. 
"That's the way I was brought up and where we operate today." 
Subscribe to receive top agriculture news
Be informed daily with these free e-newsletters
You May Also Like
---