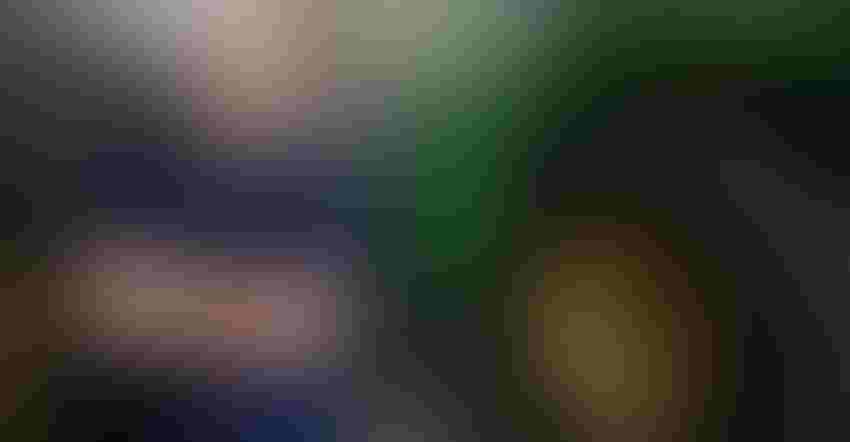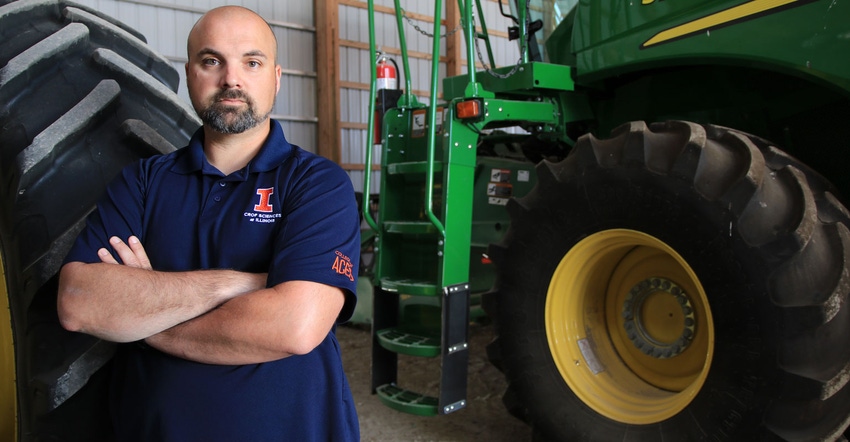 FIELDWORK: "I'm excited about what I do," says Nathan Kleczewski, University of Illinois plant pathologist. "When you feel connected to the work you do, you're more likely to invest yourself fully in it, and to strive to do the best you can."
Austin Keating
It's really a wonder Nathan Kleczewski wound up in agriculture, given that his summer jobs on his friends' dairy farms — baling hay and picking rocks out of fields — may be the worst in farming.
He laughs. "That's why they asked other people to help with it, because it's not fun. And I had hay fever, so you'd be stacking hay in the haymows, barely breathing, but you're still doing it!"
That hard-earned perseverance is part of what brought Kleczewski, a plant pathologist, to the University of Illinois nearly three years ago, helping to rebuild the struggling Extension system he was joining.
Kleczewski talks through that decision, and what he's learned along the way:
Where did life start for you? I grew up near Sheboygan, Wis., on the eastern part of the state and only a few miles from Lake Michigan. My parents grew up on dairy farms, and lots of my cousins and friends from Wisconsin work in ag, and another relative still owns the family dairy.
Given the dairy background, why plant instead of animal science? Mainly because of a college course! I went to the University of Wisconsin at Oshkosh for physical therapy and sports medicine, and the general requirements included plant biology. I really liked it, and the professor noticed I was staying late asking questions. I wound up working in his lab on fungi, and changing my major to ecology and organismal biology, with a plant emphasis. I did a lot of undergrad research on mycorrhizal fungi and plants.
And from there? My adviser had a master's in plant pathology and said, "You like fungi, and diseases are caused by fungi, and there are a lot of career opportunities in plant pathology." So I earned my doctorate in plant pathology at the Ohio State University and did postdoctoral research at Indiana University and Purdue University.
You met your wife in Indiana, too, right? Yes, Victoria got her master's and Ph.D. in entomology at Purdue. We went to New Jersey for her job with DuPont and mine with FMC, in research and development. A lot of the things we worked on in initial stages there were things I'm looking at now in Illinois.
But you didn't want to stay in Jersey? It wasn't the greatest place for cost of living and raising children. So in 2013, I became the field crop pathologist at the University of Delaware — similar to what I'm doing here at Illinois. I was there until October 2017, when I came to Illinois.
I'm guessing you and Victoria bring your work home. Yeah, she's the insect and plant disease technical manager for Growmark, so she does field calls for entomology and plant pathology. She'll text me pictures from a field, so I get to see things maybe my colleagues might not see, and I get to see larger regions because of what she does for Growmark. It's a great way to collaborate with industry.
You came on board at Illinois when the college didn't have a plant pathologist or an entomologist, and the Extension system for research was in tatters. Any misgivings? I saw an opportunity to do what I did in Delaware. Delaware is a small state, but like Illinois, its agriculture is huge, and they had people retiring with big Extension appointments. So I got that experience in navigating and building things from the ground up there, and brought that here.
What sold you on Illinois? At the time, we had a new dean, new chancellor and both have strong ag backgrounds. Dean [Kim] Kidwell was a wheat breeder, Chancellor [Robert] Jones was a plant physiologist. They understand agriculture. And I knew they were hiring a counterpart in entomology, so there would be opportunities for growth and to redevelop Extension in Illinois.
Where's Extension going now? In 2020, Extension is changing. We have opportunities to make the most out of our resources without having a county agent in every county, or grower talks in every county. There are different ways of doing that now.
Does that mean more virtual meetings? We're trying to make the most out of face-to-face meetings with producers, but we're shifting how we deliver that information. COVID has shown you can have meetings remotely, without having somebody there in person. We have a lot of new people at Illinois who are very much on the same page and working together to revitalize Extension and make the most of what we have.
You blog and are active on Twitter; what's the secret to communicating science to farmers? When I communicate with people online or at meetings, I try to focus on "what do they need?" What is it they need to help them be as productive as possible? I try to communicate without a lot of jargon. Communicate the basics, hit the high points, and avoid extra information they may not need. If they want more, they can ask for more.
What's your research look like? My appointment is 60% Extension, 40% research. Some teaching, but it's online. I have a lab where I do a lot of molecular biology and microbiology, and have a field lab for messy fieldwork. We design every project to try to deliver an answer to the producers within five years.
What's something you're working on right now? Red crown rot in soybeans is a new disease in Illinois. My spouse got a call that a field had bad SDS [sudden death syndrome], back in August 2018. She sent me pictures, and it didn't look like SDS. We went out to the field, and it was unbelievable — this was a soilborne disease that was hammering that field. It had overwintered and continued to spread. We don't know how much is out there, so that was an opportunity to figure out what we're dealing with.
What do you do next? First, we isolated out the pathogen, proved it was a pathogen and published a first report. Then we try to figure out what might work for control. We don't have any cultivars that are resistant. Lowest-hanging fruit would be seed treatments. We're looking at sensitivity of different fungicide active ingredients in the lab; we're looking at experimental treatments in the greenhouse, and also going out in the field and looking at commercially available seed treatments. So there you have the gamut of something from the lab to the field.
Soilborne diseases establish and spread, so we want to stay ahead. Red crown rot is an example of basic and applied research, and information that's usable to the producer within the five-year window.
How do you fund all that? That is the biggest challenge in this state. Funding is really difficult for applied research projects. A lot of grant funds from USDA want earth-shattering stuff that has a 10- or 20-year projected timeline. For our kind of work, we're looking at grower boards, smaller entities.
Like the soybean checkoff? Illinois checkoff dollars go the North Central Soybean Research Program, which is great for projects with regional impact. If it's just affecting Illinois, we can't address it. You have to have a bigger problem before you can address it. That's where having grower boards that fund research is really import.
How do you bridge science and ag as you talk to farmers? Understand what the farmer needs out of the work you're doing. When you keep that in the back of your mind, it drives the science and clarifies it in your mind. The science we're doing is to help the profitability of those farmers. If it doesn't fit that mold, it's not something we'll work on.
KLECZEWSKI REFLECTS
On communicating with farmers:
"I try to make sure the information they get is usable."
On research turnaround:
"My projects will deliver answers to growers within five years or less, if possible. That's my goal when setting up a project."
On learning Illinois:
"I feel like I have three to four states that I cover in Illinois. In the south, you have wheat, hills, trees. Central, it's flat and has different diseases. North is cooler and you have tar spot and white mold. Surprised at how diverse it is."
On research dollars:
"What scientists need to keep in mind is that their careers are dependent on production. As much as you want money from a grower board to support your career, you have to deliver something tangible they can take home. And we have a lot of newer people here that feel the same way."
On talking science and ag:
"Here's the issue, here's how much it could impact you, and this is why we need to address it and how we'll do it, and we'll have some tools that are useful to you."
KLECZEWSKI IN BRIEF
Reading? Currently on Audible: "The Girl Who Kicked the Hornet's Nest," Stieg Larsson
Watching? Old Teenage Mutant Ninja Turtles cartoons, thanks to the 3-year-old
Listening? Stand-up comedy on Pandora, like Jim Gaffigan and Jerry Seinfeld
Team? Packers
Music? I'm a '90s grunge alternative guy.
Best Decision? Marrying my wife
Free time? Gym
Best advice? You can't go around punching people. As much as you'd like to say everything on your mind, you have to bite your lip.
Family? Wife Victoria and two sons, ages 3 and 7 years
About the Author(s)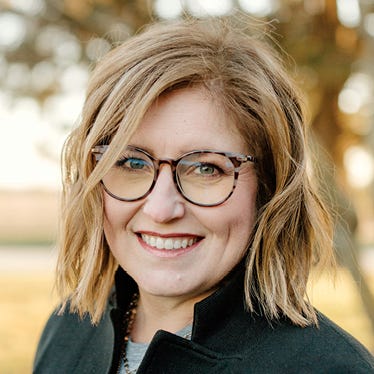 Senior Editor, Prairie Farmer, Farm Progress
Holly Spangler has covered Illinois agriculture for more than two decades, bringing meaningful production agriculture experience to the magazine's coverage. She currently serves as editor of Prairie Farmer magazine and Executive Editor for Farm Progress, managing editorial staff at six magazines throughout the eastern Corn Belt. She began her career with Prairie Farmer just before graduating from the University of Illinois in agricultural communications.
An award-winning writer and photographer, Holly is past president of the American Agricultural Editors Association. In 2015, she became only the 10th U.S. agricultural journalist to earn the Writer of Merit designation and is a five-time winner of the top writing award for editorial opinion in U.S. agriculture. She was named an AAEA Master Writer in 2005. In 2011, Holly was one of 10 recipients worldwide to receive the IFAJ-Alltech Young Leaders in Ag Journalism award. She currently serves on the Illinois Fairgrounds Foundation, the U of I Agricultural Communications Advisory committee, and is an advisory board member for the U of I College of ACES Research Station at Monmouth. Her work in agricultural media has been recognized by the Illinois Soybean Association, Illinois Corn, Illinois Council on Agricultural Education and MidAmerica Croplife Association.
Holly and her husband, John, farm in western Illinois where they raise corn, soybeans and beef cattle on 2,500 acres. Their operation includes 125 head of commercial cows in a cow/calf operation. The family farm includes John's parents and their three children.
Holly frequently speaks to a variety of groups and organizations, sharing the heart, soul and science of agriculture. She and her husband are active in state and local farm organizations. They serve with their local 4-H and FFA programs, their school district, and are active in their church's youth and music ministries.
Subscribe to receive top agriculture news
Be informed daily with these free e-newsletters
You May Also Like
---