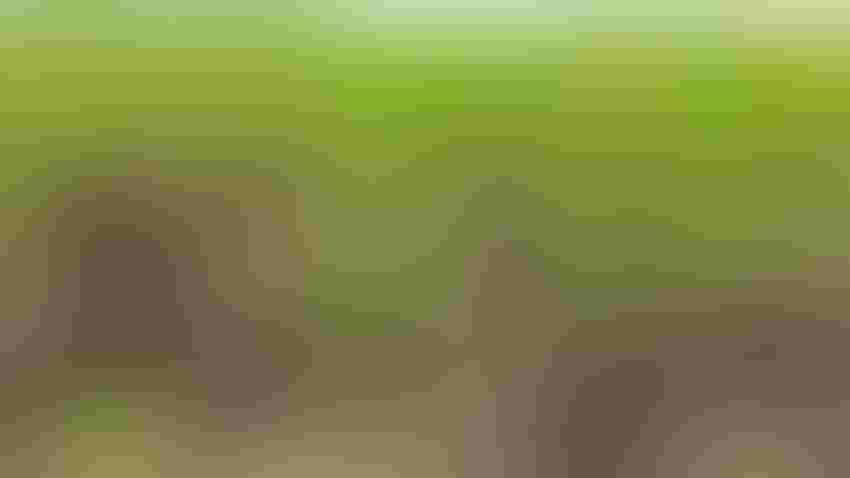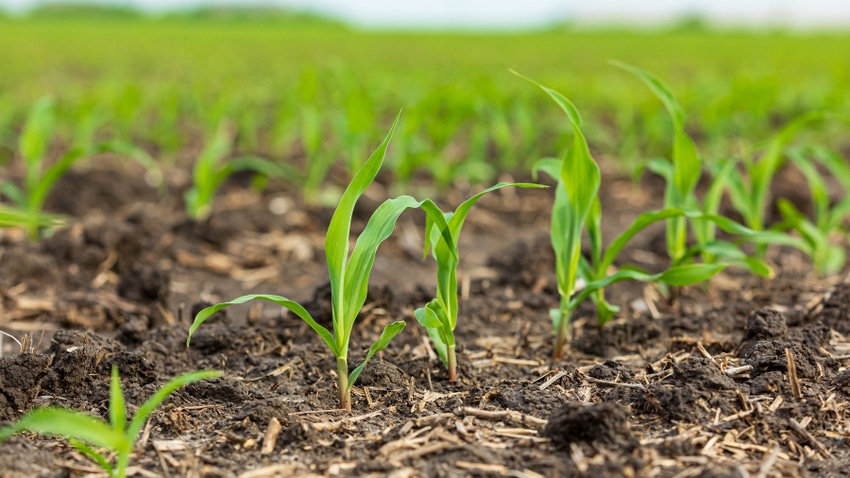 GOOD START: Raising contest-topping corn yields requires giving the crop a good head start at planting, says Jeff Koelzer of Onaga, Kan. Koelzer has once again won the Kansas Corn Yield Contest's dryland category with a yield of 308.96 bushels per acre.
JJ Gouin/Getty Images
Winning the Kansas Corn Yield Contest once is a feat, to be sure. Winning the same category five years in a row — and this year in a drought, no less — takes planning to outwit Mother Nature.
Jeff Koelzer of Onaga, Kan., has once again topped the "Strip-Till, Minimum-Till, Mulch-Till, Ridge-Till Non-Irrigated" yield category in the state. And his entry of Dekalb DKC65-84RIB that yielded 308.96 bushels per acre also earned him the state overall dryland yield title for the second year in a row.
So how does this northeast Kansas farmer do it?
Koelzer says he farms with conservation in mind — and not just because his wife, Christy, works for the Kansas Department of Agriculture's Division of Conservation. It's something he learned from his father.
He farms with his dad, Clem, brothers John and Joe, and sons David, K.C. and L.J. The Koelzer family has been an Asgrow-Dekalb seed dealer for nearly five decades — using every bit of that generational knowledge and experience to raise high-yielding corn and soybean crops.
Jeff Koelzer says you have to give the crop what it needs to get a good start early in the season, because you don't know what the rest of the season will have in store for it.
Give crop a head start
"I would consider us a pretty much no-till farm," Koelzer says. But they are considered a strip-till farm because once every other year or so in their rotation, they disk in some anhydrous — about 4 to 6 inches deep — to get that fertilizer down to the root zone in their clay soils, he says.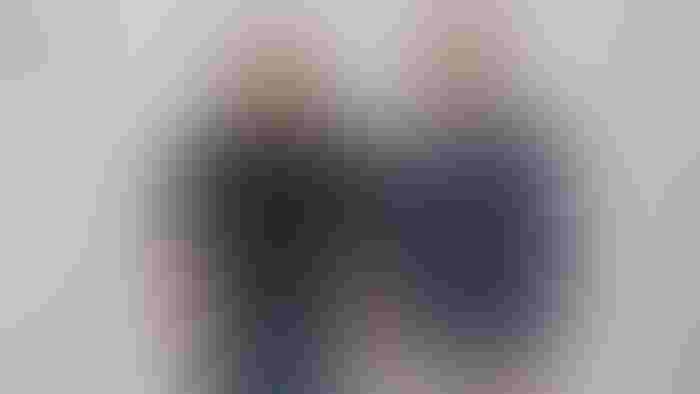 YIELD WINNER: Jeff Koelzer (left) of Onaga, Kan., won the Kansas Corn Yield Contest overall dryland category with a yield of 308.96 bushels per acre. He's shown here with Brent Rogers, president of the Kansas Corn board of directors. Contest organizers say this was astounding because 2022 was a dry year across the state. (Photo courtesy of Kansas Corn)
The Koelzers raise corn and soybeans, and they like to plant corn into soybean stubble that's been sprayed with a preplant herbicide. Starting clean is important, he says. They will follow up with an in-season herbicide application, to stay ahead of any weeds that crop up with rains before the corn has a chance to shade the ground.
Koelzer says a lesson they have learned from raising corn is to give their crop a healthy start using a fungicide with their starter fertilizer, and then adding one more aerial fungicide application later in its growth to fight rust and grey leaf spot.
"This will be the third season I've used that, and I'm really impressed with the results," he says.
The starter combination of fertilizer and fungicide makes a young corn plant unbelievably healthy, he says. It's a huge benefit to make sure that the early growth stages of their corn crop are protected, because later in the fall there's likely to be more chance for environmental stress on the plants, he adds.
Feed a champion
The Koelzers use grid soil sampling and variable application to ensure they are giving the crop the right nutrients.
One thing Koelzer says he's noticed in recent years is their soil sulfur levels have been depleting, especially with higher yields.
"When my dad started farming, we had very high sulfur levels," he says. Cleaner air emissions mean less sulfur is deposited, so they pay particular attention to sulfur in their fertilizer recommendations.
In years past, they would apply fertilizer with a mind to building their soil's nutrient profile and banking it for future crops. But with the prices of inputs in 2022 and into 2023, they used more of a maintenance philosophy.
Right variety, right field
Koelzer works with Dekalb agronomists to select corn hybrids and for in-season advice tailored to his farm.
"I'm not just getting a number out of the catalog; there's hours of conversation," he says. They are an invaluable resource for his farm, he adds.
The Koelzers spread out their variety maturities to ensure that they can time harvest over their whole farm easily in the fall.
"We start out planting a 109-day hybrid," Koelzer says. That will usually be harvested as high-moisture corn. Then, they will plant a 115-day variety.
"The third week in April is typically when we plant our best corn," he says. "But the spring started out super open, and we were done planting corn by April 17. I think that's one reason why we got the yields we did because we beat that late July, early August heat."
Future thoughts
Koelzer says that the family is constantly learning and adjusting their farming techniques to not only raise yields, but also to give their land what it needs. And recently that's included some experimentation with cover crops.
They have started aerial-seeding wheat and turnips into their corn stubble ground. They will graze it with their commercial cattle herd, and then terminate with herbicide in the spring. The seeding combination is meant to keep a growing root in that idle land, and the turnips break compaction.
Koelzer says he is excited to try new things on his corn, not only for a contest win, but also because farming with his family is pretty special.
And that is, ultimately, his end goal — raising a great corn crop with his family by his side.
Subscribe to receive top agriculture news
Be informed daily with these free e-newsletters
You May Also Like
---