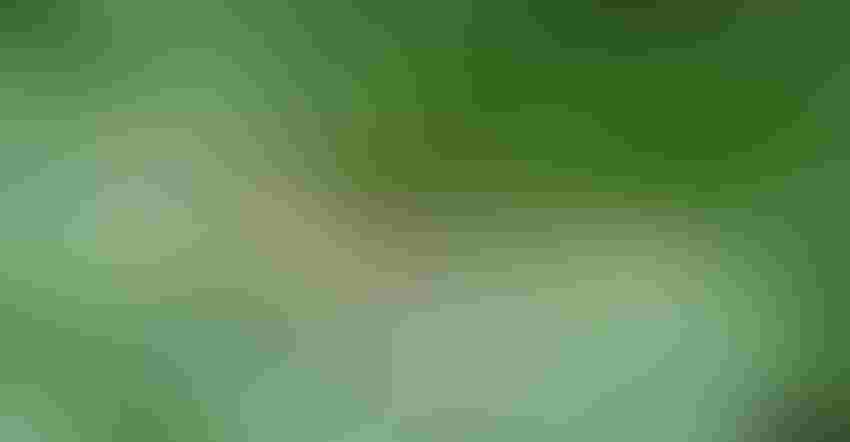 SLOWING RESISTANCE: Fungicide-resistant pathogens have shown up in Iowa — most notably, strobilurin-resistant frogeye leaf spot in soybeans. Larry Buss notes that if fungicides are not used judiciously, fungicide resistance may become more prevalent. That's why the Harrison County chapter of the Iowa Pest Resistance Management Program is taking a close look at plant disease and fungicide resistance.
Daren Mueller, ISU Extension plant pathologist
Since the inception of the Iowa Pest Resistance Management Program in 2017, growers, agronomists, Extension educators and specialists, and other stakeholders in Harrison County, Iowa, have worked to gain a better understanding of herbicide-resistant weeds — including Palmer amaranth, waterhemp, marestail and giant ragweed populations resistant to different chemistries.
There are four groups involved in the program, and starting in 2021, the Harrison County group is also going to focus on plant disease and fungicide efficacy, and resistance on different pathogens in both corn and soybeans
"We have four programs across Iowa as part of the Pest Resistance Management Program — two on weeds, and two on insects. But nobody has touched plant disease," says Larry Buss, a Harrison County farmer who is active in the Pest Resistance Management Program's efforts in the area. "To me, that's the third leg of the three-legged stool — weeds, insects and plant disease. So we decided to tackle that in this county in part of our program. We're just getting started. We did a little something last year, but we don't have a lot of data yet."
Resistance can develop
Buss notes the prevalence of herbicide resistance in weed populations in Iowa and surrounding states, and says the same thing could happen with fungicides if not used judiciously.
"In pest resistance management, we theoretically advocate scouting before you make an application, rather than just applying willy-nilly," Buss says. "I'll pick on myself, and with plant disease especially, I've gone out in corn and scouted, and I would say, 'I've got some symptoms here, I'd better watch it next week.' Then the next week, it would be bad. By the time I make the call, it's about 10 days before an applicator can get to me. So it's too late. So in corn, I have routinely, in the last three to four years, sprayed fungicide just like I do herbicide. I don't scout. I just do it.
"I have found, and the data has shown, that the standability of the cornstalk is improved with fungicide applications. For us, it takes us about two months to combine — with four combines. So I've got to have corn standing," Buss adds. "So that's where I'm at. I don't scout anymore — I just pull the trigger on fungicide. And I know that's wrong."
With higher soybean prices, he notes growers will be more likely to apply fungicide even with less disease pressure.
"If all of us do that, it's going to shorten the time period where these tools we've got are not going to be effective anymore," he says. "If we all take the path I'm on, it's going to shorten the effectiveness of these tools we've got. Then we're going to get right into the same mess we are with weeds."
A different animal
Mike Witt, an Iowa State University Extension field agronomist, who's also a collaborator in the Harrison County group, notes that while fungicide-resistant pathogens have shown up — most notably, strobilurin-resistant frogeye leaf spot — they aren't as prevalent as herbicide resistance in weeds.
"In the past, we haven't had a lot of fungicide applied on soybeans, because the diseases haven't been bad enough to warrant the cost of applying. So there hasn't been that much soybean disease-resistant profiles that could have occurred," Witt says.
When it comes to many diseases, hybrids and varieties have genetic resistance, and few diseases are controllable only by fungicide, Witt notes.
"That's another reason why it's a little different animal," he says. "There is native, natural resistance or tolerance within plants that helps with diseases. It's not 100% based on chemistry, like it is with weeds. Fungicide is more of a helping hand.
"Fungicides may pay for themselves in corn seven out of 10 years, whether it's from harvest timing from standability, a yield bump or disease control. But when you tell somebody it may pay for itself seven out of 10 years, often they'll say it's good enough," Witt says. "With high commodity prices, unfortunately, everything tends to go out the window with resistance management. People can afford to chase those extra 5 bushels."
That's why the Harrison County group plans to evaluate fungicide efficacy and benefits under different situations, as well as how long it takes pathogens to develop resistance to different fungicide modes of action. However, Buss notes it will likely be a year before any data are available.
"This team is going to look into the use of fungicide and relate it back to yield so we can understand and provide information to farmers, because we're going down that path toward resistance," Buss says. "Right now, we are just moving into this territory and feeling out what we should be doing."
About the Author(s) Tyler Harris is the editor for Wallaces Farmer. He started at Farm Progress as a field editor, covering Missouri, Kansas and Iowa. Before joining Farm Progress, Tyler got his feet wet covering agriculture and rural issues while attending the University of Iowa, taking any chance he could to get outside the city limits and get on to the farm. This included working for Kalona News, south of Iowa City in the town of Kalona, followed by an internship at Wallaces Farmer in Des Moines after graduation.
Coming from a farm family in southwest Iowa, Tyler is largely interested in how issues impact people at the producer level. True to the reason he started reporting, he loves getting out of town and meeting with producers on the farm, which also gives him a firsthand look at how agriculture and urban interact.
Subscribe to receive top agriculture news
Be informed daily with these free e-newsletters
You May Also Like
---