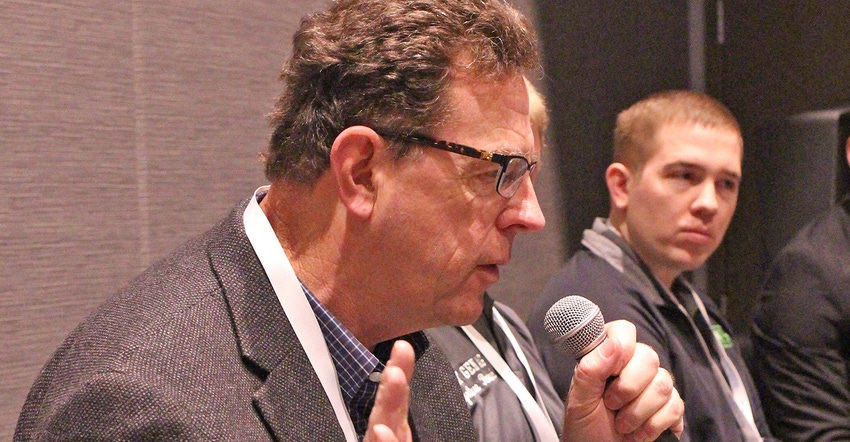 CAN YOU ID? University of Minnesota Extension educator Dave Nicolai provided a hands-on opportunity for attendees at MN AgExp to practice identifying four current 'most wanted' invasive weeds in the state.
By Jonathan Eisenthal
Palmer amaranth, a pigweed species that originated in the deserts of the Southwest, is a noxious weed of deep concern for many farmers because of its destructive capabilities.
It is incredibly prolific. A single plant can bear a half million seeds. It is incredibly robust. It can grow three inches or more per day. In its southern range, the plant reaches heights of 10 feet, which makes it a highly effective robber of yield in farm fields.
Outbreaks in Minnesota have been limited, thanks to rapid response from the state.
Yield losses of 91% in corn fields and 79% in soybean fields have been reported, according to the Minnesota Department of Agriculture officials. MDA is asking the public's help in finding and destroying populations of the plant. So far, the agency has successfully rooted out Palmer amaranth plants before they have had time to reproduce and overrun farm fields. State officials are hoping to keep the noxious weed from gaining a toehold in Minnesota as long as possible.
To bring the topic to everyone's attention at this year's Ag Expo, University of Minnesota Extension educator Dave Nicolai created an identification quiz, complete with living examples, of the four current "most wanted" invasive weeds making a big, destructive appearance in Minnesota farm fields, with Palmer amaranth topping the list. He also hosted, for the first time at Expo, a panel discussion on herbicide resistant weeds.
KNOW THIS ONE? Do you know your pigweeds? Shown here is redroot pigweed. Note its compact flowering structure with numerous branches and very hairy leaves and stem. Its leaf and stem texture is rough. Leaves and stems dull, not shiny. Male and female flowers on same plant.
Potted specimens of redroot pigweed, waterhemp, Palmer amaranth and Powell amaranth were set out for Expo attendees to get an up-close personal look. What sets Palmer amaranth and waterhemp apart from their cousins is that both have separate male and female plants, Nicolai reports. This creates genetic outcrossing and means that Palmer amaranth and waterhemp are much quicker to develop resistance to herbicides.
Palmer amaranth first appeared in Minnesota in September 2016 and was confirmed by MDA in Douglas, Lyon, Todd and Yellow Medicine Counties. Last year, it was spotted in Redwood and Clearwater counties.
"The more eyes we have on this, the better," says Anthony Cortilet, MDA plant protection specialist. "The best placed people to see Palmer amaranth are the farmers themselves, so we are working with University of Minnesota Extension and local agronomists to get the information out and have farmers know what this plant looks like. [We want them to] call us as soon as possible when they have found any plants."
COMMON PIGWEED RELATIVE: Waterhemp has an open flowering structure near its top and tips of branches. Leaves and stems are smooth and often shiny. There are no hairs on the plant. There are male and female plants. Males shed pollen and females produce seed.
Cortilet advises that farmers and agronomists make internet searches and view some of the many available images of Palmer amaranth. Then use a list of the visual identification clues that set Palmer apart from other pigweed species: It has no hair on its stems and leaves; the leaf petioles — the stalk that connects the leaf to the stem of the plant — is often longer than the leaf blade itself; the male and female flowers are found on separate plants; the female seed head has prickly bracts; seed and pollen heads are long — one to two feet — and they are thicker than tall waterhemp (a pigweed cousin, also noxious), and the seed heads are mostly single, unbranched.
The sheer size of the plant means that a field overrun by it would be difficult or impossible to run a combine through. Farmers are just as likely to see a single Palmer amaranth volunteer sticking out like a sore thumb.
"It's hard to ask farmers to drop everything, to call a halt to their harvest activity when they find a Palmer amaranth plant in their field if they are in the middle of combining and they are looking at two clear days and the threat of rain on the horizon," Cortilet acknowledges. "We ask that they pull the plant and lay it at the edge of the field, noting the location where they found it. They should take a picture on their phone and send it to us, along with their contact information. We will come out as soon as possible. We like to be able to take tissue samples and verify the identification of the weed species."
PROLIFIC PALMER: Palmer amaranth grows two-and-a-half to three inches per day, attaining a height of six to eight feet. Its seed and pollen heads are one to two feet long. There are both male and female plants. Female plants have sharp, spiny bracts. Palmer plants are smooth and do not have hair on stems or leaves. One plant produces 100,000 to 500,000 seeds per plant.
Cortilet can be reached at 651-201-6538. He notes that reporting the weed discovery to any agronomist or local Extension agent also is an effective way to ensure that MDA's noxious weed specialists will get the information. Those professionals will share the information to the MDA weed team.
When Cortilet and the other plant protection specialists find mature, seed-bearing noxious plants in place, the practice is to burn the standing plant and put flame to the ground all around it to try to kill the seeds that the plant has likely dropped already.
To date, Cortilet and his colleagues have been able to respond to the site of each report within 24 hours.
"We've been lucky. We've been able to pull the plants and eradicate them before they went to seed, so we have been able to prevent the spread," Cortilet says.
A COUSIN: Powell amaranth has a flowering structure that is less compact with fewer branches than redroot pigweed. Branches are four to right inches long and thicker than a pencil. Male and female flowers form on same plant. Leaves and stems are not as rough as redroot pigweed. Leaves and stems do, however, have light hair.
A number of the outbreaks in Minnesota have taken place in CRP plantings. In one case in Lyon County, the farmer reported finding Palmer amaranth in a CRP planting. Plant protection specialists were able to trace it back to the seed lot and find and eradicate plants in 33 other CRP plantings done with seeds from the same lot.
Eisenthal is a freelance writer based in St. Paul.
Subscribe to receive top agriculture news
Be informed daily with these free e-newsletters
You May Also Like
---