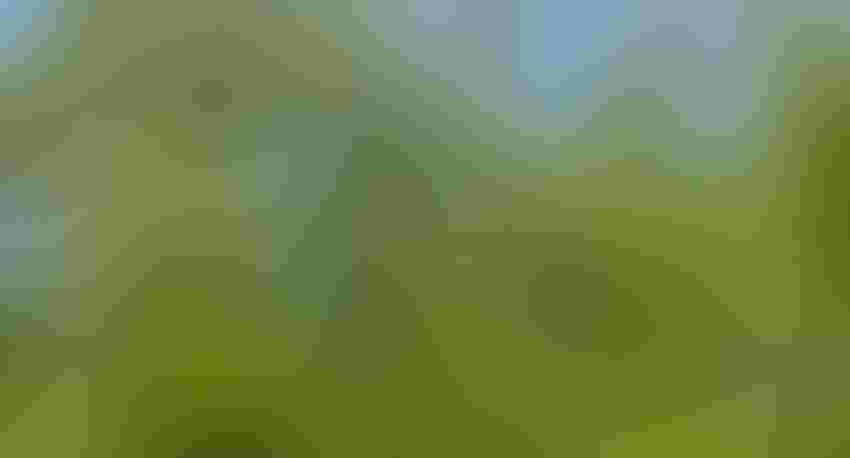 Oregon leads the nation in the production of Christmas trees.
Tim Hearden
Oregon's nursery and greenhouse industry remains the leading agricultural commodity in the state, with a value of $1.32 billion in 2021. This is up 10 percent from the previous year. The industry represented 22 percent of the total agricultural value in 2021. An estimated 74 percent or more of Oregon's nursery sales come from outside the state, making the industry a critical traded sector.
Cattle and calves remained in the second position and had a value of production totaling $676.2 million in 2021, up 13 percent from 2020. Malheur, Klamath, Harney, Baker, and Lake are the top Oregon counties for raising cattle. Historically, greenhouses, nurseries, cattle, and calves remain two of Oregon's top commodities by value.
Grass seed increased two positions from the previous year to third in state rankings. Grass seed value in 2021 was $639.2 million, up 28 percent from 2020. Most of the grass seed acreage is in the Willamette Valley, the "grass seed capital of the world."
Oregon's wine grape industry rebounded in production and value after contending with COVID-19 restrictions, labor shortages, extreme heat events and more in 2020. Total wine grape production increased 53% over the previous year from 75,142 tons to a record 114,677 tons. In addition, the value of wine grape production in 2021 increased by 72% or nearly $113 million to about $271 million. The Oregon wine industry call the 2021 season a time of recovery and resiliency.
New to Oregon's top 20 is industrial hemp. Data collected by the United States Department of Agriculture (USDA) National Agricultural Statistics Service (NASS) reports industrial hemp value stateside at about $247.8 million. Hemp ranks eighth in value of production at $247.8 million.
Four of Oregon's top 20 commodities declined in value from the previous year, including milk, sweet cherries, hops, and eggs. Sweet cherries value decreased by 50% from the previous year. Sweet cherries dropped to number 18, from ninth the pervious year. Industry experts say the deep freeze in 2021 devastated developing fruit cutting production significantly. Sweet corn also declined, dropping out of the state's top 20.
Oregon leads nation
Nationally Oregon ranks No. 1 for the production of hazelnuts, Christmas Trees, Rhubarb, potted florist azaleas, Dungeness crab, crimson clover seed, orchard grass seed, fescue seed, ryegrass seed, red clover seed, sugar beet for seed, white clover seed. Oregon is home to more than 225 agriculture commodities each bringing economic viability to the state.
Although these rankings represent the top 20 agriculture commodities in Orgon it is important to recognize the diversity of Oregon agriculture's ability to produce more than 225 commodities across the state and each bring value to the state's economy.
The newly released statistics are primarily from USDA NASS in collaboration with Dave Losh, Oregon State Statistician. The Oregon Department of Agriculture, Oregon State University, Oregon Department of Fish and Wildlife, and the Oregon Wine Board also provided estimates.
Source: Oregon Department of Agriculture
Subscribe to receive top agriculture news
Be informed daily with these free e-newsletters
You May Also Like
---