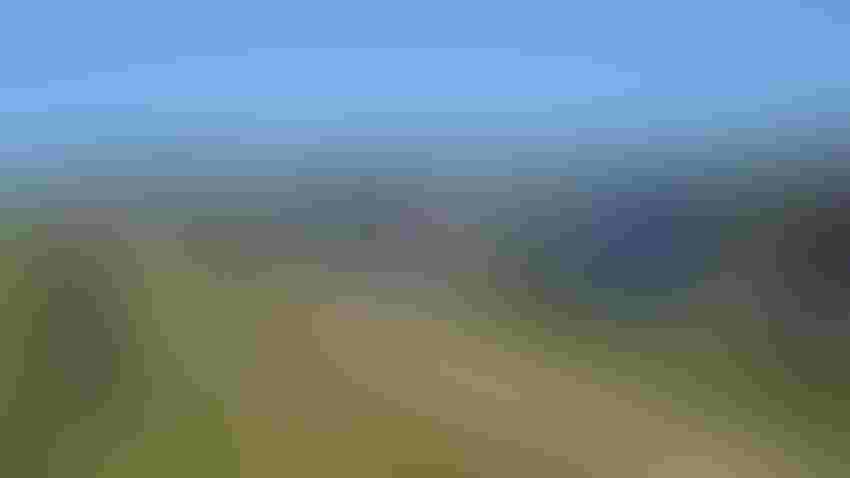 USDA ARS Entomologist Seth Dorman discusses his research into barley yellow dwarf virus and the aphids that vector it during a presentation at the Hyslop Farm Field Day, May 24 in Corvallis, Ore.
Mitch Lies
Participants flocked in record numbers to the 2023 Hyslop Farm Field Day on May 24, an event that Tom Chastain, head of the Department of Crop and Soil Science at Oregon State University, dubbed "the longtime open house" for OSU and USDA Agricultural Research Service field crop scientists.
More than 250 were preregistered for the event, according to Nicole Anderson, the statewide Extension Seed Production Specialist, and most, if not all, showed up.
The event topped the 2022 event, which drew 171 participants, for most attendance at a stand-alone Hyslop Farm Field Day. Only a 2019 event at Hyslop Farm, a field day held in conjunction with that year's International Herbage Seed Group meeting, eclipsed the 2023 attendance mark. Three-hundred and fifteen attended that event.
The field day was cancelled in 2020 and 2021 due to COVID-19-related restrictions on public gatherings.
The May 24 event in Corvallis, Ore., featured a morning session dedicated to grass and legume seed production and an afternoon session dedicated to cereal and plant pathology field tours. Topics covered including a look at symphylan control options in grass seed crops by OSU Extension entomologist Navneet Kaur; a comparison of carbon sources for carbon banding applications by ARS weed scientist Clint Mattox; use of herbicide safeners as an alternative to carbon seeding in tall fescue and perennial ryegrass seed crops by OSU weed scientist Pete Berry; an evaluation of yellow dwarf virus management options in grass seed by ARS entomologist Seth Dorman; and a talk on pushing the yield barrier in annual ryegrass seed production by Anderson.
Anderson also addressed a topic on top of mind for many growers. Following a drought in 2021, and what she termed "sort of a deluge of spring rain" in 2022, growers are facing their third consecutive year of unusual spring weather, and many fields are suffering as a result.
"I know it is not the brightest topic to touch on this year, but it certainly has occupied a lot of the phone calls coming in here this spring," Anderson said. "Obviously there are fields that are not looking great out there."
Production issues with this year's grass seed crops can be traced to a dry fall of 2022, which affected regrowth in perennial stands and poor crop development in newly planted crops. That combined with the cold, rainy spring weather compounded the already poor crop development and contributed to pest issues, leading many growers to pull out stands, Anderson said.
"Other fields have been left in for various reasons and folks are just trying to make the best of what we have out there," she said.
On another note, Anderson said that Oregon growers have plenty of company when it comes to poor growing conditions this spring. "I was in Europe about ten days ago," Anderson said, "and they've lost a lot of their perennial ryegrass and orchardgrass to freeze." The Canadian crop also is suffering, she said.
"So, at least you're in good company with some of the other grass seed growing regions in the world," she said.
Pushing seed yields
As for her research, Anderson is looking at pushing the yield barrier for annual ryegrass through use of defoliation by mowing and or grazing and an application of a plant growth regulator, and so far, the trials are showing growers can achieve significant yield increases when combining the two practices.
"We can find responses to both grazing/mowing and to plant growth regulator when used alone. But when you put the two of them together, you are almost doubling that yield response," Anderson said. "It is a very strong statistical interaction going on between these two management practices."
Combining the two management practices changes the architecture of the seed head, she said, producing a more compact head that is less prone to seed shatter at harvest, which is a big yield reducer in annual ryegrass seed production.
"Even if it's a really dry spring, we still see this interaction happen, and it's very, very significant," she said. "We are not changing the seed weight, but we are picking up much high seed numbers when we do seed counts in the mowed and plant growth regulator trials."
Anderson embarked on the research five years ago after a discussion with Phil Rolston, a New Zealand grass seed researcher. Rolston asked Anderson why Oregon growers don't push annual ryegrass seed yields like some other growing regions in the world.
"We're lucky we don't have to push them that hard and still get pretty high yields," Anderson said. "But that begs the question of can we be pushing these crops a little harder and take our 'pretty good yields' to 'really good yields.' So that has been the objective here is to continue to push that yield barrier up.
"If this isn't something you've tried and you're an annual ryegrass grower, I would encourage you to at least take part of a field and look at that defoliation in the spring, followed by plant growth regulator," she said.
Anderson also is researching whether growers can push the rates of plant growth regulators. And she is comparing generic versions of the plant growth regulators Apogee and Palisade to the name brands.
"We are seeing more introduction of generic plant growth regulators come into the U.S. market," she said. "And we know from our colleagues that work in other places of the world where they have generic plant growth regulators that not all products are equal."
Red clover trial
Anderson is also working on a project looking into different defoliation timings in red clover seed production and whether stand age should be taken into consideration when deciding if and when to defoliate. The project, now in its third and final year, is showing that defoliating the third week of May seems to be the best timing. Also, she said, the only time growers might not want to defoliate is in an extremely dry year, such as Oregon growers experienced in 2021.
"Twenty twenty-one was a very extreme year, so it was acceptable at that time, but in most years, you need to still be defoliating, and so far, it looks like that third week of May seems to be the best timing," Anderson said.
As for whether there is an interaction between stand age and yield effects of defoliation, she said there does not appear to be thus far into the trial.
"We'll know after this year's data comes through," she said.
Subscribe to receive top agriculture news
Be informed daily with these free e-newsletters
You May Also Like
---