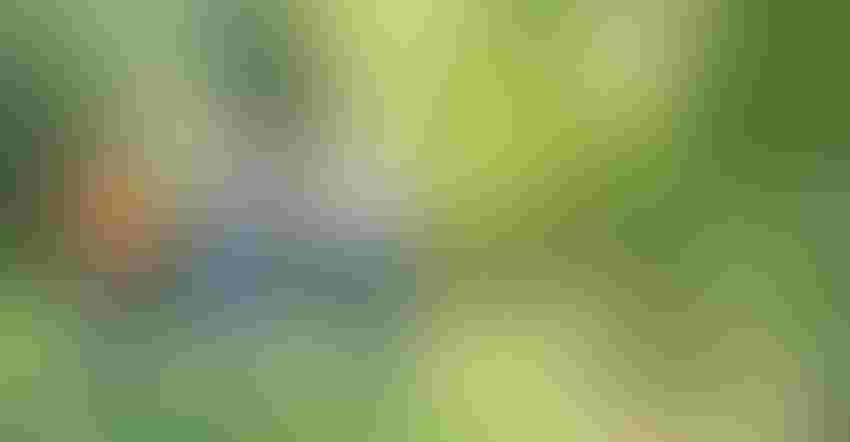 PERENNIAL PROBLEM: Damage can affect perennial growers for years. "Soybean growers can restart next year, but it takes most of 10 years to get an apple tree into any kind of production," says Mike Flamm (right), shown with Jeff Flamm (center) and Austin Flamm (left). "We can't just restart next year."
By Christy Couch Lee
"There's something going on. I've never seen anything like that."
In his 81 years, Bill Flamm has seen many changes on his family's Flamm Orchards in the rolling hills of Union County, Ill. But until mid-July of this year, the leaf curl and tree stress on the orchard's peach and apple trees was foreign.
Nephew Jeff Flamm says they've yet to get a definite answer on the cause.
When leaf curl began to appear on peach trees, the Flamms sought expert opinions: a horticulturist from Southern Illinois University's Department of Plant, Soil and Agricultural Systems; a representative from the Illinois Department of Agriculture; an Illinois Fertilizer and Chemical Association agronomist; a technical agronomist from Southern FS; and a representative from Bayer.
"So far, everyone has told us the same thing — it's a growth-regulating herbicide, likely dicamba — except for the Bayer rep, who didn't really have an answer to what it is," Jeff says. "We're basically left with more questions than answers. This is all-new territory."
According to IDOA, as of Sept. 17, the department had received 329 dicamba-related complaints — up from 240 at the same time in 2017.
The issue of dicamba drift as it relates to row crops has been widely debated. But what about chemical trespass as it relates to orchards and other specialty crops? It appears there are more questions than answers.
A volatile issue
Aaron Hager, University of Illinois Department of Crop Sciences associate professor, says chemical trespass can be an issue with any product, as windy conditions or lack of buffer areas can allow for drift.
"But when you add dicamba to the equation, you have to add in the potential for movement by volatility," Hager says.
Steve Smith, director of agriculture for Red Gold Inc. in Elwood, Ind., has been speaking about dicamba since 2007, and in 2010 gave congressional testimony on the topic. He says, as a vegetable grower, Red Gold has always been concerned with off-target movement. But dicamba has taken that concern to a new level.
"With other products, we simply had to be careful about what was controllable, such as wind and drift, when it came to off-target movement," Smith says. "But volatility is a whole new area. A farmer could spray a half mile or farther, and we may never know who did it. That's what makes this different. If you follow the label on other products, you won't cause damage to a neighbor's property. If you follow the label on dicamba, you still might cause problems to a neighbor's crop."
Jeff says he believes volatility has played a role in their damage.
"This was the first perennial crop the Bayer rep had seen with damage, and he said it was likely applicator error," he says.  
However, the Flamms say their farm is spread across 6½ miles from north to south and east to west. "We have it on every single farm," Jeff says. "And we can see damage outside of that — it's not one single mistake that's been made. The damage covers a huge area."
Jeff says one expert said damage can typically be traced to an incident. "She said everything she had seen to this point could be traced back to a mistake that had been reported, but not this time," he says. "I'm not an expert by any means, but I suspect our problems are simply from the massive amounts of dicamba being used. When the damage began with our trees, it was really hot — late June and early July. Dicamba can be volatile up to five days after it's applied. Did it go up into the atmosphere and begin falling out over thousands of acres? We just have a lot of unanswered questions."
SHRIVELED: At last count, the Flamms say, they likely will lose 500 to 600 peach trees this year, due to damage suspected from growth-regulating herbicides. In addition, loss of leaves have led to sunburned apples, which can only be sold for juice.
Ryan Rubischko, Bayer dicamba portfolio lead, says many laboratory and field tests have been conducted, and new formulations offer lower volatility.
"We continue to do trials across the U.S. and partner with academics, as well, to continue to demonstrate firsthand what impact volatility is having," he says. "We aren't seeing the symptomology being referenced from volatility, but from wind conditions blowing toward a susceptible crop, and from nozzle selection and other factors. Those things are incredibly important. We continue to do studies, and we think it's important on local environments." 
New growth raises eyebrows
On both the Flamms' apple and peach trees, a flush of new growth has appeared in August and September — which has never happened before. And, they say, it's not a good thing.
"The trees should be shutting down now, and they should not be putting on new growth," says Jeff's brother Mike. Mike and Jeff, along with cousins Alan, Larry and Bill Flamm and Karen Kiefer, are the fifth generation to run the family operation, which was established in 1888.
"If we get an early, hard freeze this fall, it could cause quite a bit of damage to the trees," Mike says. "Leaves began to defoliate and fall in September, and they don't typically begin to fall until November. And now, we have apples with sunburn from no leaf cover. Those will be marketed only for juice with that damage."
Also, apple harvest should have been in full swing by mid-September, Jeff says. But for the Flamms, it wasn't.
"The leaves on the end of branches produce an incredible amount of photosynthesis to grow the fruit, but because the leaves aren't there, the tree doesn't have the energy to produce the fruit," he explains. "The sugar levels aren't where they should be, and the fruit size is small."
STRESS: Apple trees ooze sap when they're under stress. "We are going to lose some size on our apples — a quarter of an inch smaller size over 230 acres of apples equals a lot of bushels lost," Mike Flamm says. "And I think we can conservatively say we will lose a quarter of an inch over the entire apple crop, on average."
Relationships and reputation
The Flamms say they are working to maintain positive relationships with farmers in their area. But that's not the case in all situations.
Hager says he's seeing rural communities being torn apart over the issue. "I've lived in Illinois for all but two of my 49 years, and I've never seen anything like it before," he says. "Rifts are forming between neighbors. Farmers won't speak to each other, after being lifelong friends. The ignorance, misconception and misunderstanding around this issue is disheartening."
Smith is hearing similar stories. "I know one farmer who got hit seven times by different growers. When this farmer turned it into the state regulatory agency, the entire community got mad at them," he says. "Another neighbor even left their church."
Jeff says the reputation of the agricultural industry could be on the line. "If the general public knew what was killing their redbud trees or why the leaves on their dogwoods were curled up, it would certainly influence their views on dicamba," he says.
And, Hager says, the general public has begun to take notice.
"This is something the general public is watching closer than I've ever seen. It's attracting a lot of media, and not just the agricultural media," Hager says. "Reuters and The Washington Post have called me on the topic. The news media isn't going to focus on soybean yield effects. They're going to want to know why U.S. agriculture is putting all of these herbicides in the air. And they won't stop with dicamba."
When public concern reaches that level, Smith says, all of agriculture will pay the price. "It's a real concern that we are going to pay a big price for this, as consumers lose confidence in what farmers are doing," he says. "Any time agriculture sends the message of being unsafe, we all pay that price."
Next steps
Jeff says they're not pointing the blame to any local farmer using a product off-label.
"But I am saying I don't think it's a good product," he says. "The best thing we can hope for? No more exposure to our trees."
For that reason, the Flamms have begun reaching out to politicians and EPA representatives to encourage the rejection of the registration renewal.
A decision by EPA on dicamba herbicide registrations was expected by late August. But as of mid-September, the agency has not yet acted.
"The EPA could deny the renewal of those product labels for use in dicamba soybean varieties, or they may be renewed with additional restrictions," Hager says. "And if the EPA doesn't halt that renewal, individual states could enforce additional restrictions."
Raghela Scavuzzo, local foods program manager in governmental affairs and commodities with the Illinois Farm Bureau, says the organization is watching for a decision on the issue.
"We are aware of the difficulties specialty crop farmers are facing surrounding this situation and look for U.S. EPA's decision before comment," he says.
LOSS: If the Flamms lose 500 to 600 peach trees due to suspected dicamba damage, as they believe is possible? "In the overall scheme of things, it's an insignificant number — if it stops here," says Jeff Flamm (center), shown with Austin Flamm (left) and Mike Flamm (right). "If it doesn't stop here? If the damage continues year after year? It's going to be devastating."
Arkansas regulations include a hard cutoff date and no post-planting applications, Smith says. This could be a possible state solution, if registration is renewed, he says.
"The likelihood of damage being done preplant, when temperatures are cooler and fewer plants are leafed out, is reduced," Smith says. "This will reduce damage to 90% of landscapes and crops, but that still won't protect the orchards and vineyards."
Rubischko says many soybean growers believe dicamba is needed to address their issues with resistant weeds.
"We consistently hear from farmers that given the tools currently available in terms of herbicide and tools to control weeds, dicamba is definitely needed to continue to help farmers address these issues," he says. "This season, we doubled the number of Xtend crops from 2017 to 2018. We went from 25 million acres of Xtend crops to 50 million. Roughly half of all of the soybean acres across the U.S. are with the Xtend trait — our dicamba-tolerant trait. This is due to farmers seeing the importance of using tools like dicamba to address weeds."
When it comes to dicamba, Smith says, it is nearly impossible for soybean farmers to be 100% proactive.
"In the Midwest, what used to be an 80-acre field is now 70 acres with houses lining the road," he says. "If you think you can spray this and not cause damage to any of these homes, think again. Volatility doesn't happen every time an application is made. But say it's 5% to 8%. Would you get into an airplane if you had a 5% to 8% chance of crashing? You can't take the approach that you're immune to the problem. It just hasn't hit you yet."
Growers have a tool for each need. And Smith doesn't believe dicamba should be one of them.
"We can raise soybeans without dicamba. Companies would like us to think we can't, but we can. The problem is, we can't do it in conjunction with other things growing in our region," Smith says. "As Dr. Ford Baldwin says, 'We've proven we can raise soybeans without dicamba. But we are also proving we can't raise anything else with it.'"
Tools for communication and education
Bayer's Ryan Rubischko says when farmers follow the label, dicamba products can be applied successfully. And in order to ensure they do, educational efforts were ramped up in 2018.
"We have spent a considerable amount of time on training and education, so that applicators overall, including producers, are following that label and understand the dos and don'ts in doing that," he says. "Like all pesticides, it is important to use them wisely. And a critical part of that is applying those according to label. We believe there has been such further improvement in 2018 because nearly 100,000 applicators attended mandatory dicamba training to understand those dos and don'ts."
Orchard grower Jeff Flamm says he believes educational efforts did help in the reduction of applicator errors this year.
"There are some pretty restrictive rules on the label on when and how to apply the products, and on the records to be kept," he says.
Tools such as FieldWatch's DriftWatch registry may also help prevent chemical trespass. This tool helps to increase communication between applicators and specialty crop growers to manage drift effects.
"But we're not sure if it would have helped in our situation," Flamm says. "We are told a half-mile up to a 3-mile buffer is recommended, and I don't think the buffer was the issue. Some of the drift could have moved from several miles, in our case. We really believe it's a volatility issue — not a buffer issue."
University of Illinois' Aaron Hager adds that a tool is only as powerful as those who use it.
"Just because an operation is registered, it doesn't mean it's foolproof," he says. "You have to make sure whoever is spraying is aware. If they don't know, it doesn't preclude injury from occurring."
Lee writes from Wellington, Ill.
Subscribe to receive top agriculture news
Be informed daily with these free e-newsletters
You May Also Like
---