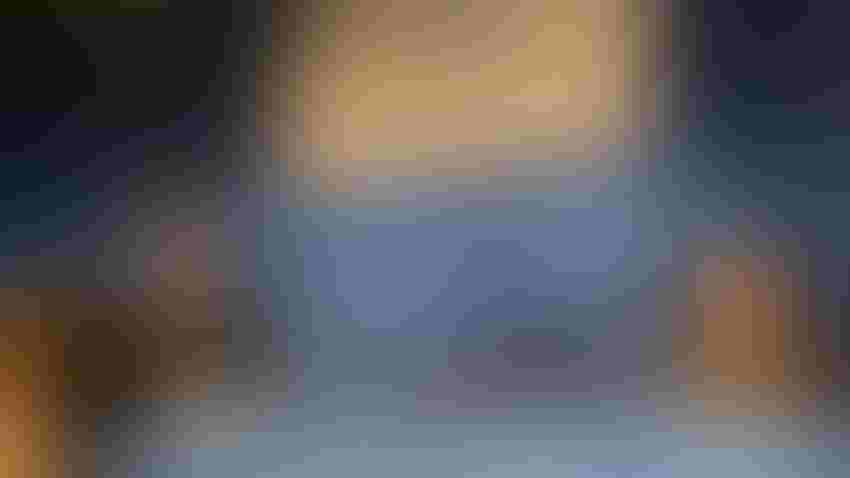 North Carolina State University Extension Economist Blake Brown presented an outlook on fertilizer prices during the North Carolina Department of Agriculture's Ag Development Forum held Feb. 2 at the Holshouser Building on the N.C. State Fairgrounds in Raleigh during the Southern Farm Show. Listening on the platform is North Carolina Agriculture Commissioner Steve Troxler.
John Hart
At a Glance
Phosphate and potash prices should ease down because of adequate supplies.
Nitrogen will continue to be the problem child when it comes to prices this year, while phosphate and potash prices should begin to ease down thanks to adequate supplies.
That's the word from Blake Brown, North Carolina State University Extension economist, who explains that while phosphate and potash prices won't likely fall back to pre-pandemic levels, they are at least moving in the right direction. Brown said nitrogen prices may have reached their peak, but prices are expected to remain problematic for farmers.
"Fertilizer prices are declining some. If you look in the world at who is manufacturing fertilizer for nitrogen and potassium, China is the big dog in the world. They have a lot of people to feed, and they have a big agricultural sector," Brown said in an outlook address delivered at the North Carolina Department of Agriculture's Ag Development Forum Feb. 2 during the Southern Farm Show at the North Carolina State Fairgrounds in Raleigh.
Brown said the war in Ukraine has clearly disrupted the fertilizer market, but when it comes to phosphate and potassium, farmers were still able to get the P and K they need, albeit at a higher cost than before the war.
"Canada is the big one on potash," he said. "Canada controls about 34% of the global potash supply. That's good for us to have a neighbor to the north that does that because what this means while potash is not going be back to pre-pandemic levels by any means, but it is slowly coming down because a lot of what's going on with potash has been the pandemic-related transport costs."
The good news for phosphate is that the United States is a big producer of phosphate, one of the largest phosphate producers in the world. Brown said the United States is pretty much self- sufficient when it comes to phosphate and has more phosphate than it needs. Brown also notes that the world also has a huge surplus of potash.
Brown continues to have concerns about nitrogen prices. He points out that the United States imported 20% of the nitrogen fertilizer it needs while producing 80% of what it needs. He points out that the natural gas market is the big driver when it comes to fertilizer prices.
"Natural gas comprises 80 to 90% of the cost of producing nitrogen," Brown said. "We (the U.S.) have the cheapest natural gas in the world. Natural gas prices went out the roof in Europe because they don't have a supply. They were getting it all from Russia. Natural gas prices in Europe have just plummeted this fall. They did such a good job of buying enough liquified natural gas that they actually overstocked and then they had a mild winter, so they actually brought more in than they needed."
Brown said he called Corey Rosenbusch, the president and CEO of the Fertilizer Institute, to ask if he thought any of the nitrogen plants in Europe will reopen now that natural gas prices are falling. Brown noted that when natural gas became so expensive, many of the nitrogen plants shut down and quit making nitrogen altogether because natural gas got so expensive.
"He said some of them are thinking about opening their doors because of this oversupply situation," Brown said. "But this is very short term. Even if the war in Ukraine ended tomorrow, the relationship with Russia has been significantly damaged.They're not going to go back to buying all of their natural gas from Russia.
"This is not a long-term fix. It probably means nitrogen prices may not go higher, maybe we can see them come off a little bit. The U.S. imports 20% of its nitrogen needs. Where have we been importing it from? Europe of all places. They have the highest natural gas prices in the world, and that's who we were getting that extra nitrogen from. It's crazy. That's why you've seen such severe problems in the nitrogen market.
"Nitrogen is going to be a problem next year because the Europeans probably are not going to overstock on liquified natural gas. They're not going to be getting it from Russia, so they are not going to be a good source for nitrogen next year. Nitrogen is problematic until we get more capacity to manufacture it in the U.S."
Subscribe to receive top agriculture news
Be informed daily with these free e-newsletters
You May Also Like
---