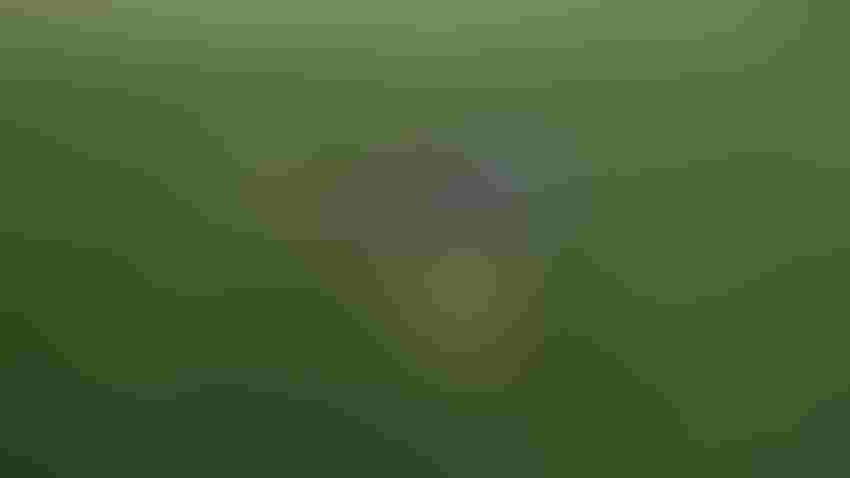 APPLICATION TIMING: The timing of nitrogen application has many variables, and each farmer needs to sort through them before deciding what the best application time is in each field.
Richard Ferguson
by Virgil Schmitt
While many farmers already have all of their nitrogen fertilizer (commercial or manure) applied to their cornfields, others apply some or all their nitrogen after corn has emerged. Planned postemergence applications of nitrogen fertilizer has some advantages, some disadvantages and some best practices.
Postemergence applications of nitrogen fertilizer lessens the risk of the nitrogen being lost due to leaching from the soil, and thus, being both an economic loss to the farmer and a burden on the environment. Because nitrates easily leach from the soil, nitrogen fertilizer, ideally, is converted to nitrate just before the corn plant needs it. The longer the interval between nitrogen fertilizer conversion to nitrate and when the plants take the nitrogen up from the soil, the more opportunity there is for the nitrogen to be lost from the soil.
The disadvantages of postemergence nitrogen fertilizer applications include the possibility that the weather does not cooperate, making the application difficult and potentially leaving an aerial application as the only viable alternative. For this reason, nitrogen fertilizer is often split-applied, with part of the fertilizer — often 90 to 100 pounds — being applied earlier in the year, and the remainder postemergence. This brings us to the second disadvantage if the nitrogen fertilizer is split-applied — the requirement for an extra trip across the field.
If no nitrogen fertilizer has been applied before corn emergence, the corn may be pale, but research has shown that if nitrogen fertilizer is applied by growth stage V5, there is seldom a yield loss. Nitrogen fertilizer applications can be beneficial until shortly after silking (R1), but lack of nitrogen earlier in the season (between V5 and R1) may have already caused a yield loss.
Postemergence nitrogen may be applied as anhydrous ammonia applied between the rows or every second row; a UAN solution dribbled or injected between the rows or every second row; or broadcast granular urea, ammonium nitrate or ammonium sulfate. It is important to remember that UAN and urea can volatilize from the soil surface unless it is rained in shortly after application. If nitrogen fertilizers come in contact with plant leaves, contact spots on the leaves will be observed but yield losses are not expected.
Split applications
Some farmers using split applications will apply 90 to 100 pounds of nitrogen fertilizer earlier in the year and then use canopy sensors, such as GreenSeeker and RapidScan, for the postemergence application. Research using these technologies has shown that an application at V12 generally is best, but that requires high-clearance equipment. If high-clearance equipment is not available, then an application at V8 is usually best.
Foliar feeding is also being considered by some. Some proponents will say that a pound of nitrogen fertilizer applied on the leaves is worth more than a pound soil-applied. Even if this is true, corn needs plenty of nitrogen, and the application of anything above a very low rate will result in unacceptable leaf burn, so multiple applications are required. Research by Antonio Mallarino at Iowa State University has found that foliar feeding of corn is seldom profitable.
Some years, excessive rainfall will result in corn becoming nitrogen-deficient, even with the best nitrogen fertilization plans having been executed. Work done by John Sawyer at ISU suggests that monitoring total rainfall through the months of April, May and June (in all but southeast Iowa) will provide guidance for supplemental nitrogen decisions. If the total rainfall for that three-month period exceeds 15.5 inches, farmers should consider applying about 50 units of supplemental nitrogen fertilizer in very early July; and if rainfall amounts are less than 15.5 inches, sufficient nitrogen should remain in the soil. Following that guideline will be the correct course of action nearly 80% of the time. The remaining 20% of the time is divided almost evenly between putting on nitrogen when it is really not needed, and not putting on nitrogen when it would have been beneficial. For southeast Iowa, the "trigger" is 17.8 inches of rainfall during the four months of March, April, May and June.
A well-thought-out and -executed nitrogen fertilizer plan maximizes the profit potential while also minimizing losses to the environment.
Schmitt is an Iowa State University Extension field agronomist.
Subscribe to receive top agriculture news
Be informed daily with these free e-newsletters
You May Also Like
---