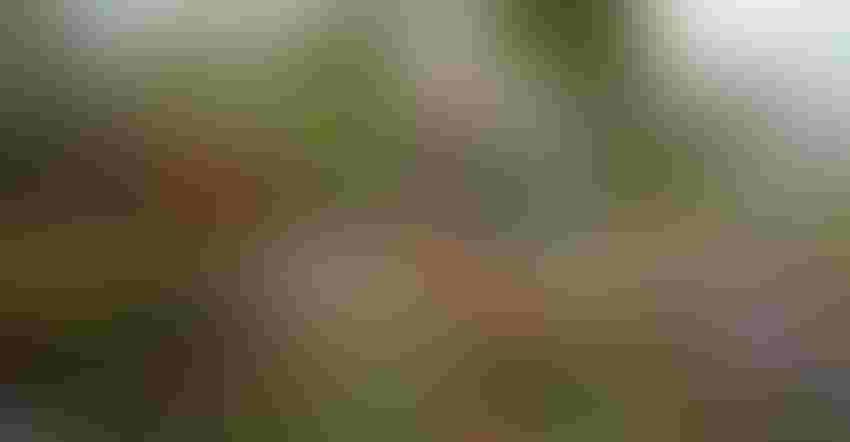 FAN OF IPM: Heather Genrich, a third-generation grower at Genrich's Garden Center and Greenhouses in Irondequoit, N.Y., has actively applied integrated pest management principles to her family's business since 2013.
Rocco Laurienzo
Thrips are tiny insects that feed on plant juices, which causes speckling, discoloration, and damage of foliage and blossoms across a wide range of ornamental crops. They can also act as plant disease vectors and are a major problem for greenhouse operators.
Research funded by the New York Farm Viability Institute has investigated managing thrips with the use of beneficial nematodes. The nematodes destroy thrips' pupae and persist in the soil for continued management for up to two weeks.
A pair of heated greenhouses at Genrich's Garden Center and Greenhouses was ideal for side-by-side trials hosted by Heather Genrich, head grower and greenhouse manager of the family business in Irondequoit.
"If you don't get a handle on thrips early, they can cause significant plant and economic damage, and they like our more popular plants," says Genrich, a third-generation grower.
While the economic damage of thrips to the greenhouse industry in New York has not yet been calculated, a University of Georgia survey of homeowners, floriculturists and nurseries in 2006 broadly estimated thrips-related annual damage at $7.5 million with another $7.745 million spent on control measures.
Genrich's Garden Center grows year-round — from spring and Easter plants and perennials to Christmas greens and poinsettias.
Thrips' broad range of hosts include popular spring plants like verbena, ivy geranium, dahlia, dracaena, marigolds and petunias.
The study
New York state IPM specialist Brian Eshenaur worked with Genrich to conduct the trials at Genrich's greenhouses under guidance from Cornell associate professor John Sanderson. One building focused on weekly application of nematodes while the other focused on every-other-week application.
Different strains of nematodes target different pests. Genrich mixed the Steinermema feltiae species of nematodes in a 5-gallon bucket with lightly agitated water to keep them suspended in a solution. It was applied through an applicator unit that injected them through the hose line as Genrich watered the plants.
YEAR-ROUND GREEN: Heather Genrich's grows plants year-round, from spring and Easter plants to Christmas holiday greens and poinsettias. The business has been the sight of ongoing research on nematode control of thrips to lower pesticide costs.
Relative humidity, temperature, application frequency and the thrips' life stage at the time of nematode application can affect its success. Moist soil or use of a wetting agent or surfactant enhances success. The nematodes are generally compatible with most foliar-applied pesticides used to manage other insect pests.
IPM alternative to chemicals
In the past five years, Genrich's has moved away from chemical-based pest management, so the use of beneficial nematodes provides another chance to reduce pesticide use, and the nematode application process did not require protective suiting.
"We dove in on integrated pest management (IPM) in 2013 and now use pesticide treatment only if there is a hot spot," Genrich says.
Eshenaur used sticky cards to identify the numbers and types of pests in each greenhouse.
"Both frequencies of treatments in last year's trials were effective. We had no huge outbreaks. Visually, the crops in both houses were beautiful. The every-other-week application is obviously an easier choice for the reduced time and labor investment," she says.
Promising results
Going forward, Genrich says she would like to see if spacing the treatment every three to four weeks would be just as effective.
"Addressing pest problems early in the greenhouse is a huge benefit to us as we start and grow all our plants for retail," she says. "I was pleased to try the nematodes as a preventative tool and will continue to use them."
Earlier research at Genrich's showed that the use of slow-release fertilizer in comparison to water-soluble fertilizer led to reduced aphid populations and reduced pesticide use in some greenhouse crops. Slow-release fertilizer also maintained plant quality equal to conventional pest management.
"Integrated pest management is a consumer-friendly practice that enables greenhouse growers to continue to grow and sell high-quality plants but with less spraying, less pesticide use and less related expense," says David Grusenmeyer, executive director of the New York Farm Viability Institute.
The institute's funding supported the startup and expansion of a statewide information and expertise network for greenhouse growers interesting in IPM.
For more information on integrated pest management for greenhouses, contact Betsy Lamb, New York state IPM ornamental coordinator, at 607-254-8800 or [email protected].
Dunn writes from her farm in Mannsville, N.Y.
Subscribe to receive top agriculture news
Be informed daily with these free e-newsletters
You May Also Like
---