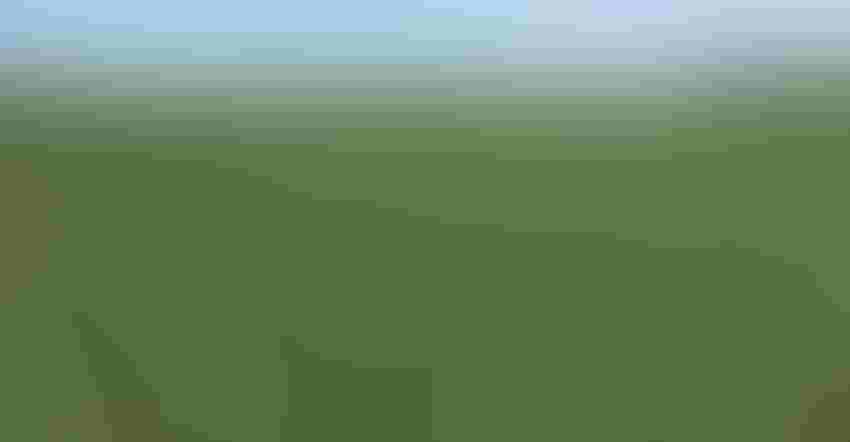 STATE-SPECIFIC REGS: Minnesota received from U.S. EPA March 15 state-specific restrictions for dicamba use on dicamba-tolerant soybeans in 2022.
Stephan Melson
The U.S. EPA has approved the Minnesota Department of Agriculture's request for state-specific restrictions during the 2022 growing season for three dicamba herbicides used on dicamba-tolerant soybeans.
The affected dicamba formulations are Engenia by BASF, Tavium by Syngenta and XtendiMax by Bayer.
MDA requested the state-specific restrictions last December following discussions with soybean growers and Extension specialists. In 2021, MDA received 304 dicamba damage complaints — the highest number since the product's release in 2017.
"We're excited to see that EPA has acknowledged the need for states to be able to address pesticide issues in a regional manner," says Joshua Stamper, director of MDA's Pesticide and Fertilizer Management Division. "We genuinely appreciate the spirit of cooperation and collaboration from the Minnesota Soybean Growers Association Drift Taskforce, Bayer, BASF and Syngenta." Stamper says growers can now begin Minnesota dicamba training for 2022 through the registrants' websites.
The state-specific additional dicamba restrictions for Minnesota in 2022 are:
Date cutoff. No application shall be made south of Interstate 94 after June 12. North of I-94, use is prohibited after June 30.
Temperature cutoff statewide. No application shall be made if the air temperature of the field at the time of application is over 85 degrees F, or if the National Weather Service's forecasted high temperature for the nearest available location for the day exceeds 85 degrees. Forecasted temperature must be recorded at the start of the application.
Compliance is mandatory for these Minnesota-specific restrictions, as well as the additional federal requirements that appear on 2022 labels. They include an approved pH-buffering agent that is tank-mixed with dicamba products prior to application; a required downwind buffer of 240 feet and 310 feet in areas where listed endangered species are located; and additional record-keeping items. In addition to the cutoff date, XtendiMax and Tavium have crop growth-stage cutoffs.
Lessons learned from 2021
Since dicamba was first registered for use on dicamba-tolerant soybeans in the 2017 growing season, MDA has fielded complaints each year of alleged off-site movement onto neighboring property. Dicamba is highly volatile and can damage nontarget plant species through spray drift and/or volatilization. Volatility is influenced by several factors including temperature, relative humidity, rate of application and crop stage.
That first season, dicamba generated 249 complaints, prompting additional grower education about product use. Complaint numbers dipped to 51 in 2018 and 20 in 2019. In 2020, complaints bumped up to 128 and then 304 in 2021.
Stamper notes there are additional steps growers and applicators must take this coming season.
"Growers have got to talk to their neighbors about the herbicide chemistry that they intend to use, and know what sensitive crops or areas might be adjacent," Stamper says. "Applicators also need to be ready do the record keeping that is required on the label. This is easily the most complex herbicide label that MDA staff have ever seen, and if growers and applicators cannot comply with the label, future registration is uncertain."
Strictly following the label for use will dictate whether dicamba will be available next year in the state. Based on data from misuse investigations, Stamper says label compliance was very low in 2021.
"Poor label compliance is exacerbated by hot and windy daytime conditions, and conditions that favor temperature inversions," Stamper says. "The window for legal use each day may be very narrow or nonexistent, depending on the weather.
If growers want to have tools like dicamba, they must steward it, he adds.
"Growers have to have difficult conversations with their neighbors, so that they head off complaints before they happen. They need to have a backup plan for post weed control if they are not able to use dicamba according to the label," he says. "Another year like 2021 will result in more litigation at the federal level and an uncertain future for dicamba."
The case for state-specific
From 2018 to 2020, MDA had placed an annual June 20 cutoff date on registered dicamba products based on research and pesticide misuse complaints. The EPA enacted a federal cutoff date of June 30 in 2021 and did not allow states to impose additional restrictions through a label for special local needs. The state also implemented a temperature cutoff for the 2018 growing season.
Agency staff note that dicamba is an important tool in combating herbicide-resistant weeds in dicamba-tolerant soybeans. However, it must be used without impacts on neighboring crops, homes, farms and gardens.
"The MDA want all Minnesota farmers to have a safe and profitable 2022 growing season," Stamper says. "That starts with following the pesticide label and having a game plan that involves coordination and cooperation with your neighbors."
For more information, visit each company's website: BASF, engeniaherbicide.com; Syngenta, syngenta-us.com/herbicides/tavium; Bayer, roundupreadyxtend.com.
Subscribe to receive top agriculture news
Be informed daily with these free e-newsletters
You May Also Like
---