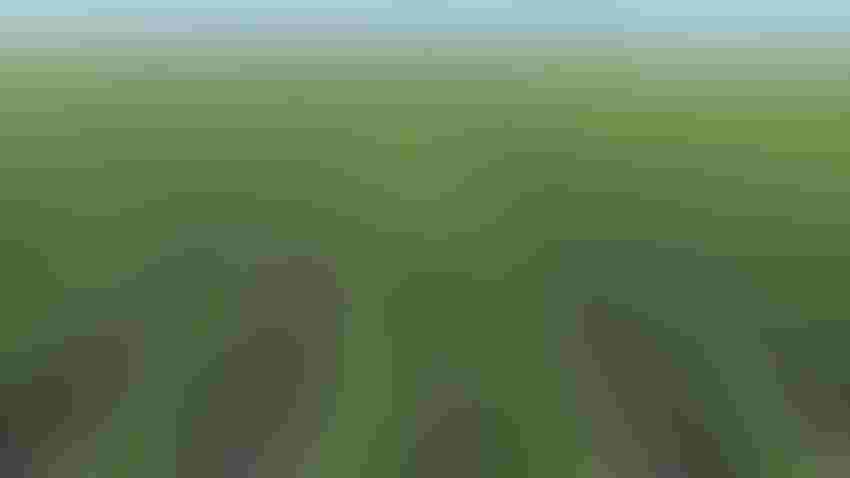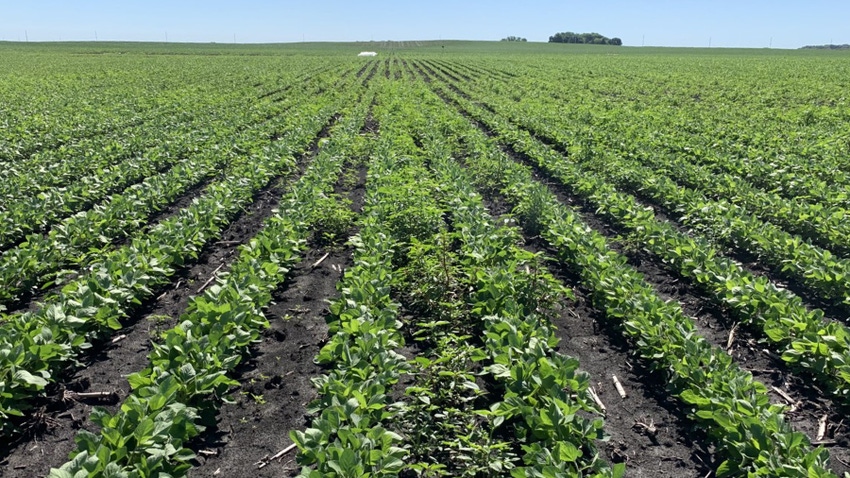 WEED PRESENCE: Waterhemp is a common weed in Iowa, and management needs to be done with proper timing to prevent future problems.
Prashant Jha
by Prashant Jha
Waterhemp has an extended emergence period (May through August in Iowa) and grows rapidly — up to 1 to 1¼ inches per day. Therefore, timing of herbicide applications in soybean is critical. Three weeks after planting would be an ideal time frame for the postemergence (post) herbicide application in most soybean fields. The post application should not be delayed to allow a "gap" period, when the initial preemergence herbicide is no longer active and more waterhemp plants can emerge.
Waterhemp plants that emerge or survive under the soybean canopy most likely don't contribute to crop yield reductions; however, those plants can add several thousand seeds (waterhemp being a prolific seed producer) to the soil seed bank. This is more critical considering the occurrence of waterhemp populations in Iowa with resistance to ALS inhibitors (herbicide Group 2), glyphosate, and PPO inhibitors (Group 14) used in soybean. Therefore, season-long control of waterhemp is needed to prevent seed bank additions.
The addition of the PPO-inhibiting herbicides such as fomesafen (Flexstar), lactofen (Cobra) or acifluorfen (Ultra Blazer) can provide acceptable control of Group 2- and glyphosate-resistant waterhemp. However, complete control with these programs is unlikely, and some waterhemp plants can survive to produce seeds. For most PPO-inhibiting herbicides to be effective, waterhemp plants should be less than 6 inches tall.
In Enlist E3 soybean, 2,4-D choline (Enlist One) or glufosinate (Liberty) applied alone post may provide inadequate control if waterhemp plants are more than 6 inches tall. A tankmix of these two products will provide superior end-of-season control of waterhemp. This strategy (multiple sites of action) is also one of the best management practices to delay resistance and preserve the utility of 2,4-D choline and glufosinate for waterhemp control.
Careful timing
In 2023, with an earlier cutoff date (June 12 or V4 growth stage of soybean, whichever comes first) for over-the-top applications of dicamba products (XtendiMax, Engenia, Tavium) in dicamba-tolerant soybean (Xtend or XtendFlex), growers need to be more proactive in managing late-emerging waterhemp, because a significant proportion of waterhemp can still emerge after June 12 or V4 stage of soybean. In one of the trials conducted in Xtend soybean at Iowa State University, in the absence of a soil residual preplant (pre) program, waterhemp control with dicamba plus glyphosate was inadequate (<75%) compared to 98% to 99% control with a pre soil residual program containing Fierce EZ, Fierce MTZ, or Authority MTZ followed by dicamba plus glyphosate post.
Irrespective of glufosinate, dicamba or 2,4-D (depending on the soybean herbicide tolerance trait used), an addition of a Group 15 herbicide (pyroxasulfone, acetochlor, S-metolachlor or dimethenamid-P) with the post herbicide (layered soil residual program) would be very crucial this season to control late-emerging waterhemp, and reduce or prevent herbicide-resistant weed seed bank additions.
Based on recent studies conducted at ISU on integrating nonchemical tactics, delaying the termination of cereal rye cover crop after soybean planting (planting green) so that the cover crop can achieve 4,500 pounds to 5,000 pounds per acre of biomass can reduce waterhemp density and biomass (size of plants) by 30% to 35% in soybean.
This would be a complementary strategy to enhance the efficacy of postemergence herbicides. Quicker and denser canopy closure of soybean planted in 15-inch rows compared to 30-inch rows can also reduce the burden on post herbicides by reducing waterhemp density and size of plants at the time of application. Therefore, a multipronged approach is much needed to manage herbicide resistance and preserve the utility of existing herbicide tools in soybean.
Disclaimer: This article is for educational purposes only. Mention of a specific product should not be considered as approval, nor should failure to mention a product be considered disapproval. Read the product label before using any herbicide product.
Jha is an Iowa State University Extension weed specialist and professor.
Subscribe to receive top agriculture news
Be informed daily with these free e-newsletters
You May Also Like
---