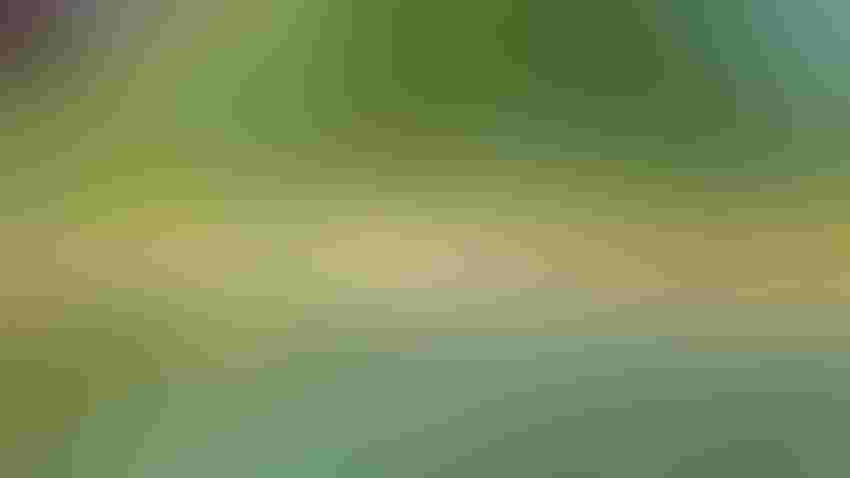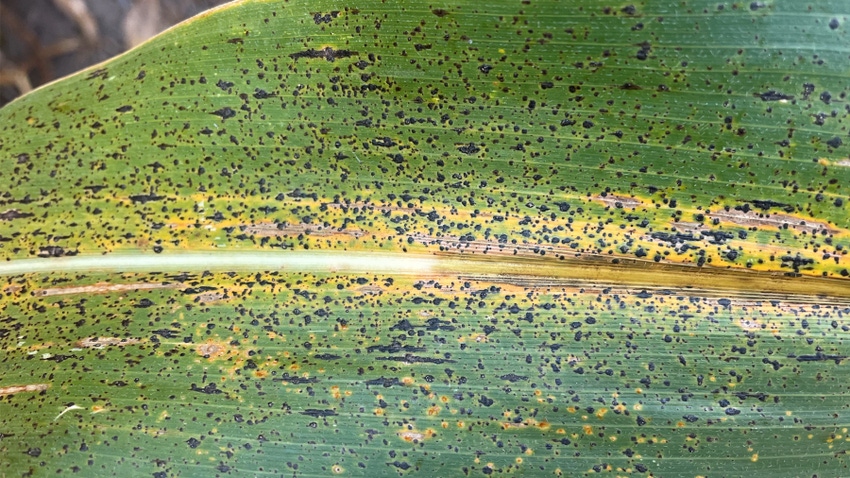 TAR SPOT: Dark, irregularly shaped, raised spots scattered across a corn leaf are signs of tar spot.
Alison Robertson
by Alison Robertson
Tar spot is a disease of corn caused by the fungus Phyllachora maydis. The disease was first observed in Indiana in 2015. Since then, the disease has been observed in most of the Corn Belt, Georgia, Florida and Ontario, Canada.
Characteristic signs of the disease are dark, irregularly shaped, raised spots scattered across the leaf surface and husks. The spots are the fruiting structure of the fungus and are called stromata. Spores (seeds of the fungus) are produced in the stromata. Since the stromata are embedded in the leaf tissue, they are usually visible on both sides of the leaf and they can be differentiated from bug poop or dirt, which can be easily wiped off the surface of the leaf.
The fungus survives the winter on infected corn residue from the previous growing season. Under moist conditions, spores of the fungus ooze from the tar spots and are spread by rain splash and wind to nearby corn plants. When the leaves or husks are wet with heavy dew or irrigation for several hours, the spores germinate, and infection occurs. In dry conditions, no spore germination occurs. The fungus colonizes the internal leaf tissue and develops stromata, which are visible as spots on the leaves. Under moist conditions, more spores are produced from newly developed stromata and more infections occur. This cycle may occur several times during a growing season; thus, tar spot can increase exponentially, and whole fields of corn may be infected.
Observation
Tar spot is usually first observed in the mid-canopy around tasseling. If the growing season is wet during vegetative growth, the disease may be observed earlier. Wet conditions during grain fill favor tar spot development, and the disease can develop rapidly. Damon Smith, a plant pathology professor at the University of Wisconsin has developed an app called Tarspotter (ipcm.wisc.edu/apps/tarspotter) that predicts the risk of tar spot in a field based on the local weather conditions. When the app predicts that tar spot risk is high, the field should be scouted to determine if tar spot is present and how severe the disease is before making management decisions. Tarspotter is available for iOS and Android.
There is currently no known resistance to tar spot; thus, all hybrids can be infected by P. maydis. Field observations suggest that some hybrids are more susceptible to infection than others. This is the first year where some seed companies have provided disease scores for tar spot for their hybrids. Managing tar spot should start with hybrid selection.
Fungicides applications can help protect the crop from tar spot. All fungicide products are effective at managing tar spot, although products that have come to market within the past three years usually protect the crop for a longer period (five to six weeks) because they last longer in the leaf tissue compared to older products. Timing the fungicide application is crucial. Too early and the effective period of the product may run out too early during grain fill, and a second application may be necessary. Too late and tar spot may have developed too much to be controlled. Data from university trials across the Midwest suggest a single application of a fungicide between tassel and brown silk may reduce tar spot and protect yield in most years.
For more information on tar spot and its management including the efficacy of fungicide products, visit cropprotectionnetwork.org.
For updates on where in North America tar spot has been observed throughout the growing season, visit corn.ipmpipe.org.
While tar spot is front and center in most growers' minds, remember that other leaf diseases including gray leaf spot, northern leaf blight and southern rust are still present and need to be managed.
Robertson is a professor of plant pathology and microbiology at Iowa State University.
Subscribe to receive top agriculture news
Be informed daily with these free e-newsletters
You May Also Like
---