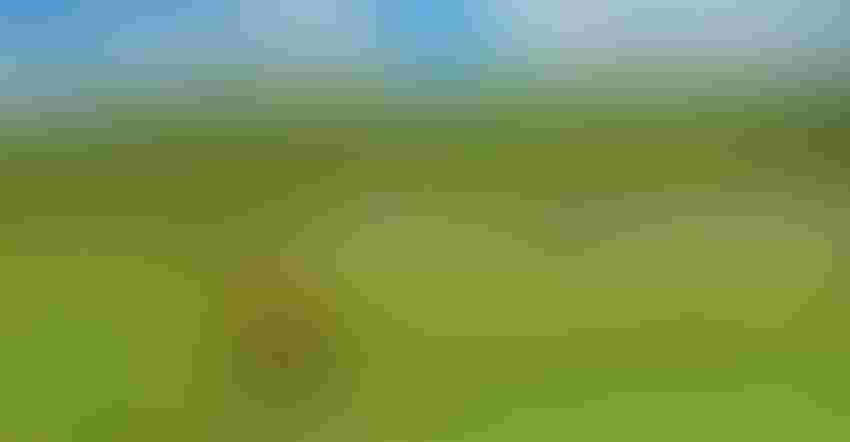 BETTER MANAGEMENT: A change in the management of drainage water allows producers to disconnect a portion of the field water from the ditch and stream and have significant reductions in non-point source pollution.
divanvdw/iStock/Thinkstock
By Wm. Bruce Clevenger
Water is essential to life, and especially important to food and agricultural production. Producers in Ohio and throughout the Midwest manage land and production during times of excess water and prepare for the risk of deficiencies of water. Environmental and production risks can occur during both excess and deficient periods of water in the food production system. 
Dr. Jane Frankenberger, Purdue University, agriculture and biological engineering, states that about half of the most productive agricultural land in the Midwest has subsurface drainage, or tile, and that there are a couple of related issues. First, the water leaving the tile into the ditch or stream carries some of the farm nutrients downstream, which causes problems. Second, there is often plenty of water in the spring, but as the crops develop into the summer they could experience times when they don't have enough water. These issues are expected to become more pressing as future climate change causes more intensive rainfalls and prolongs summer drought.
What are the benefits/detriments of subsurface drainage?
Tile drainage does have benefits to crop production and some environmental issues. Subsurface drainage reduces soil erosion by increasing water infiltration at the ground surface to move water into the soil profile below. Without subsurface drainage, a field can reach capacity of water that forces additional rainfall to pond at the soil surface and eventually runoff carrying valuable top soil and plant nutrients. Following rainfall, subsurface drainage permits the soil to reach adequate air content to allow the formation of crop roots early in the growing season. Saturated soil conditions during early crop development will cause shallow crop roots making them more sustainable to summer drought conditions.
However, we can't ignore the reality that tile drainage is designed to move excess water from the cropland.  Unfortunately, when water is drained it transports nutrients such as nitrate-nitrogen and soluble phosphate to water beyond the field's edge.
Our farming and nutrient practices must continue to pay close attention to the 4R best management approach. The "right" source, rate, time and placement of nutrients are solid principles from scientific conclusions. Simultaneously with the 4R's, we must focus on drainage water management. Several completed and on-going studies have identified phosphorus and nitrogen losses from cropland are due to the nutrient's connectivity to water. With a change in our management of drainage water, we can disconnect a portion of the field water from the ditch and stream and have significant reductions in non-point source pollution. Scientists have evaluated a suite of drainage water management practices and worked with Ohio and Midwest farmers to demonstrate them to minimize nutrient losses while keeping them practical for today's farmers.
What drainage practices should be considered?
The four drainage water management practices that should be considered are: controlled drainage, blind inlets, saturated buffers and drainage water recycling.
Controlled drainage is the practice of using a water control structure to raise the depth of the drainage outlet, holding water in the field during periods when drainage is not needed. Controlled drainage conserves water by increasing the retention time of water in the soil profile. Controlled drainage has been shown to be effective in reducing the outflow of water containing nitrate — nitrogen and soluble phosphorus. Controlled drainage during the growing season can capture and hold water from timely rains late in the growing season. Implementing controlled drainage can reduce soluble phosphorus by greater than 50% at the field level. Current adoption levels by farmers are less than 20%, but another 15% of farmers are willing to consider controlled drainage.
How can I reduce phosphorus losses?
Blind inlets, also known as a French drain, is a structure that is placed in the lowest point of a farm field or wet-hole to minimize the amount of sediment, and potentially other contaminants, that would be transported to receiving ditches or streams. This practice would substitute a tile riser, which is essentially a pipe that acts as a direct conduit from water from the field to the receiving ditch or stream.  Converting tile risers to blind inlets can reduce phosphorus losses by 60% at the field level.
What are saturated buffers?
Saturated buffers divert a portion of tile water into shallow laterals that raise the water table within the grass buffer along the field edge. Saturated buffers can be effective in removing nitrate-nitrogen from tile drain water before it leaves the cropland. They can also help reduce the peak flow in streams, acting as detention structures that delay outflow.
Is storing water a good idea?
Drainage water recycling diverts surface and subsurface drainage water into farm ponds or reservoirs, where it is stored until it can be used by the crop later in the season. Tile drainage occurs mostly in the spring, while crop water use in mid- to late summer may result in periods when insufficient water is available. Drained water stored in the spring can provide value to crops in the summer. Irrigation may be through sub-irrigation that raises the soil water table in the drain tiles, or overhead, sprinkler systems such as a center pivot.
Who do I go to for help?
Research has shown that economics of drainage water management practices is a key influence on farmers' adoption of conservation practices. Farmers and landowners should contact their local NRCS Conservationist or their SWCD office for design and possible cost-share information.
Key points to consider: Tile drainage doesn't have to be a 24/7, year-round export of soil water any more.  With controlled drainage, farmers can turn the system on and off to have more water when needed for the crop and at the same time, improve their ability to cut the amount of nitrogen and phosphorus leaving the farm. 
The golden rule about agricultural drainage; drain only that which is necessary and not a drop more.
Wm. Bruce Clevenger, OSU Extension Agriculture Educator, CCA, [email protected].
Subscribe to receive top agriculture news
Be informed daily with these free e-newsletters
You May Also Like
---