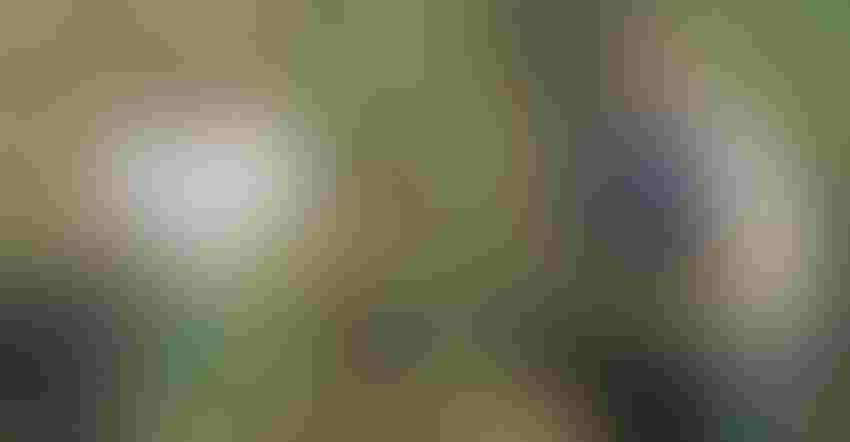 GARLIC GROWERS: Dan Lilla (left) and Jason Hovell harvest garlic at Tamarack Garlic Farm near Trempealeau.
"Growing garlic isn't an easy process," says Jason Hovell. He and Dan Lilla co-own Tamarack Garlic Farm near Trempealeau. "It takes lots of attention to detail and labor. For the gardener growing 20 to 50 plants, it can be fun. When you're growing thousands of plants, it's a labor of love."
This year more than 30,000 garlic plants will be grown on just over an acre of land in the Tamarack Valley.
Hovell and Lilla are lifelong friends who wanted to start some type of small business or farming endeavor together. Both have agricultural backgrounds and are teachers. Lilla teaches technical education and Hovell teaches agricultural education. After a suggestion from Lilla's father-in-law, they did some homework and started Tamarack Garlic Farm in 2015; they have continued to learn and grow since then.
Twelve varieties of garlic are grown at Tamarack Garlic Farm. Eleven are hardneck varieties, and one is a softneck variety.
"Most people assume that all garlic is the same," says Hovell. "There are actually hundreds of varieties of garlic grown in the U.S. Different types of garlic vary from mild to hot in temperature. Hardneck varieties grow well in the Midwest and have more unique flavors than softneck varieties that are much more common."
The stalk of hardneck garlic varieties is called the scape. It has a mild garlic flavor and can be prepared and eaten as a vegetable. In early June, the scape is harvested off of plants. In 2016, more than 1,000 pounds of scapes were harvested on the farm. Marketing scapes at local farmers markets allows for the education of customers on the preparation and uses of this product.
"Our plants receive a surprising amount of individual attention," says Lilla. "The quality of our garlic exceeds what you'll find elsewhere, and the variety of products we make available are hard to find in one spot."
A majority of their garlic is sold online through tamarackgarlicfarm.com. Developing the farm's website has not only led to more sales, but also has been a great tool to educate customers on growing and cooking with garlic.
In March, Hovell and Lilla began taking presale orders for the year ahead. After harvest, garlic is hung to dry for four to five weeks in an old barn. Once dry, the product ships out around the third week of August.
"We have planned our crops around what we think we can sell," says Lilla. "Most of our garlic is sold and used as gourmet garlic seed for backyard gardeners across the country. We've sold garlic from coast to coast. We also have a large number of customers that purchase our garlic for culinary purposes."
"Specialty varieties of garlic and other crops are more than just a fad," Hovell adds. "People are eating locally and making it a priority to know where their food comes from. We've seen this trend develop and continue throughout the Coulee Region of Wisconsin. Farmers are also looking for ways to generate income outside of traditional commodity crops or livestock through unique crops and value-added production."
Giebel writes from Baraboo.
Subscribe to receive top agriculture news
Be informed daily with these free e-newsletters
You May Also Like
---