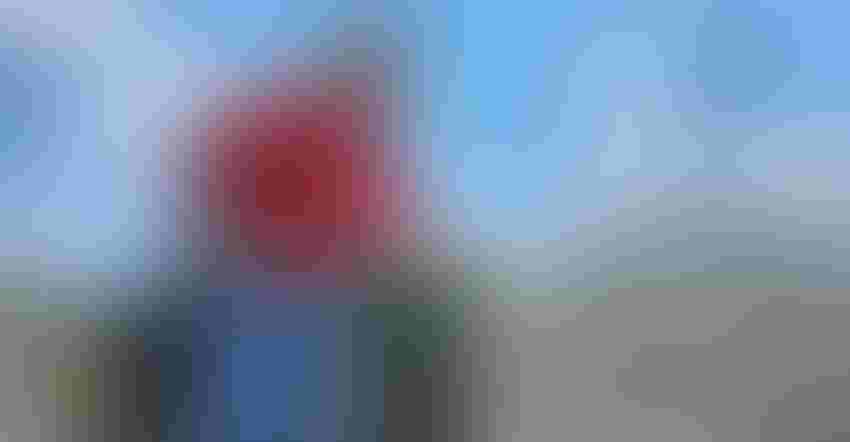 AUTOMATED: Terry Wyciskalla uses automatic soil sampling but still takes a few hand samples on some fields before sending results into a lab for analysis.
Austin Keating
More farmers are requiring soil and tissue sampling to reduce input costs and meet the requirements of working lands conservation programs. That's led to more business for independent agronomists like Terry Wyciskalla.
Wyciskalla has noticed several trends among the farmers he works with around Nashville, Ill. Sulfur deficiencies are up, as are spreader-induced potassium deficiencies. The farmers he works with who choose variable-rate technology are also increasingly doing their own applications rather than hiring commercial applicators.
Wyciskalla discusses these trends and others in this interview with Prairie Farmer:
How have you noticed potassium and phosphorus deficiencies, and what are some of the complications for getting an accurate reading? Phosphorus is generally not deficient in most of the soils I sample. Yes, there are low values and occasionally deficient spots. Potassium issues, on the other hand, are a little more complex.
When soil sampling after prolonged wetness or drought, you can get erroneous results for K. Prolonged wetness can give slightly higher K test levels than normal. Prolonged dryness, like 2012, can give drastically lower K test levels — both of which are a function of clay content and clay type. Of the two, prolonged dryness is the bigger issue. For example, coming out of the 2012 drought, it took anywhere from six to 12 months for the soil test K values to bounce back to their original values. However, soil pH is affected very little by soil moisture content.
What trends are you seeing from soil test results? With regards to trends, soil sulfur is trending downward to deficient levels. This is due to advances in scrubber technology at facilities that burn coal and the associated decreased atmospheric deposition of wet sulfate in rainfall. I am finding sulfur deficiencies in corn, wheat, soybeans and, most recently, in fescue hay and pastures.
And soil pH? Soil pH can be highly variable. Most soil test P values are adequate, and soil test K values are below adequate, with some deficiencies. Of note, I tend to see K deficiency in the outer one to three rows of a crop field, even with adequate soil tests and sufficient fertilizer inputs. I am attributing this to our fertilizer spreader technology.
If a spreader is set up to spread 90 feet wide, the GPS guidance will position the vehicle 45 feet from the field boundary for spreading. However, if the spreader fans have some wear on the them and are now throwing an effective width of 88 or 89 feet, that outside row around the field is cut a little short. Then after doing this several years in a row, the K deficiency starts to show up. You will not see this within the field because there may be some slight overlap, or the spreader does not drive in the exact same spot every year as compared to the field edge.

SULFUR DEFICIENCY: Terry Wyciskalla says he's noticed a trend of sulfur deficiency throughout hundreds of soil tests taken across Illinois.
Where is variable-rate technology headed? The boom with variable-rate application technology occurred several years ago. Most of my customer database already uses this technology. However, I have seen a trend with my customers to start purchasing their own VR spreader equipment so they can do the work themselves versus having it commercially done for them. I write the prescriptions and get the proper format into the variety of different spreader controllers used on the farm or by industry.
How often are you soil sampling a field? My soil sampling process is a modified 2.5-acre grid sampling pattern. I collect eight to 10 soil cores from the area most representative of that grid. Most of my customers are on a four-year sampling schedule, mainly due to the fact that the Illinois Agronomy Handbook limestone and fertilizer recommendation formulas are based upon a four-year sampling schedule.
I do have some producers on a three-year schedule, but this would be for my large livestock operations that are required to sample every three years to monitor their soil test P levels.
I typically like to sample a quarter to a third of a farm per year. That way a farm producer is not hit with a large bill and can spread the sampling costs out over time.
About the Author(s) Associate Editor, Prairie Farmer
Austin Keating is the newest addition to the Farm Progress editorial team working as an associate editor for Prairie Farmer magazine. Austin was born and raised in Mattoon and graduated from the University of Illinois at Urbana-Champaign with a degree in journalism. Following graduation in 2016, he worked as a science writer and videographer for the university's supercomputing center. In June 2018, Austin obtained a master's degree from the Medill School of Journalism at Northwestern University, where he was the campus correspondent for Planet Forward and a Comer scholar.
Austin is passionate about distilling agricultural science as a service for readers and creating engaging content for viewers. During his time at UI, he won two best feature story awards from the student organization JAMS — Journalism Advertising and Media Students — as well as a best news story award.
Austin lives in Charleston. He can sometimes be found at his family's restaurant the Alamo Steakhouse and Saloon in Mattoon, or on the Embarrass River kayaking. Austin is also a 3D printing and modeling hobbyist.
Subscribe to receive top agriculture news
Be informed daily with these free e-newsletters
You May Also Like
---