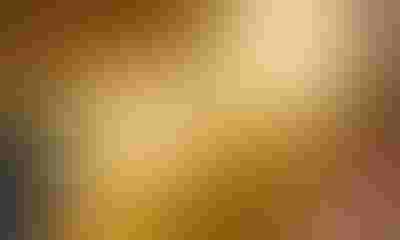 When should you apply nitrogen for corn? Should you apply it all at once, or split the applications? If you're not using a residual herbicide, how soon do you need to have grass and weeds controlled? What happens if you don't have them controlled by then?
Related: In what growth stage is this corn seedling?
These are just some of the questions you may ask when thinking about the corn crop this season. All of these questions have one thing in common – they determine either how much fertility or how much competition corn plants will have when it's time to make key decisions in the life of the plant. How the plant makes these decisions will go a long way toward determining corn yield.

Important stage: Make sure the management plan you're assembling now extends all the way through grain fill. That's a key time when kernel size and weight are determined.
Here are six stages of growth where key decisions are made in the life of a corn plant. Some of these six are actually ranges representing more than one growth stage.
Thanks to Beck's for providing this information in their 2015 Practical Farm Research summary, recently published. Contact a Beck's dealer or attend one of nearly 80 winter meetings planned around the Corn Belt for Beck's customers. For details call 1-800-937-2325.
Thanks also to the 2016 Purdue University Corn & Soybean Field Guide for information about these growth stages.
Key stage one- V3: The nodal root system is being established here. That's important because the seed is no longer the main source of food for the plant. It now obtains nutrients from the soil through roots.
Key stage two- V5: The growing point is above the soil surface. Some sources may say this actually occurs at V5 to the V6 stage. Once the growing point is above the soil surface, the plant is more vulnerable to injury from hail or frost.
Key stage three-V6-V8: Kernels around the ear are established. This depends more on genetics than on the weather. Very severe stress can decrease the number of kernel rows around the ear.
Key stage four- V12-V15: Number of potential kernels along the length of the ear is almost determined by now. Soil moisture and nutrient uptake are critically important here. The number of kernels per row is greatly determined by environment.
Key stage five- R1: Pollen shed begins, and pollen drops onto the silks. Excessive hat or moisture can reduce receptivity of silks to pollen. Silk reduction from insect feeding such as corn rootworm beetles or Japanese beetles is also a concern. Even after kernels are pollinated, they can abort, typically if conditions become unfavorable. Most kernel abortions are usually near the tip of the ear.
Key stage six- R2-R6: This is the grain fill period. Number of kernels has already been set, but size and weight of kernels is now being established. Availability of ample moisture and nutrients are key during this period.
Subscribe to receive top agriculture news
Be informed daily with these free e-newsletters
You May Also Like
---