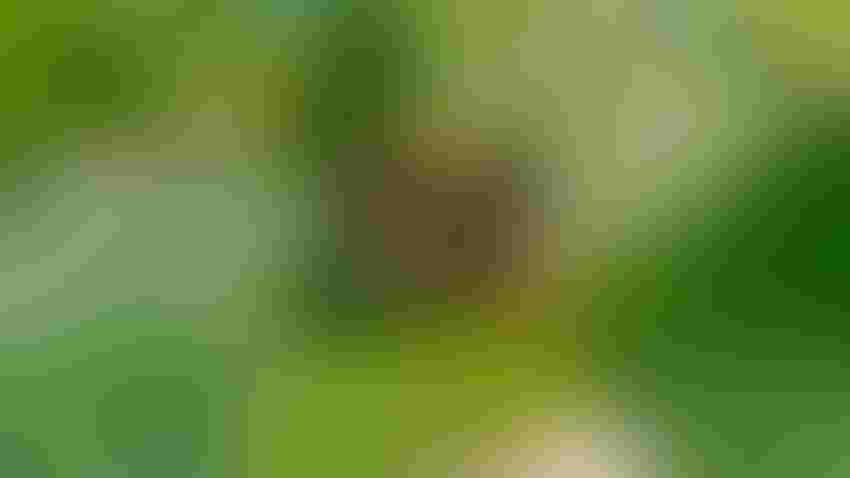 CARPENTER BEE: Wild bees, like carpenter bees, need plenty of food, shelter and protection from certain sprays to thrive in orchards.
Manoj pal/Getty Images
Just like many other things that have gotten more expensive, bringing in honeybees to pollinate orchards has gotten way pricier over the years.
Growers can expect to shell out between $75 and $100 per acre to get pollination services from honeybees, something that used to cost $35 a hive before colony collapse disorder started devastating honeybees. But there are many other bees out there — bumblebees and carpenter bees, for example — in the ground and in the woods that can also provide that service, for free.
You just have to provide some food and shelter, and watch what you're spraying to preserve them.
"While all the costs keep going up, the nice thing about the wild bees is, if you've got the right conditions, they're free," Penn State tree fruit entomologist David Biddinger said at the recent Mid-Atlantic Fruit and Vegetable Convention.
There are more than 465 species of wild and solitary bees in Pennsylvania; 4,000 kinds of bees in the U.S.; and 22,000 kinds of bees in the world. But only 50 of these species are important for apple pollination, and those 50 change from region to region — with the type of land surrounding orchards and the type of tree fruit — he said.
Species pollinating apricots in early spring will often be different than the wild bee species pollinating apples three weeks later, but most are found near fencerows or in places that are adjacent to woods.
They don't travel far, though. Biddinger said most wild bees can fly a maximum 200 yards from their habitats, although some can fly farther or shorter distances.
And even though honeybees have been decimated by parasitic mites and diseases over the past decade, some species of wild bees — for example, the Japanese orchard bee — are up to 1,000 times more susceptible to certain insecticides.
Provide what's needed
Biddinger said a good variety of trees in an orchard provides the best habitat for wild bees.
For example, the bees can start pollinating apricots, then move on to plums, cherries, peaches, and then apples and other fruits after that.
"So, they need plenty of food before and after apple bloom to be able to maximize their reproduction," as the apple bloom typically only lasts between seven and 10 days, Biddinger said.
Bees also need a place with ample nesting sites, mostly holes in dead trees or in the ground.
And they also need to be protected from certain pesticides, insecticides and fungicides, which may require some adjustments to spray programs. Many wild and solitary bees only have one generation a year, Biddinger said, so they can be easily wiped out for the year by a toxic spray.
For example, Syllit, a fungicide used to protect apples from scab and other diseases, is very toxic to wild bees if used close to bloom, because it is plant systemic and will move into the nectar and pollen at bloom.
Dithane, a fungicide that can be used during bloom, will not kill adult bees, Biddinger said, but research has found that applications above 3 pounds an acre during bloom can be toxic to wild bee larvae as it will linger in pollen and be fed on by these larvae.
"The other thing, if you're spraying herbicide out there, do it as far away from bloom as you can," he said, adding that paraquat and Stinger, often used to control summer thistle, have also been found to be toxic to wild bees.
"So, you just need to do some simple adjustments in your spray program to use the pesticide at the most effective time that it's not going to affect bees," Biddinger said.
Look to the woods
Biddinger, after reading various horticulture and orchard management books, said he was surprised to find that only about 5% of apple flowers need to be pollinated, on average, to develop a full fruit set.
It's a little more for peaches — up to 8% — and much more for cherries. When too many flowers get pollinated, chemical thinning in apples and hand thinning in peaches is necessary to lower a tree's crop load.
If you're looking to take advantage of wild or solitary bees near your orchard, the best place to find them is near a fencerow or woodlot, Biddinger said, as these provide ample nesting sites.
"If you're close to woods, wild bees will be good. You shouldn't see a reduction in fruit set," he said.
If the trees are farther away — say, 200 yards away or more — honeybees will likely be needed.
But the rolling hills of Adams County, and vast wooded regions of Pennsylvania and New York state, may be the perfect spots to start cultivating some wild pollinators.
"It's not like Washington State," where the topography and vast numbers of apple trees makes it necessary to have honeybees. "And in China it's gotten so bad that people are even being paid to hand pollinate, a very time-consuming and labor-intensive task, because they used a lot of harsh insecticides," Biddinger said. "They don't have any wild bees left. We want to start thinking about how we use our insecticides early in the season, preserve our wild bees, save some money on honeybees." 
Subscribe to receive top agriculture news
Be informed daily with these free e-newsletters
You May Also Like
---