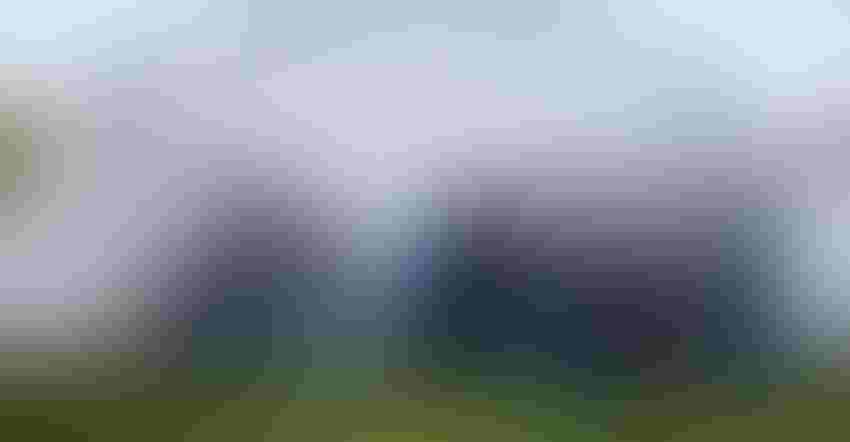 HOOPHOUSE ADVANTAGE: The Kansas Rural Center workshop near Erie featured a tour of a high tunnel or hoophouse by specialty crop producer.
By Tom Parker
Wood mulch works great for growing garlic, not so great for potatoes. Good seed is best. Bad soil just needs improvement. A rototiller is your best tool. Expertise is learned through trial and error.
Mike Schoenecker doesn't claim to be an expert, but after a lifetime of growing things he knows what works for him. That's not to say that what works for him will work for others, nor that his way is the only way. Some people prefer plastic ground covers; he prefers mulch. Some people use fertilizers; he prefers well-tilled soil with lots of compost.
"I'm not saying one is better than the other," he said. "It's all what you want and how you go about it."
While Schoenecker's definition of "specialty" might occasionally border on the esoteric, the tips he presented during the Kansas Rural Center's Specialty Crops Workshop are applicable to any kind of market farming. The workshop, held at the Neosho County Courthouse in Erie, was one of five throughout the state focusing on specialty crop production for beginning and new farmers.
Other speakers included Dr. Cary Rivard, associate professor, Extension specialist and director of K-State Research & Extension Center, Olathe; Calvin Parker, owner of Parker's Greenhouse, Iola; Tammy Klenklen, owner of Oz Country Mercantile and Produce, Erie; Kerri Ebert, Sustainable Agriculture Research and Education; and David Coltrain, former ag instructor at Seward County Community College, current specialty crop grower, and the organizer for KRC's workshops.
Schoenecker, owner of Mike's Fresh Garden Produce near Chanute, developed his green thumb as a young boy weeding his parents' garden. He grew vegetables for farmers markets for almost 30 years before retiring, and now that he's retired not much has changed. He grows every kind of vegetable he can think of, and if a customer asks for something different he'll grow that, too.  "Specialty crops are what people want," he said. "Everybody grows tomatoes, but if you grow something nobody else grows, they'll buy it from you, and more people will want it, too."
His folksy, homespun advice was both entertaining and informative: "You can start with crappy soil and build a garden, but it won't be overnight. It can take a year, two years, but it will happen. Don't get in a hurry. … If the soil is wet, don't till. It'll cost you. … There are different kinds of compost, and each has to be treated differently."
"Workshops are an invaluable educational asset for market producers," Schoenecker said. "They're one of the best tools you have. You can pick up a lot of information if you just listen."
Trial and error works
While many of Parker's production practices are diametrically opposed to Schoenecker's, he fully subscribes to Schoenecker's trial and error theory. Growing specialty crops requires innovation and experimentation, and even then solutions can be elusive. It took him about 10 years to learn how to raise and market green cabbage, but insects were a constant nuisance. Switching to red cabbage eliminated the problem. After deer wiped out his strawberry production three years in a row, he moved them into a high tunnel to escape predation. "Inside the high tunnel, they were terrific," he said.
Parker and his wife, Vona, both had off-farm careers until they retired. They purchased a used 30-by-60-foot greenhouse and relocated it to their property, a process that took a year. They have since added a high tunnel and started growing tomatoes, new baby potatoes, onions, cabbage, peppers, cucumbers, cantaloupe, radish, lettuce, green beans and sweet potatoes. They sell their produce at the farm and at farmers markets in Allen County, and they donate to local food pantries.
Like Schoenecker, Parker's favorite tools are a pair of Troy-Bilt rototillers, and he amends the soil with as much organic matter as possible. Starting in February, he plants tomatoes inside walls-of-water, which protect the plants from temperatures as low as 15 degrees F. Crops grow fast inside high tunnels, he said. Each row is tightly vegetated by the first of May, and by the first of June the tomatoes are taller than Vona.
Outside, Parker uses plastic ground covers on raised beds. After hearing that the color of the plastic affects certain crops, he used red plastic for his tomatoes and peppers and blue for other vegetables. The results were underwhelming. "Maybe I don't have the right conditions," he said, "but I'm not sold on the theory yet."
Several crops such as early potatoes and zucchini are labor intensive but the returns can be lucrative. "I'm not sure there's a lot of profit in potatoes, but I have more customers asking for them, so I sell out quickly," he said. "I planted more this year than I ever thought possible."
Tunnels extend growing season
High tunnels enable producers to extend the growing season while maximizing production through intensive planting. Klenklen, who along with her husband farms on five acres on the outskirts of Erie, first heard of high tunnels when she met Parker at a farmers market. She was relatively new to farming and had virtually no experience in gardening, nor did her career as a FedEx truck driver leave much time for growing things. Her mother-in-law was an experienced gardener and loved canning, and when she passed away it fell to Klenklen to continue the practice. To her surprise, she fell in love with canning, and that led her into gardening.
She now owns three high tunnels and sells on the farm and at three farmers markets. In addition to specialty crops, Klenklen offers 30 flavors of homemade jellies, raw honey, lip balms, herbs and dried hot pepper powders. Klenklen, who admits to being an expert on trial and error, is in the problem-solving stage, trying to find solutions to some of the nagging problems she's encountered.
"Last year in the middle of the season I had a lot of challenges, and I got discouraged and burned out," she said. "I realized I had to work smarter rather than harder." Online research led her to Rose Creek Farms in Tennessee, whose owners raise lettuce year-round. After consulting with them, she decided to apply their methods to see if she could grow lettuce in June, July and August. "If he can do it in the South, I can do it in Kansas," she said.
Cooling is a concern
Cooling is another concern. Keeping produce fresh requires refrigeration after harvest, both at the farm and during transportation. A new walk-in cooler will solve part of the problem, but Klenklen is still weighing her options.
Rivard has just the thing: KoolCat, the KSU Mobile Cooling Unit. The dual-axle, 6-by-12-foot box trailer sports an inner lining of tongue-in-groove closed cell foam panels — commonly used for insulating dairy barns — a window air conditioner overclocked with a Cool-Bot device that overrides the air conditioner's thermostat, which allows the unit to run as low as 38 degrees F, and a maximum capacity of 6,000 pounds of tomatoes. It can be taken into the field or parked outside a high tunnel when harvesting fragile crops like strawberries.
Putting it together was like assembling a giant three-dimensional puzzle, Rivard said. "It took about a week with two people working, which meant two people arguing over a piece of paper most of the time."
Cooling freshly harvested crops is critical for vegetable producers, and shouldn't be overlooked in the planning process. "Never forget that produce is a living organism," he said. "Fresh produce is alive. It actually breathes through a process called respiration, but respiration releases heat, and that's why we have to cool it. Our goal is to slow down the aging process."
Cooling produce isn't as simple as turning on a refrigeration unit, he cautioned. Different crops have different respiration rates, and some crops such as sweet corn need to be cooled rapidly. The size of the unit also matters. As a general rule, the storage space should be equivalent to a full day's harvest.
Rivard and the students and staff at the K-State Research and Extension Center in Olathe are constantly finding new and fun uses for the KoolCat. In the fall, it's used to cure sweet potatoes and store crops, and early in the season it can be heated when moving transplants to the field. "It can be used for a lot of things," he said.
Parker is a Blue Rapids, Kan., freelance writer.
Subscribe to receive top agriculture news
Be informed daily with these free e-newsletters
You May Also Like
---