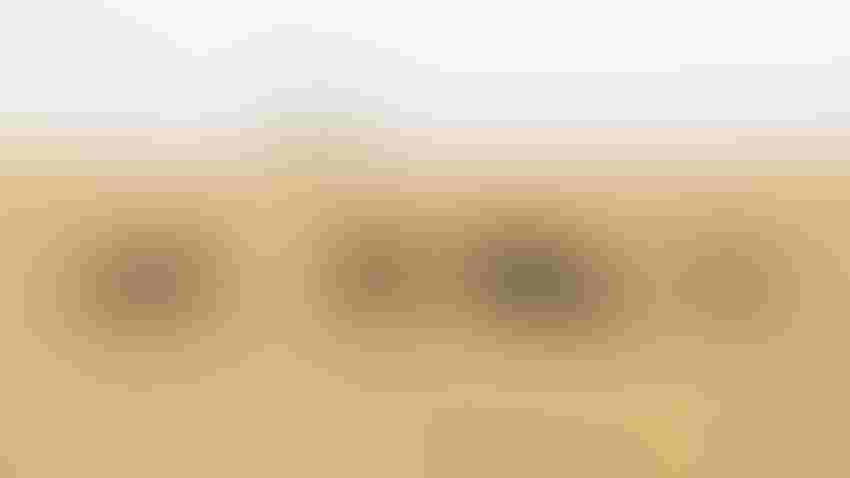 LANDOWNER CONFERENCE: Kansas State University will host its first Landowner Conference Nov. 10. The agenda will cover various topics that new landowners might find useful as they navigate their ownership of farm and ranch land in the state.
Courtesy of K-State Research and Extension News Service
Kansas State University is hosting its inaugural Kansas Landowner Conference Nov. 10 at the K-State Alumni Center, on campus, in Manhattan, Kan. The agenda will cover topics such as ag land market conditions, land lease management property tax regulations; and building a good relationship between a landowner and tenant.
Robin Reid, an agricultural economist at Kansas State University, says there is a growing demographic of landowners in the state who are more "geographically and generationally removed from agriculture." And that's a problem.
Data from 2015 show that 85% of Kansas land was owned by people living in the state. Updated preliminary data from 2022 suggests the figure has shifted to a notable amount owned by people living outside the state. Whether that shift is from inheriting family farm ground, purchasing land for hunting or recreation, or purchasing it as an investment, the top questions Extension offices across the state field revolve around land leases and Kansas lease law.
Ashlee Westerhold, director of the Office of Farm and Ranch Transition in the K-State Department of Agricultural Economics says 66% of Kansas farms are owned and operated by someone aged 55 or older.
"So, if you think about that, in the next 15 years as landowners head toward 70 years old, they will be retiring or thinking about transferring land," she said. "We're going to see a huge wave of ownership transfer from one generation to the next."
Registration is available online through Nov. 1, and is $250. You can find more information about the conference schedule, and available room blocks, at agmanager.info/landowner.
K-State 105 Initiative collaborates with Fort Hays State
The K-State 105 initiative is supporting small business development in northwest Kansas through a collaborative approach that leverages the expertise and small business connections of higher education and statewide and regional partners.
Kansas State University and Fort Hays State University will collaborate with two K-State 105 partners, NetWork Kansas and the Innovation Center, to expand the service offerings of the FHSU-led Small Business Development Center in northwest Kansas.
"Our K-State 105 initiative focuses on community engagement that drives economic impact and prosperity for Kansas and our 105 counties," said Marshall Stewart, K-State senior vice president and chief of staff. "This type of innovative partnership that brings together higher education and economic development organizations across the state is exactly the type of work in which a next-generation land-grant university should engage."
Through the partnership, K-State 105 is providing NetWork Kansas with funding that will go to resource partners and support entrepreneurship programming and technical assistance for small businesses in all 105 counties.
In this instance in northwest Kansas, NetWork Kansas will work with the Innovation Center to enhance the Kansas Small Business Development Center. The FHSU-led Kansas Small Business Development Center, or SBDC, operates as a network of eight regional economic development and business consulting centers that serve all 105 counties in the state.
The SBDC-Innovation Center partnership will serve a larger number of clients in northwest Kansas than each organization can serve individually. The partners ultimately expect to serve 432 clients, help start 16 new businesses and conduct 60 capital transactions in fiscal year 2024.
Burning outside the box
John Weir, Oklahoma State University Prescribed Fire Extension specialist, will deliver the 23rd annual Kling L. Anderson Lecture, "Burning Outside the Box." He'll speak at 3:30 p.m. Nov. 7, in Room 1018 of Throckmorton Plant Sciences Center, Kansas State University, Manhattan, Kan.
The Kling L. Anderson Lectureship was established to enhance training in range and forage management at K-State by providing the opportunity for students and faculty to benefit from interaction with outstanding scholars. The lectures and seminars provided through this program will also perpetuate and honor the name of Kling L. Anderson and commemorate his many years of outstanding service to Kansas State University, the people of the state of Kansas and the range management profession worldwide.
Doggett joins Aimpoint Research
Aimpoint Research, a global strategic intelligence firm, recently welcomed Jon Doggett to its executive advisory group. Doggett most recently served as CEO of the National Corn Growers Association. In his new role as executive adviser, Doggett will be a senior consultant for clients on policy, food and environmental issues. He'll also contribute to Aimpoint Research's thought leadership platforms and intelligence services, including the Executive Intelligence Network, according to the company.
Doggett's 35 years of agricultural experience includes 11 years as lead lobbyist for the American Farm Bureau Federation, and time working for the National Cattlemen's Beef Association Public Lands Council, among other postings.
Subscribe to receive top agriculture news
Be informed daily with these free e-newsletters
You May Also Like
---