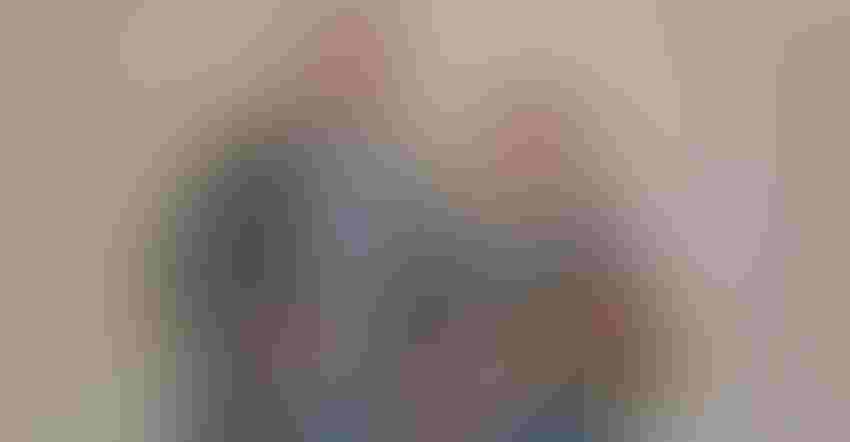 ACHIEVEMENT IN CROP IMPROVEMENT: The Minnesota Crop Improvement Association recently bestowed its highest honor, the Achievement in Crop Improvement Award, to Jim Falk, Murdock, Minn. Falk and his wife, Karen, received the honor during an awards luncheon at MCIA's annual meeting.
Jim Falk, a certified seed grower for more than 30 years and owner of Falk's Seed Farm, Murdock, Minn., was chosen by the Minnesota Crop Improvement Association to receive its highest honor for 2019 — the Achievement in Crop Improvement Award.
Falk and his wife, Karen, were recognized at the awards luncheon during MCIA's 116th annual meeting Jan. 9 in Fergus Falls.
Falk, a fourth-generation farmer, returned to the family farm after earning a geology degree from the University of Minnesota, Morris. His father, Wendell, had started producing certified seed as a contract grower. At the time, Falk noted that seed production helped add value to their crops, so he visited with MCIA members to learn more about it and toured seed conditioning plants. He decided to build his own seed conditioning plant in 1985. Over the years, he has made continual improvements to add the latest technology.
Early technology adopter
In 2001, after wrestling with manually stacking pallets of seed bags, Falk installed the first robotic palletizing system in a seed application in the U.S. The Columbia/Okura robotic palletizer can handle up to 480 bags an hour, he noted. A year later, he added a second seed conditioning line that has been used exclusively for food-grade, organic and non-GMO crops. By 2004, Falk made the decision to install Programmable Logics Controller technology for both conditioning lines, which allows computers to run his seed plant in full automation mode.
Since then, Falk has built a new warehouse, an office addition, two loading docks and a truck scale. He also installed a SEA Color Sorter in the seed plant to take seed sorting to the next level.
Additionally, he installed a 30-kilowatt wind turbine and 120 solar panels on his seed conditioning plant roof, which provide around 75% of the energy used annually by the business.
With the business expansion over the years, on-farm storage has grown from the original 85,000-bushel storage to 135,000 bushels in 51 hopper bins. And amid all of this expansion sits the farm's 1950s colorful red barn.
Falk's is a full-service seed supplier, offering certified wheat and oat seed, corn, soybeans, alfalfa and native seed mixes, as well as food-grade soybeans, premium feed oats and organic seed. Just prior to the MCIA meeting, Falk's Seed loaded eight 20-metric ton containers to ship seed to South Korea. Together, Jim and Karen and son Andrew farm more than 1,000 acres.
Falk is an original member of NorthStar Genetics, a company that got its start through MCIA. He currently serves on its board of directors. He has also been previously honored as an MCIA Premier Seedsman and is a member of the Minnesota Farmers Union, Ducks Unlimited and Pheasants Forever. He is active in the Land Stewardship Project, Clean Water Action and Clean Up the River Environment.
Since 1972, The Farmer magazine has sponsored the Achievement in Crop Improvement award.
Others award winners
Five additional men were honored at the MCIA luncheon:

Dan Nietfeld, 2019 MCIA Premier Seedsman Award
• Dan Nietfeld, Melrose, received the 2019 Premier Seedsman Award. Nietfeld's grandfather, Conrad, started producing Minhybrid seed in the 1940s, followed by his father, Bernard. The family has been raising seed corn in Stearns County ever since. They grow conventional, organic and some traited hybrids. They also operate an MCIA-approved seed conditioning facility. Nietfeld also has designed and built a seed corn dryer and a small ethanol plant.

John Walkup, 2019 MCIA Premier Seedsman Award
• John Walkup, Campbell, received the 2019 Premier Seedsman Award. Walkup has been a certified seed producer for more than 35 years, having begun farming with his grandfather, who grew certified seed for Thiel Seed Service in Wendell. Walkup continues to work with the Thiel business. In the past, he has produced certified wheat, barley and oat seed and soybeans. Walkup continues to raise certified wheat seed, corn, soybeans, edible beans and hay, as well as managing a cow-calf operation.

Bruce Abbe, 2019 MCIA Honorary Premier Seedsman Award
• Bruce Abbe, Burnsville, received the 2019 Honorary Premier Seedsman Award. Over his 35-year ag career, Abbe has worked in public affairs, communications and organizational management. Currently, he is president and CEO of the Midwest Shippers Association. In that leadership role, he has worked with farmers, processors, exporters and transportation officials to help the Upper Midwest become a key player in the production and export of high-value, identity-preserved, food-grade soybeans and grains.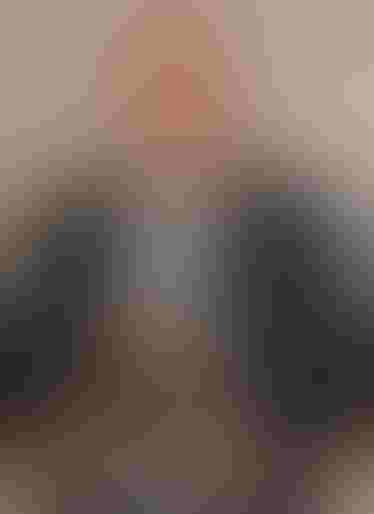 • Jim Kukowski, Strathcona, was recognized for his service and leadership on the MCIA board of directors.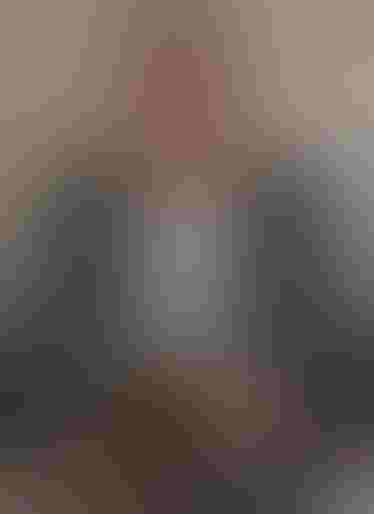 • Ken Schuster, Argyle, was recognized for his service and leadership to the Minnesota Approved Seed Conditioner and Marketing Association.
Subscribe to receive top agriculture news
Be informed daily with these free e-newsletters
You May Also Like
---