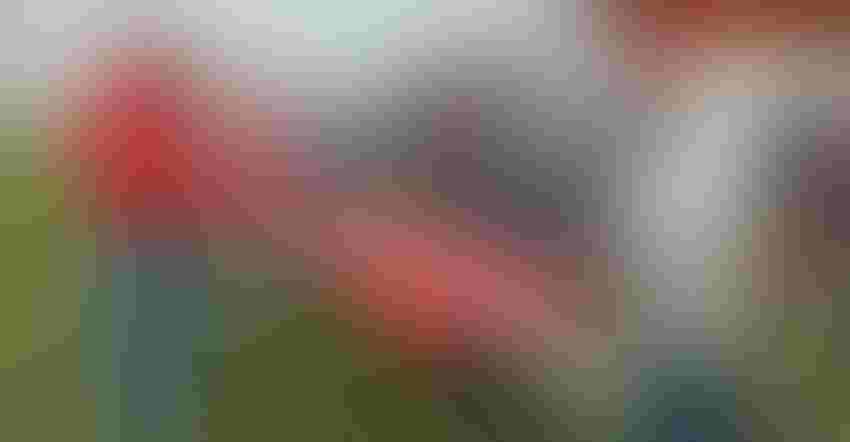 WATER AND CROPS: Sotirios Archontoulis (left) is an ISU research agronomist who works with a decision tool that can use data to predict yields, soil water levels and nitrogen loss across Iowa.
Improved crop yield predictions are expected from Iowa State University research generated by a Foundation for Food and Agriculture Research New Innovator Award grant announced Dec. 6. Sotirios Archontoulis, an assistant professor of agronomy at ISU, was one of eight scientists from across the country to win this year's New Innovator Award.
The New Innovator in Food and Agriculture Research program supports promising scientists who demonstrate a commitment to innovation in food and agriculture, and also a dedication to mentoring students. He received the grant from the foundation, a nonprofit organization established by congressional support in the 2014 Farm Bill, which builds partnerships to support innovative and actionable science addressing today's food and agriculture challenges.
Focus on water
Archontoulis will lead a team of scientists focusing on water and how it interacts with crops and soil, or the cropping system.
"Water affects everything in the system: grain yield; optimum nitrogen rate for corn; nitrogen leaching and the water quality issue for Iowa; this is everything," he says. "If we really want to predict what will be the yield or the nitrogen loss, and if we want to go the opposite way and identify management practices to increase yields and decrease losses, we have to start with the water."
He says science has a good grasp of tracking water from precipitation, but it lacks a thorough understanding of the water below the soil surface. The project seeks to narrow this gap in knowledge of shallow water tables, such as those occurring in Iowa.
Understanding water in soil
The team Archontoulis will lead will develop a better simulation of water and how it influences soil processes, such as soil carbon mineralization, root growth and denitrification. Researchers will use that information to expand a decision support tool called Forecast and Assessment of Cropping sysTemS, or FACTS, to predict yields, soil water levels and nitrogen loss across Iowa and then to the Midwest's Corn Belt.
"The Foundation for Food and Agriculture Research is pleased to support Dr. Archontoulis' research as part of our work to catalyze innovation and foster a strong scientific workforce for the future," says Sally Rockey, the foundation's executive director. "I look forward to seeing the impact of the New Innovator in Food and Agriculture Research Award not only on his career, but also on advancing agriculture."
Iowa Crop Improvement Association will match
The New Innovator Award is $300,000 and will be matched with $300,000 from the Iowa Crop Improvement Association for $600,000 over three years. Nominations for the award were limited to researchers within the first three years of their faculty careers. Applicants also were required to demonstrate a commitment to mentoring, as well as supporting the foundation's interest in inspiring future generations of agricultural and food scientists.
This second set of New Innovator Awards bring the total foundation investment in the program to nearly $5 million. Learn more about the 2017 New Innovators and their research directions at foundationfar.org/new-innovator.
Source: Iowa State University
Subscribe to receive top agriculture news
Be informed daily with these free e-newsletters
You May Also Like
---