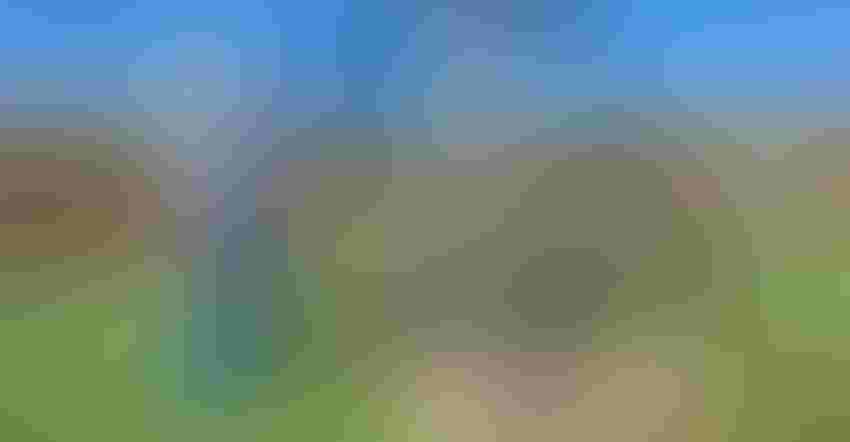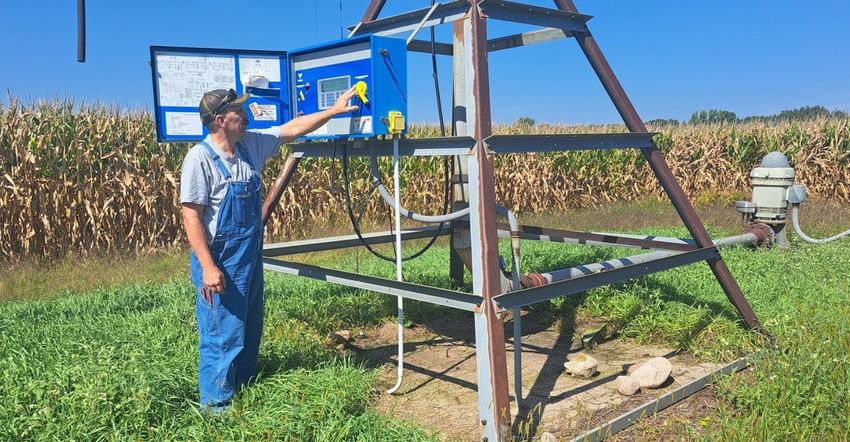 MANAGING IRRIGATION: Jim Bacon starts one of 60 center pivots at Bacon Farms Inc.
Photos by Fran O'Leary
Jim Bacon farms 6,050 owned and rented acres with his family near Hancock in central Wisconsin.
"Our land lies within 20 to 25 miles of the farm," Bacon says. "Most of it is within 15 to 20 miles of the farm."
Bacon Farms Inc. grows 3,500 acres of corn; 1,200 acres of soybeans, most of which are food-grade; 650 acres of green beans; 325 acres of kidney beans; and 135 acres of peas.
Bacon farms with his wife, Deb; his father, Larry; his two brothers, Mark and Jeff; one brother-in-law, Jason; and his son, Alex. His daughter, Emily, lives near La Crosse, Wis.
"All of our land is located on the Central Sands," Bacon says. This area in central Wisconsin, comprised of 1.75 million acres, includes parts of Adams, Marathon, Marquette, Portage, Shawano, Waupaca, Waushara and Wood counties. Most of the Bacons' farm is in Waushara County. Farmers in the Central Sands rely heavily on irrigation to grow crops on very sandy soils. One hundred percent of the land the Bacons farm is irrigated with 60 center pivots.
"We wouldn't be able to farm without irrigation," says Bacon, who is in charge of managing the irrigation. "Thanks to irrigation, we have very productive land. The crops have to have water. We can go a whole month here without rain."
Bacon says their crops need 1 to 1.25 inches of water every week during the growing season.
"When it rains, then I shut off the irrigators," he says. "Anything more than an inch of water is basically lost. It's going to percolate down into the groundwater.
"I control all of the center pivots from an app on my phone. I'm checking fields all of the time. Even though I can operate the irrigation from my phone or my computer, there is no replacement for going out to the fields and getting my hands in the dirt to decide if it needs water."
Bacon is grateful for irrigation, adding, "We need the water to farm, and we need to manage it properly for future generations."
The Bacons cite corn yields that average 230 bushels per acre and average soybean yields between 60 and 63 bushels per acre.
Crop rotation
Bacon Farms Inc. rotates crops with area potato growers. "We rent some of our land each year to potato growers," Bacon explains. "We raise corn and soybeans on their rotation ground. They grow potatoes on our land. Potatoes can only grow on the same land one out of three or four years."
Bacon says he and his family would like to continue to grow their operation and expand the number of acres they farm.
"I'm 53 years old, and I would like to keep farming for another 10 years," he says. "My son is only 27, and he likes farming. My brothers, who are younger than me, want to keep farming. Maybe one or two of their sons will want to join the operation. We want to be able to accommodate them if they decide they want to farm when they get old enough."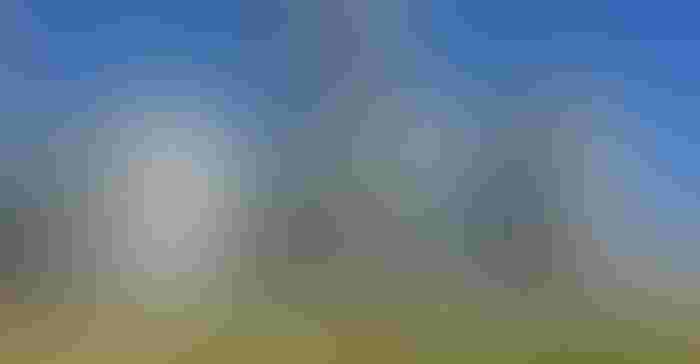 A lot of the acres they farm are owned by family members.
"My grandfather Merle left one-third of his farm to each of his three sons," Bacon says. "One of my uncles started farming on his own, and my dad and my Uncle Randy farm together. My other uncle started renting land to us in 2009, and since he decided to fully retire, we have been renting all of his land."
Buying farmland is not cheap, Bacon notes. "Decent irrigated land in our area is selling for $7,000 an acre or more," he says.
Bacon Farms Inc. has expanded its grain storage capacity over the years. Today, the farm can store 650,000 bushels of corn and 70,000 bushels of soybeans. The Bacons also have a drying setup that allows them to start combining corn early.
"We started combining corn Oct. 3, and we got some corn drying and then we switched over and combined our soybeans," Bacon explains. "It takes us seven to 10 days to harvest our soybeans with one combine. We can get them done in five days with two combines." They finished combining corn Nov. 15.
About the Author(s)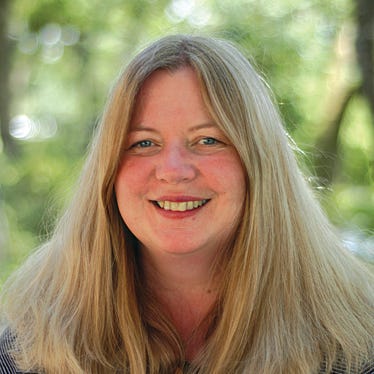 Wisconsin Agriculturist Editor
Even though Fran was born and raised on a farm in Illinois, she has spent most of her life in Wisconsin. She moved to the state when she was 18 years old and later graduated from the University of Wisconsin-Whitewater with a bachelor's degree in journalism.
Fran has 25 years of experience writing, editing and taking pictures. Before becoming editor of the Wisconsin Agriculturist in 2003, she worked at Johnson Hill Press in Fort Atkinson as a writer and editor of farm business publications and at the Janesville Gazette in Janesville as farm editor and feature writer. Later, she signed on as a public relations associate at Bader Rutter in Brookfield, and served as managing editor and farm editor at The Reporter, a daily newspaper in Fond du Lac.
Subscribe to receive top agriculture news
Be informed daily with these free e-newsletters
You May Also Like
---