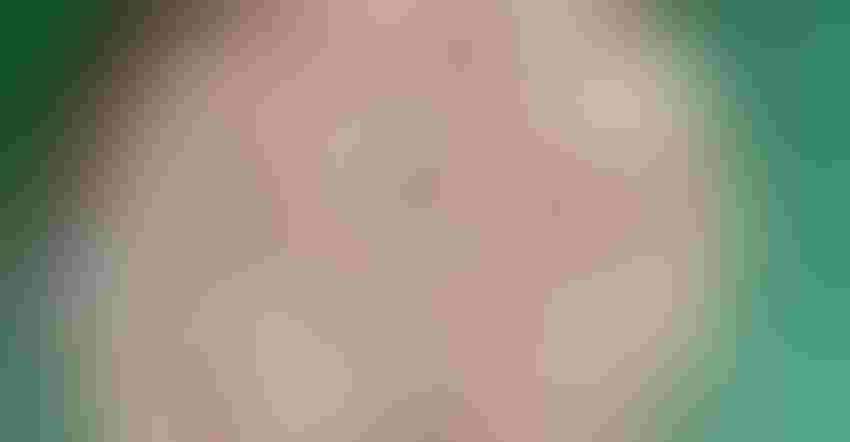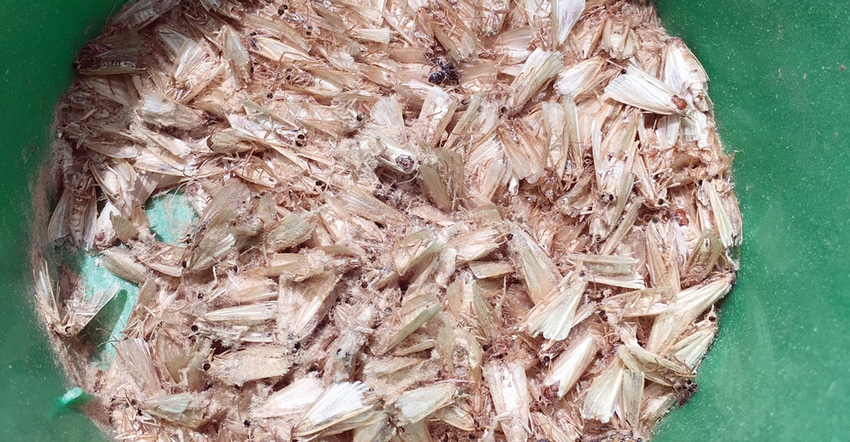 This trap in St. Francis County, Ark., contained 1,023 corn borer moths. Taken June 2017.
U of A System Division of Agriculture/Cody Griffin
Beyond the perennial threats of pigweed and plant bugs, many Arkansas growers may face new twists on old adversaries in 2019.
As conventional corn acres in Arkansas continue to expand in response to regional poultry producers' non-GMO premiums, growers are increasingly having to contend with the southwestern corn borer. Glenn Studebaker, Extension entomologist for the University of Arkansas System Division of Agriculture, said of the pest typically defeated entirely by Bt corn hybrids.
"We went from close to zero acres of non-Bt corn in Arkansas a decade ago to close to 40,000 acres today," Studebaker said. "Buyers are paying premiums of 70 cents to a dollar above market price per bushel of soybean or corn, so it's understandable. The flipside of that is that we increasingly have to manage the Southwestern corn borer."
"Bt" references Bacillus thuringiensis, a bacterium whose genes are bred in into some GMO seed varieties that help control pests.
Studebaker said that until recently, many growers would spray corn crops prophylactically, because the pest is notoriously difficult to detect in the field. In recent years, however, Extension personnel have been successful in promoting the use of corn borer traps, which can be hung near the outskirts of fields. These have proven accurate in determining whether the pest is reaching a treatment threshold, the point at which it becomes more profitable to apply a pesticide than not.
"We've been pretty proactive in setting out traps for it in the state. It's a pest that doesn't move a lot, so if it's not showing up in your traps, don't spray for it," Studebaker said. "We didn't run into a resistance problem when growers were making prophylactic applications, but it was a waste of money."
Bollworms and Bt cotton
In cotton, Studebaker said that growers may need to begin looking to new crop technologies in 2019.
"Bt cotton isn't controlling bollworms as well as it used to," Studebaker said.
"We knew, when they started producing it around 1996, that if you've got it in 100 percent of the plants, exposing all these worms to the protein all season long, there was an increased probability of resistance," he said. "It's taken a long time to get there, but now we're seeing it. It's here."
Bill Robertson, Extension cotton agronomist for the Division of Agriculture, said that south of Interstate 40, which roughly bisects the state, there has been a push among many cotton growers to adopt "three-gene" cotton varieties — those GMO varieties that incorporate three genes of pesticide resistance, in an effort to better control bollworms.
"But the issue is, there's not a lot of varieties that have the yield potential that our two-gene Bt products have, so growers are going to have to weigh the benefits and costs associated with controlling bollworm to decide if it's worth it," Robertson said.
"There are one or two three-gene varieties out there with really good yield, but I don't know how much seed we're going to have," he said. "Growers need to be evaluating the three-gene products, because before long, we're probably going to have to plant them, statewide, for bollworm control."
Robertson also warned that cotton growers should keep marketing strategies in mind before they expand their cotton acreage beyond their respective capacities to make a profit.
"Statewide, we're looking at a 10 percent increase or more in cotton acreage in 2019," Robertson said. "But before we plant, we need to have a game plan on how we're going to get it harvested. Some people are relying pretty heavily on custom pickers, and our gins are going to start running longer and longer.
Robertson said he expects two to three new gins to go into production in Arkansas in 2019, which would alleviate the pressure on the 30 to 35 gins currently operating.
"Ginning is typically our biggest bottleneck in production," he said.
Subscribe to receive top agriculture news
Be informed daily with these free e-newsletters
You May Also Like
---