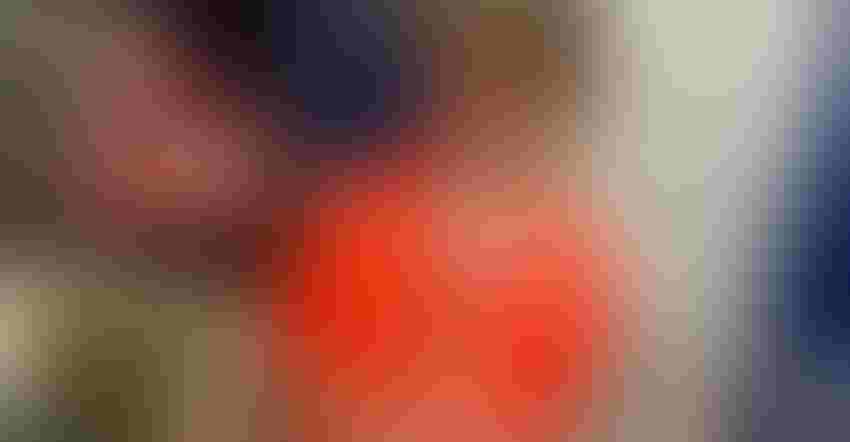 EASY FENCE FIX: Jackie Simon installs a Lock Jawz T-360 T-post insulator on a display fence at the North American International Livestock Exposition in Louisville, Ky.
If you've ever hooked electric fence insulators to T-posts, you've likely been tempted to speak a few choice words. Wade Simon doesn't include "a guarantee not to swear" in the warranty for his T-post insulators, but he's confident you'll be doing more smiling than swearing if you use them to build either temporary or permanent fence.
Simon, Floyd County, Ind., and his neighbor Nik Hiner, who happens to be an engineer, were building fence one day, fussing with insulators, when Hiner was convinced there had to be a better way to build this "mousetrap." The pair put Simon's 20 years of experience working with fence and Hiner's engineering skills to the test and came up with what they call the Lock Jawz T-360, a T-post insulator.
Made with spring-tension jaws and a separate slot for rope or wire, they can be installed in any position on a T-post, Simon explains. That's how "T-360" became part of the name. And once you've snapped them on, the insulators stay in place. At the same time, they're easy to unsnap, remove and reuse.
"It's a simple idea, but it really makes it much easier to work with fencing," Simon says. "You can put them on the front, on the back, virtually anywhere you want."
They will even work on very old T-posts with deeper ribs. The insulators work with electric wire, poly rope, high-tensile wire and other fencing materials. They're made from the same material used to make the "skin" of modern utility vehicles, Simon notes. Protected by a material to ward off the harmful effects of UV light, they also can twist and operate in temperatures down to 40 degrees F below zero. If something doesn't break the skin of a UTV, it won't break these insulators, he says.
When he exhibits at farm shows, Simon often brings along his daughter Jackie. She quickly demonstrates how easily the insulators attach to T-posts of various sizes made from different materials.
Some people shake their heads when they hear the inventor of MyPillow took 10 years to perfect his pillow. It didn't take 10 years to develop these T-post insulators, but there was more time spent in development than you might think. Hiner, Simon's neighbor, notes the insulator displayed at the North American International Livestock Exposition in Louisville, Ky., in November was the 52nd iteration of the design. He uses a 3-D printer when he wants to tweak the design of the insulator for possible improvements.
Learn more, plus how to purchase the insulators, by visiting lockjawz.com.
Subscribe to receive top agriculture news
Be informed daily with these free e-newsletters
You May Also Like
---