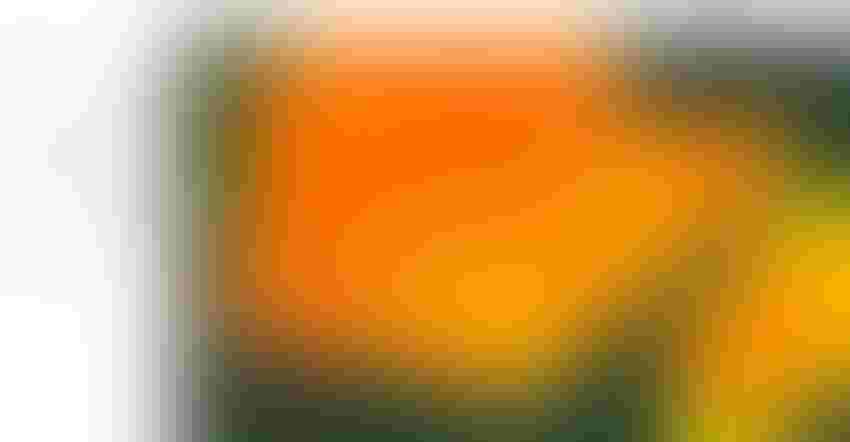 ZEROING IN: With the FarmShots cloud-based imagery tool, farmers can see what's happening in fields, from plant health to irrigation issues. The service will be offered through dealers that partner with Syngenta.
Courtesy of FarmShots
During a Farm Progress Virtual Experience breakout, Nathan Faleide with AgIntegrated shared that on any given day, a farmer could probably get 12 different images of his fields from a range of satellite or aerial services.
That's a lot of imagery, but the challenge is then to pull that into something you can use on the farm. Syngenta is working to make satellite imagery a useful tool for your operation.
In 2018, Syngenta acquired the cloud-based satellite imagery service FarmShots. The service was added into the company's growing digital portfolio. Many farmers may not know that Syngenta has built an extended digital management platform and is working to enhance that.
AgriEdge is the platform, and participants in this farm management service can get access to satellite imagery for their fields from FarmShots as an added service, says Peyton Merriam, marketing lead, Syngenta. But Merriam explains there are other ways farmers will now be able to access this imagery service.
"They can get it through their AgriEdge account, but dealers will also be able to offer the service," he says. "We are offering this platform as a white-label service to our retail partners."
What that means is that you could be seeing an offer from your dealer for satellite imagery and crop managing tools, but it won't say FarmShots or Syngenta — instead it might say "Jones Farm Supply" at the top.
"We allow the dealer to maintain that identity through the site," Merriam explains. "It will be a broad-based offering for dealers in 2021."
Adds Shane Taylor, marketing manager: "I'm not aware of any other service that's offering this white-label service to their retail partners. For the retailer, we're providing the opportunity to add value to their customers."
Images and interaction
The FarmShots system provides regular 10-meter imagery. Merriam says that higher-resolution imagery is available for an added fee if a farmer wants to get closer to the action.
However, with 10-meter imagery and Normalized Vegetative Difference Index imagery, the service can be used to observe crop changes during the year. It can also be used to help focus scouting activity.
Since the service is cloud-based, it can be used on a smartphone, too. Merriam explains that a farmer, or agronomist, can spot a field challenge and put a pin in that location. This can help drive the scout to the right location.
While FarmShots has been available for some time, Syngenta is working to add enhancements, including automated alerts based on those NDVI images. "Getting an alert on which specific fields have changed, so that you're not having to spend all that time digging through all those images. We're working on ways to help make this less of a time-consuming process," he says.
Dealers can elect to offer the service, but Merriam notes that some may opt to use the FarmShots platform themselves to enhance work they do for customers. The system can enhance scouting precision — which may be what customers want, more than access to imagery themselves. For many farmers, the satellite image is a trigger to reach out to that trusted adviser for action. In this case, the trusted adviser has the image and can suggest actions.
Under the radar
As noted, Syngenta's work in aerial imagery and farm management software may be a surprise to many.
Another area of aerial imagery where the company is pioneering new approaches is with Sony and high-end drone imagery. The Sony imaging system is precise and includes tools to counter for changing light conditions during photography.
These images, if a dealer is taking part, can be added to FarmShots as an extra service. "It's interesting when we do start providing this to customers, or when we get new employees coming in, that where I hear 'I've been in the industry 15 years, and I didn't have a clue you guys have this stuff,'" Merriam says. "We're in the infancy of our digital ag solutions team."
Taylor adds that Syngenta remains conservative in its digital approach, working to grow the business. But going into 2021, farmers are likely to hear more. Learn more about FarmShots at farmshots.com.
Subscribe to receive top agriculture news
Be informed daily with these free e-newsletters
You May Also Like
---