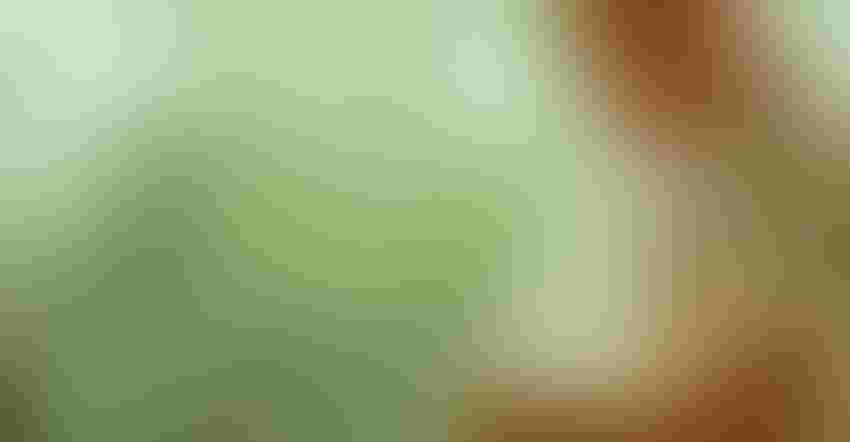 ROUND 2: Warren County, Ill., farmer Andy Huston harvested a hemp strain called Cherry Wine last fall, building a seed supply he'll use on expanded acreage this growing season.
Technically, 2019 won't be the first year Illinois farmers have grown hemp.
The state issued two research permits for growing industrial hemp outside in the 2018 season — marking the first year Illinois allowed farmers to grow the crop in a row crop setting since World War II. Under the oversight of Western Illinois University, self-funded farmers in Mason and Warren counties conducted research on growing hemp for cannabidiol (CBD) oil extraction.
Win Phippen, director of WIU's Alternative Crops Research Program, says about 80% of farmers' interest in hemp is for CBD, which is extracted from the flower and fetches a high premium compared to corn and soybeans. CBD is one of 100-plus cannabinoids identified in Cannabis sativa varieties. Any variety certified to be less than 0.3% tetrahydrocannabinol (THC) is designated as hemp.
By growing the crop outside instead of in a building or greenhouse, where all 21 medical cannabis cultivators in the state currently produce due to security requirements, the two outdoor hemp farmers in 2018 were able to grow much bigger plants.
"When we grow CBD, we're planting with 4 to 5 feet between plants, so now it looks more like a Christmas tree farm than anything," Phippen says. "And they get to be about the size of a Christmas tree." He says the spacing worsens the impact of wind, particularly at the Mason County plot, which is located on sandy, flat ground with soybeans surrounding it.
Related:Planning ahead for hemp in Illinois
"We got a ton of rain and high wind in July at that plot. It flattened everything. We didn't harvest a single thing off that crop," he says. "Once it lays down in the soil, it's essentially worthless."
With a mid-June planting date, the hemp grew 6 to 8 feet tall by the end of September on Warren County farmer Andy Huston's third of an acre. Since it was seeded in a valley, it was protected from high winds. Extra moisture helped stand establishment early in the season.
Growing plan
Huston, part owner of a Canton dispensary, plans to grow 17 acres this year by using seed he gathered from last year's crop. He also sells the seed, sending a royalty to the Colorado cultivator that first developed the high-CBD, low-THC hemp strain known as Cherry Wine. He's holding deposits and seed orders until permits are issued.
"For our acres, we'll start out seedlings in a greenhouse, transplant them out into the field, and when we're doing that, we'll also lay down a film of plastic with an irrigation drip line for the plants," Huston says, adding the plastic helps with weed control and retaining moisture. "We're also drilling some of our acres and looking at planting into cereal rye."
Since hemp has no approved chemical insecticides or herbicides, Phippen says farmers have to hand-weed every other day from roughly June 1 to August, when the canopies of the plants finally close the gaps in the rows that give sunlight to weeds.
"You're going to hand-weed for a while. You're going to be watering every two to three days, to get those plants well-established, keeping an eye out for insects, aphids, that sort of thing," Phippen says.
Huston says he'll control weeds with 4-foot tillers at first and then move up to narrower equipment as the canopy closes.
"The rest of it is done with a garden hoe, which is very labor-intensive. Just normal weeding in a big garden," he says, adding he has full-time employees through his family's 2,200-acre farm, as well as their earth-moving and trucking businesses.

TRIAL RUN: Hemp plants grown for CBD are given 3 to 5 feet to grow depending on variety. Andy Huston pruned and weeded by hand in the 2018 growing season.
Huston has a small-scale oil extractor on order and plans to start pressing his hemp into CBD oil starting in July. He doesn't have a buyer yet. "You really can't step into that market until you have the oil in hand to sell," he explains.
Huston knows of several processors ready to buy biomass from farmers to produce oil. His eventual goal, however, is to start a profit-sharing, large-scale facility for farmers to have oil extracted from their harvest — essentially, a CBD cooperative.
"Just like any other commodity, people are going to try to get it as cheaply as they can from the farmer for processing. What I would like to do is get something set up that's more of a co-op," he concludes.
How to sell it
Revolution Enterprises in Delavan will be purchasing hemp biomass for CBD oil production in the fall at a fair market price, says Kevin Pilarski, chief commercial officer. His company owns a dispensary and medical marijuana cultivation facility and has been pressing CBD oil for four years.
"It seems like there's going to be substantially more CBD on the market in the 2019 growing season," he says, citing a statistic from Kentucky showing registered acres are up 162% from last year. When asked if there will be demand to match a surge in supply, he says, "We think there will — especially after some of the bigger investments in CBD by companies like Constellation."
Constellation Brands, the distributor of Corona beer and Robert Mondavi wine, made an investment in Canopy Growth based on CBD. In addition, both InBev and Coca-Cola have been looking at possibly launching CBD products. And CVS and Walgreens recently announced they will be selling CBD.
Revolution Enterprises will not be contracting with farmers, because prices are still volatile in the new market and have come down dramatically from highs. But Pilarski says they hope to give farmers a place to turn to. They're offering THC testing for farmers as well — the portable machine would cost farmers $15,000 otherwise.
"When the hemp starts to get closer to 0.2%, you probably want to think about harvesting, so testing is really important," he says. "Our intention here really is to make sure that the hemp market in Illinois gets a decent start, and eventually, we believe the seed and fiber side will be where there's probably going to be substantially more acres in Illinois."
About the Author(s) Associate Editor, Prairie Farmer
Austin Keating is the newest addition to the Farm Progress editorial team working as an associate editor for Prairie Farmer magazine. Austin was born and raised in Mattoon and graduated from the University of Illinois at Urbana-Champaign with a degree in journalism. Following graduation in 2016, he worked as a science writer and videographer for the university's supercomputing center. In June 2018, Austin obtained a master's degree from the Medill School of Journalism at Northwestern University, where he was the campus correspondent for Planet Forward and a Comer scholar.
Austin is passionate about distilling agricultural science as a service for readers and creating engaging content for viewers. During his time at UI, he won two best feature story awards from the student organization JAMS — Journalism Advertising and Media Students — as well as a best news story award.
Austin lives in Charleston. He can sometimes be found at his family's restaurant the Alamo Steakhouse and Saloon in Mattoon, or on the Embarrass River kayaking. Austin is also a 3D printing and modeling hobbyist.
Subscribe to receive top agriculture news
Be informed daily with these free e-newsletters
You May Also Like
---