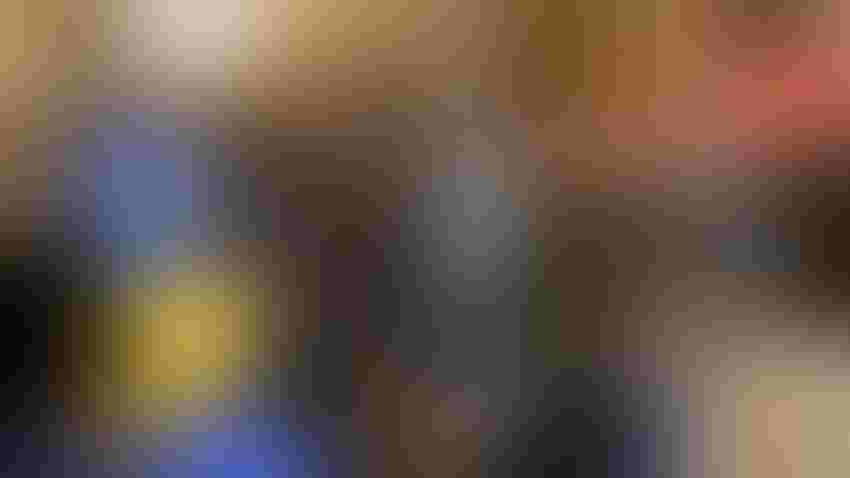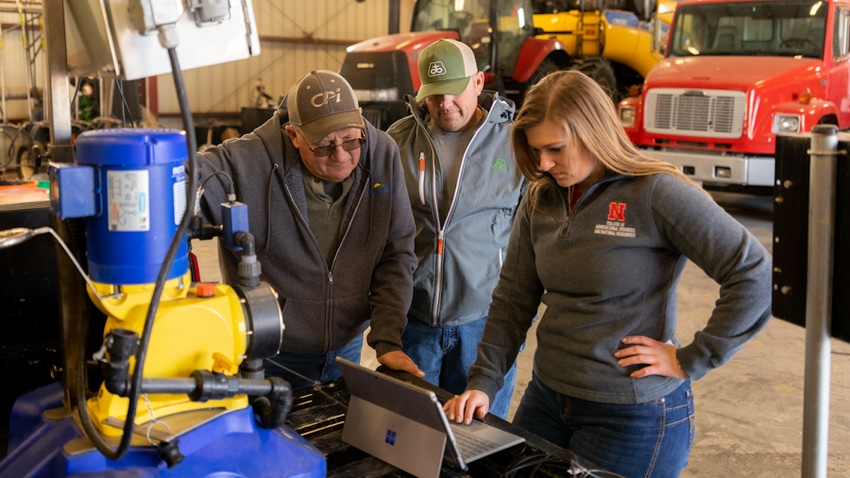 WORKING IT OUT: University of Nebraska graduate student Taylor Cross (right), works with Hall County farmers Doug and Tony Jones on sensor-based fertigation strategies aimed at lowering nitrogen use without giving up on yield.
Photos by Hannah Gaebel Dorn, HG Images
With the cost of fertilizer and groundwater nitrate issues that can result from overfertilization, farmers these days are curbing nitrogen use as much as they can without giving up on yield. To many, it is surprising how little nitrogen they need to add to get a profitable crop.
Several growers participating in the Nebraska On-Farm Research Network have been testing the limits on lowering nitrogen use over the past several years, with positive results.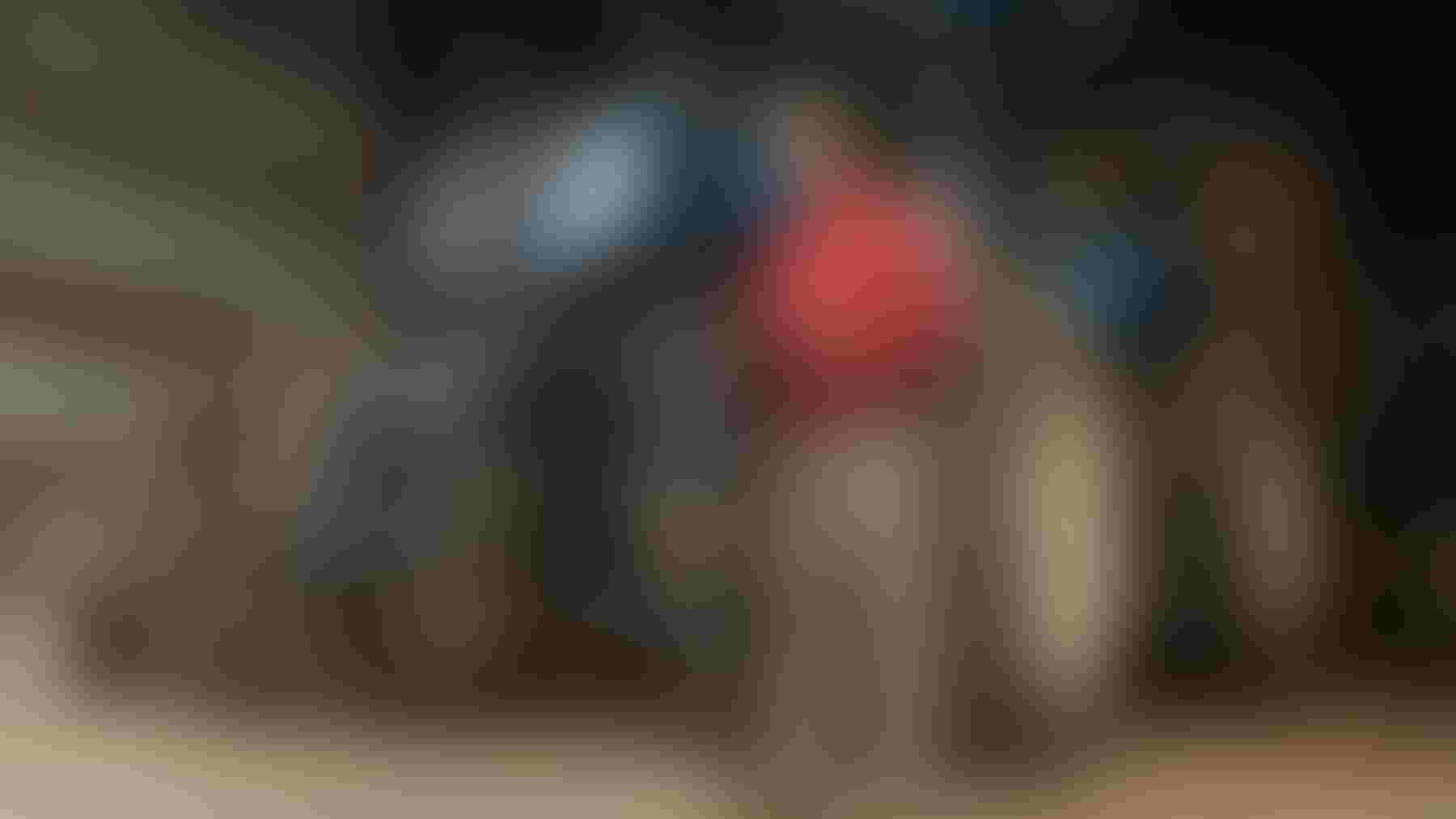 MODEL APPROACH: Jon Walz tested the Adapt-N crop model tool in 2022, and he saved 58 pounds of nitrogen and $17 per acre using this technology.
"We have many producers testing a range of nitrogen rates, ranging from 0 pounds per acre to 250-plus pounds per acre," says Laura Thompson, Nebraska On-Farm Research Network and ag technology Extension educator. "Many of these growers implemented these tests by using prescriptions in their variable-rate application equipment. In this case, the prescriptions are developed by the Nebraska On-Farm Research team and then implemented on the go by the producer," she explains. "Each rate in the nitrogen-rate ramps is generally 400 feet long by the width of the equipment, and the rates are replicated multiple times in different landscape positions and environments across the field."
Testing rates
The small size of plots allows producers to study a range of nitrogen rates without having very many acres at extremely low rates. "Yield is determined with a yield monitor," Thompson says. "These studies have been producing very valuable insights regarding the optimum nitrogen rate and the soil's inherent nitrogen-supplying capability, allowing producers to make adjustments and reduce their nitrogen fertilizer in future years and better direct variable-rate fertilizer applications." (See Table 1 for sample results.)

The results from these studies help growers to benchmark their nitrogen management, and those with variable-rate technology are able to easily gain insights into their management strategies with very little hassle, Thompson adds.
Crop model
Several producers, like Jon Walz in Lincoln County, are looking at crop model nitrogen tools, integrating soils, weather and management to obtain site-specific, variable-rate, in-season nitrogen recommendations. Walz, using the Adapt-N crop model in 2022, found that he could save 58 pounds per acre of nitrogen without any yield impact, increasing profit per acre by $17, according to Thompson.
Sensor-based fertigation
With the availability of regular quality aerial imagery during the growing season, sensor-based fertigation through a center pivot has been gaining steam, with good results on irrigated corn, Thompson says. Using imagery to assess in-season nitrogen needs, allowing for data-driven fertigation decisions matching the crop's nitrogen uptake, has helped growers like Hall County farmers Doug and Tony Jones save up to 98 pounds of nitrogen per acre compared to their typical management system, with no yield impact. Both the sensor-based and traditional management systems yielded 212 bushels of corn per acre, but the sensor-based approach increased profit per acre by $80, Thompson says.
"The sensor-based fertigation method has been tested and improved over the last several years through faculty and graduate students working with farmers in the Nebraska On-Farm Research Network," she says. "Looking at the same method that the Joneses tested, for 10 study sites, 100% of the sites had more efficient nitrogen use and 70% of the sites were more profitable, with average profit increases of $44 per acre for the sites with a profit increase," she adds. Learn more about sensor-based fertigation at bit.ly/fptechbreakthrough.
Learn more
These kinds of nitrogen studies are being conducted through the On-Farm Research Network and a grant from the Natural Resources Conservation Service's Conservation Innovation Grants program titled "promoting adoption of precision nitrogen management technologies." You can see complete research results at bit.ly/ofrnresultpubs.
Subscribe to receive top agriculture news
Be informed daily with these free e-newsletters
You May Also Like
---