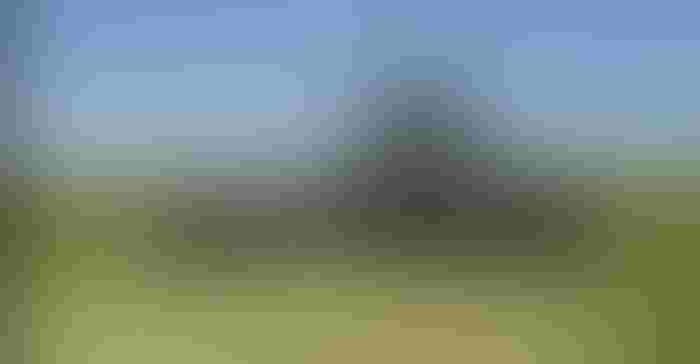 Scott Heinemann of Winside, Neb., was excited the day his new roller-crimper was delivered to his farm in late April. Not one to shy away from experimenting with his crops, Heinemann's goals for using this new implement were pretty clear.
He had planted soybeans "green" into a standing rye cover crop on May 10. "My plan was to roll the rye down and hopefully get a good crimp on it to terminate it" when the growing soybeans reached first trifoliate stage.
The goal for the roller-crimper was to kill the rye, lay down a perfect mat of rye straw around the soybeans to keep weeds down and conserve soil moisture, and provide the perfect conditions for optimal soybean growth and production. Heinemann also hoped to cut input chemical costs at the same time.
These are not small goals to say the least, but Heinemann is convinced he can accomplish them, and the roller-crimper is the tool he needed to get it done.
Learning along the way
His 21-foot roller-crimper, made by Progressive Ag Innovation at Centralia, Kan., is small by some standards, but Heinemann felt it would work best for his rolling crop ground. Farmers operating in states to the east of Nebraska, where rainfall is more plentiful, have had good success.
"I knew it would be challenging where we are to use a roller-crimper in this way, but I wanted to try to make it work the way we want it to," he says. "It should be most effective to roll down the rye when it is just starting to drop pollen. The longer you wait and the drier you are in the spring, you are pushing the envelope because the more mature the rye is, the more moisture it uses up."
Heinemann knew he would have to come back and hit those fields with an application of glyphosate to completely terminate the rye. "We left strips to see what kind of kill we would get with the crimper alone, and we are keeping track this fall at harvest to see if there are any yield differences," he adds.
At midseason this summer, Heinemann had already learned a few things from his experiment. Soybeans that were planted three to five days earlier and were further along when they were treated with the roller-crimper were looking better than those treated slightly before hitting first trifoliate stage.
"The big mistake I made was waiting too long to terminate the rye," Heinemann says. "I should have terminated sooner. I also learned that where the rye wasn't as thick, it didn't lay down as nice."
On the rye side, Heinemann experimented last fall with a cover that was drilled and rye that was broadcast-seeded. He also tried four different seeding rates. Drilled rye established quicker last fall. At the heavier seeding rates of rye last fall, with a drier-than-normal spring this year, soybeans had trouble pushing through the rye mat.
"I feel that if we would have had decent moisture this spring and better growing conditions, the soybeans would have done better," he says.
Heinemann treated all of his crimped fields with glyphosate within a week of running through with the roller-crimper. He left three strips through the fields, where the crimped rye went on to maturity. The soybeans looked healthier in those strips to a point, and there were no weeds growing in the rye mat, but moisture continued to be a problem for growing soybeans.
Assessing his experiments in July, Heinemann says that the roller-crimper saved him from using a preemergent herbicide. Soil moisture had been a struggle all season, with a very dry June and a few showers hitting his fields in July to help the crop along.
Weed control
"There were just a few weeds, and very little to no marestail," Heinemann says. "We were planting into rye that had been seeded into cornstalks or in fields that were grazed on a cover crop mixture. There were a few waterhemp escapes, but it wasn't robust or thick."
Next season, Heinemann says that he will treat his growing soybeans with the roller-crimper sooner and not allow the rye to get as far along before termination, because it uses soil moisture.
It is a balancing act, he says, because the longer you wait to terminate, the more carbon that gets pumped into the soil from the rye, and you get a good weed control barrier with the rye mat once it is terminated.
He checked the soil temperature with a temperature gun this summer, to compare bare soil with soil temperature under the rye mat. "With air temperature running in the 80-degree range, the soil temperature under the dead rye is more than 25 to 30 degrees lower compared to bare ground," Heinemann says. "Bare  ground will have a soil surface temperature of 110 to 120 degrees or higher."
For Heinemann, it's all about learning how the new implement can be best used to help him attain his soil health goals.
"There are so many variables to consider," he acknowledges. But he has learned more about this strategy in this first season and will apply his new knowledge next year.
Subscribe to receive top agriculture news
Be informed daily with these free e-newsletters
You May Also Like
---