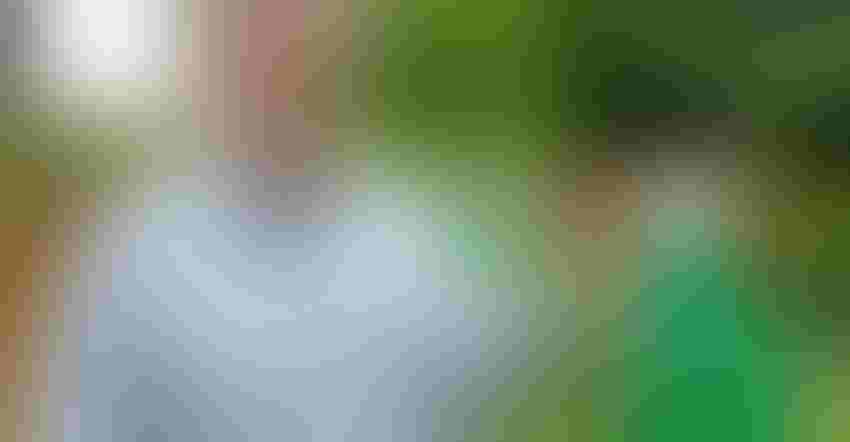 VERTICAL FARMING: Jeff Rash stands next to a model of his Vertical Farm Mechanics growing system. He is a holding a two-liter bottle that plants grow in.
Ashley Limesand
By Ashley Limesand
A Valley City, N.D., man has a patent pending on a vertical farming device that he believes can help produce growers increase production per square garden, greenhouse or hoop house space.
Called Vertical Farm Mechanics, it consists of a five-gallon bucket base with a hole cut in the center of the lid and a PVC pipe protruding upward at a height of up to five feet. The system begins to resemble a tree, with the pail serving as roots and the pipe serving as a sort of trunk. Half-inch-diameter PVC pipes extend out from the central, larger pipe, like branches, and on each pipe sits a plastic bottle of varying sizes with the cap end-first. Each end of each bottle is removed and filled with dirt. This is where the plants then grow.
While the smallest option has the capability of growing up to 175 individual plants, and the largest option can successfully hold 560 plants, each can be customized to the grower's need and level of desired care with a solar motorized watering system, the traditional watering system, or one that utilizes a wicking system reliant on the laws of physics.
ROOTS GROW: Roots growing in a two-liter bottle support the plants that sprout out of the top of the system.
Jeff Rash, inventor of Vertical Farm Mechanics, says the wicking system consists of placing a standard, poly, 3/8-inch diameter braided rope dipped in a special coating inside the bottles. The rope soaks up to 10-15 times its weight in water. Through the regular heating and cooling process of night and day, condensation inside the tube from the water placed in the pail rises and wets the rope wicks.
The wicks then utilize the capillary action of water and the moisture moves upwards through the rope watering each individual branch making this system extremely low maintenance.
Rush says the simple system allows growers to produce a wide variety of plants with minimal water and fertilizer needs. While other systems cost thousands of dollars and require much more maintenance, he hopes to offer his for $200-$500.
Rush says he is currently working with venture capitalists to produce his invention in greater quantities. He hopes his patent will be issued either late this year or early in 2019.
LESS SPACE: Jeff Rash sits in his backyard. The Vertical Farm Mechanics system is on the right. Cucumber, strawberries and other fruits and vegetables grow in the devices to his left and behind him.
"No one has really been able to do all of this and not spend a tremendous amount of money and time, but with this system, food becomes personal again," he says.
For more information, subscribe to his website verticalfarmmechanics.com or to call 701-840-2891.
Limesand writes from Valley City, N.D.
Subscribe to receive top agriculture news
Be informed daily with these free e-newsletters
You May Also Like
---