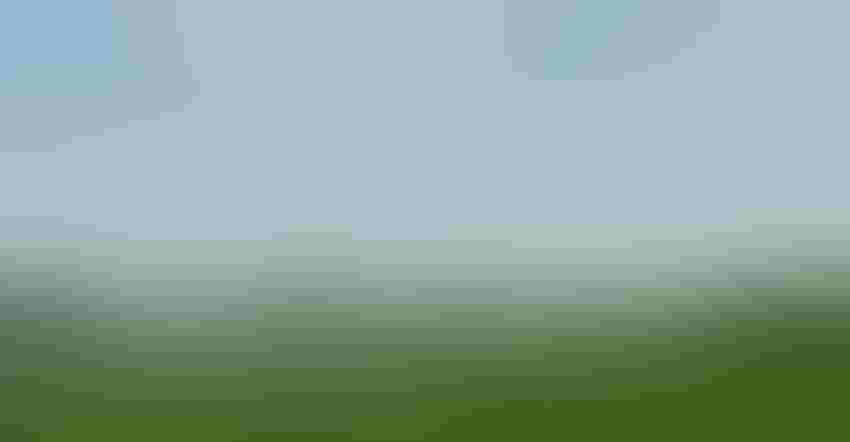 FOLLOW THE PRESCRIPTION: It is much easier to address in-season fertility deficiencies with crops by applying nutrients through fertigation.
Curt Arens
Weatherwise, it has been an interesting growing season in Nebraska and across the Plains states. That has presented challenges in fertility, nitrogen management, soil health and crop health.
Nebraska Farmer talked with Tyler Vreugdenhil, a central Nebraska technical agronomist with Channel, to discuss the unique growing season this year, and how to plan ahead for next season — particularly for fertility.
The most important piece of advice Vreugdenhil has is to soil-test. Yields across much of his region on irrigated land were better than expected, he notes, but dryland yields were disappointing in many cases.
"You need to soil sample to know what levels of nutrients are left out there, so you can plan for next year," Vreugdenhil says. "Think about what your yields were this past year, and what nutrients you were pulling off to get those yields. I'm a big proponent of grid soil sampling. That way you know what you need to apply, and you know your yield goals."
Bigger rain events and dry conditions between those events made this past growing season a challenge, Vreugdenhil says. "Weather events around moisture are less, but intensity as far as overall amounts is greater, so we're asking the same soil types we've farmed for years that have been receiving gradual amounts of rain to switch to make the most of these events we get," he says. "And by the way, they will come harder and faster."
Changing weather
"Winding clocks back to March and April, and we thought it would be super, super dry," Vreugdenhil says. "We got some timely rains at planting in our region, so there were a few issues with compaction. And there were nutritional deficiencies for the crop early on, and that was probably reflected this year in the ear types we got. We didn't get ear length that we are necessarily used to."
How do you manage nitrogen under those conditions? If the land is irrigated with a center pivot, fertigation helps producers spoon-feed nutrients, including nitrogen, to the crop throughout the season, just as the plants need it.
"That way, you aren't front-loading all of the nutrients," Vreugdenhil says. "Being able to manage nutrition with irrigation is such a crucial impact, compared to applying a hefty amount up front along with a preemergence herbicide and then wish it lots of luck."
There is no "one size fits all" when it comes to nitrogen and nutrient management, Vreugdenhil says. "It has to be customized, with the amount of different soil types we are dealing with, and whether irrigation is limited or unlimited."
The irrigation prescription and the prescription for nutrients needs to work according to the management systems of each producer, he adds. "And the pivot is not only for applying water and nitrogen, but you can give the crop a shot of boron or zinc at the same time with different products," Vreugdenhil says. "We focus on nitrogen, but micronutrients play a role too."
Protect groundwater
Managing nitrogen in particular through fertigation and spoon-feeding in-season are methods that help to mitigate nitrates in groundwater.
"I think leaning on a stabilizer with the nitrogen application can help reduce leaching," Vreugdenhil says. "You need to be proactive and know your soil type and understand how to get nutrients to the corn when it needs it. You can also look at University of Nebraska on-farm research trials or research at the Bayer Gothenburg Water Utilization Learning Center to see if using a stabilizer makes sense in any particular year. That way, you make an informed decision."
Cover crops also offer a way to improve soil health and protect natural resources. "But covers need to be managed," Vreugdenhil says. "If you plant cereal rye after soybeans as a cover, that will play into your nitrogen plan, because the rye uses part of your N credit from soybeans."
Adding a legume to the cover mixture is one way to add a little nitrogen, he says. "It's a good idea to sit down with your agronomist to make sure the cover mixture you want will meet your management goals and complement your commercial crop that will follow."
Midseason testing
Midseason tissue and sap testing on plants also gives an accurate picture on nutrient needs and deficiencies. "Sap testing is like taking a blood sample, and it gives a better progress report in-season so you can still make adjustments," Vreugdenhil says. "Sap tests correlate to a problem quicker, because by the time you see the deficiency in the field, you have already taken yield potential off the top."
As technology develops, he believes that there will be more movement in the future by producers toward grid and zone soil sampling, and more use of variable-rate irrigation, along with less broadcast fertility applications.
"That's just looking at the economics spent on fertility programs," Vreugdenhil says. He also believes more and more efforts will come forward taking advantage of the power of the microbial communities below the soil surface to boost yields.
Vreugdenhil recommends pricing and locking in fertility needs as early as possible. "That's good advice not knowing what spring will bring or what availability will be," he says. "I'm concerned about what will happen logistically, and will we be able to get what we need." Fertility planning, as always, will require diligence and timeliness.
Learn more about soil sampling, fertility and fertigation online at channel.com.
Subscribe to receive top agriculture news
Be informed daily with these free e-newsletters
You May Also Like
---