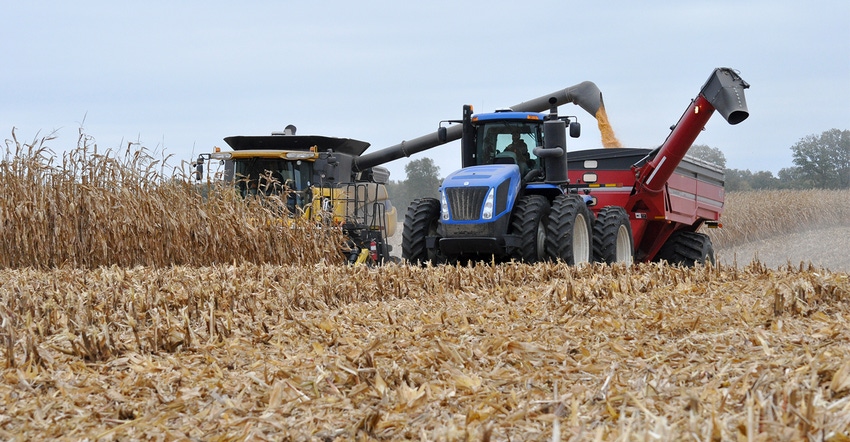 EFFICIENT HYBRIDS: Today's hybrids have very efficient root systems that extract necessary nutrients, says Emerson Nafziger, University of Illinois Extension agronomist.
If you've noticed the Illinois Agronomy Handbook recommendations for phosphorus and potassium levels haven't changed in 40 years, you're not alone.
Emerson Nafziger, University of Illinois Extension agronomist, says, "There was curiosity about where the older numbers came from, and whether or not grain removal levels have changed with management changes and newer hybrids and varieties."
Farmers using grain nutrient content and yield maps to calculate removal and replacement amounts need good numbers to work with, he adds, and university researchers were up for the task.
Researchers measured P and K levels in nearly 5,000 corn and soybean samples and more than 600 wheat samples over a three-year period. More wheat samples will be collected in 2017 for further analysis.
Nafziger explains the research team expected to find variability and notes there was nothing that tied samples to the sample location, sample crop year or field-level yield from where the samples originated. 
"Variability among sample values presents a challenge," Nafziger notes. "It means that we can't know whether a sample value is at the average or somewhere above or below the average value."
MEETING NUTRIENT NEEDS: "We need a certain level of nutrients to ensure the crops' needs are met," says Emerson Nafziger, University of Illinois Extension agronomist.
To determine new handbook values, the research team calculated a range of sample values and selected a point at which three-quarters of the values are below and one-quarter are above the new value.
The result? Roughly 15% lower P and K book values for corn, at 0.37 pound P and 0.24 pound K per bushel. In soybeans, P and K book values dropped 12% and 10%, respectively, with new values set at 0.75 pound P and 1.17 pounds K per bushel.
"The new values are slightly higher than the average or median values, so they are higher, on average, than actual removal for any given field," Nafziger notes. He adds that the new Illinois Agronomy Handbook values are in line with Iowa State University's recently updated numbers.
Why are the new handbook values lower? Nafziger says the older values may have been based on a smaller sample size or selected based on the highest values. "It's also possible that the new numbers are lower than the older values because nutrient levels have dropped as yields have increased," he says. "What seems clear is that improved varieties and management have not led to increases in per-bushel nutrient removal."
Overall, Nafziger is confident in the adjusted values. "Data from these studies are somewhat variable, which we expected," he adds. "But now that we have good numbers, we can use this information to make better nutrient management decisions."
Subscribe to receive top agriculture news
Be informed daily with these free e-newsletters
You May Also Like
---