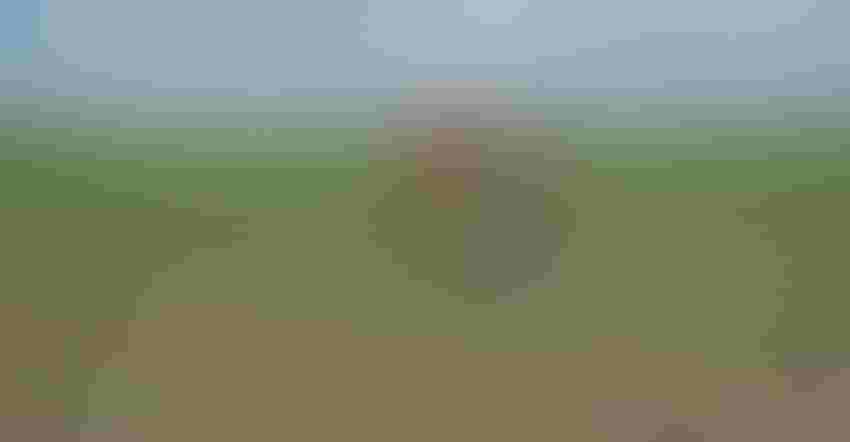 EYE IN THE SKY: A Phantom quadcopter drone, operated by Scott Walker of Adams Seed (left, in red shirt), Wendell, does a plant count on Chad Davison's seed soybean field in Traverse County. Davison had planter down pressure issues this spring and wanted to see if stand establishment was affected.
Liz Morrison
By Liz Morrison
Drones are flying out of the toy box.
Minnesota farm service companies are starting to use unmanned aerial vehicles to survey farmers' crops. The move is aided by relaxed federal aviation rules, a flurry of drone startups and rapidly evolving aerial mapping capabilities.
Until recently, federal rules made it impractical to fly unmanned aircraft for anything but recreation. Last year, the Federal Aviation Administration made it easier to get licensed as a drone pilot and operate a commercial service. The change opened up opportunities for drone ventures, says Greg Brandt, account manager for Aglytix, an aerial mapping software company in Mankato. Now tech entrepreneurs are jumping into the field.
In Minnesota, there are 58 registered companies flying commercial unmanned aerial vehicles, (UAVs) for agriculture and other sectors, according to the Minnesota Department of Transportation's Aeronautics Division.
Professional helicopter pilot Mackenzie Thomas of Pierz co-founded Mosher Thomas Industries right out of college. MTI builds its own fixed-wing and copter-style drones, and flies them for farmers and the aggregate and surveying industries. Because of the time demands of flying UAVs, and the technical challenges of processing multiple gigabytes of data from each flight, drone scouting is developing as a professional service, Thomas says. "Some people have tried it themselves, and they ended up coming to us."
Meanwhile, aerial sensors and mapping software are advancing rapidly, expanding the range of farm drone uses, says David Mulla, director of the University of Minnesota Precision Agriculture Center. A vanguard of Minnesota companies are working on this, including Aglytix, Sentek Systems in Lakeville, Sentera in Minneapolis, Aker in Winnebago and Adams Seed in Wendell.
These and other data tech startups are developing software that can quickly stitch together hundreds of photos of a field into a detailed, georeferenced map, and then convert that map into a recommendation that can be taken to the field.
Drones equipped with multispectral and thermal sensors have the potential to do many scouting tasks, Mulla says, including stand counts, nitrogen assessments, disease and pest detection, crop damage, and elevation and drainage mapping.
"Drones are starting to be used as a fundamental crop management tool," says Orlando Saez, co-founder of aerial crop monitoring service Aker, which collects and analyzes drone imagery. This season, Aker expects to scout more than 150,000 acres of cropland, mainly in Minnesota, using fixed-wing drones. "They're becoming an integral part of the work flow for field scouting, zone management recommendations and prescriptions."
Hurdles to drone use
For all their promise, putting drones to work on the farm is still a pretty big challenge.
For one thing, federal regulations restrict commercial use in this country, says Mulla. In Asia, by contrast, there are thousands of companies manufacturing drones for a wide range of ag operations, including fertilizing and spraying. "In this country, we've focused mainly on monitoring and scouting."
Saez points to other barriers. Drones, especially copter-type drones, can fly only a limited area on a battery charge. Sometimes drones crash. And drones can't tell you what the cause of the problem is.
He adds: "They can suggest a problem and show you where to ground-truth."
However, perhaps the biggest challenge is putting all of that aerial data to profitable use, says Michael Dunn, a precision agronomist from Little Falls.
"There's a knowledge gap between people who know how to fly drones and those who know how to use the imagery and make sense of it," Dunn says.
Morrison writes from Morris.
Subscribe to receive top agriculture news
Be informed daily with these free e-newsletters
You May Also Like
---